Positively Private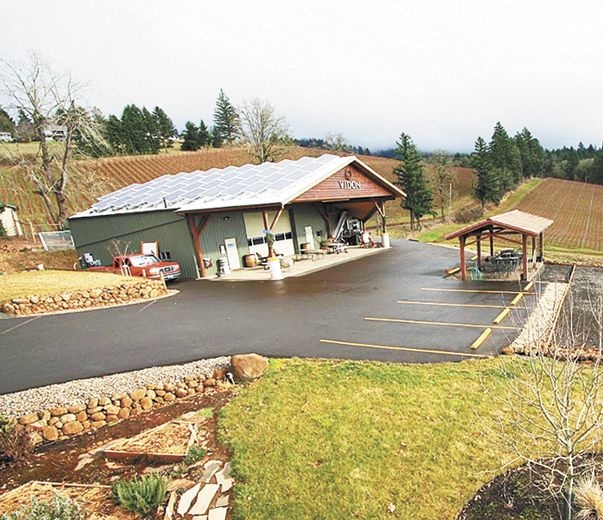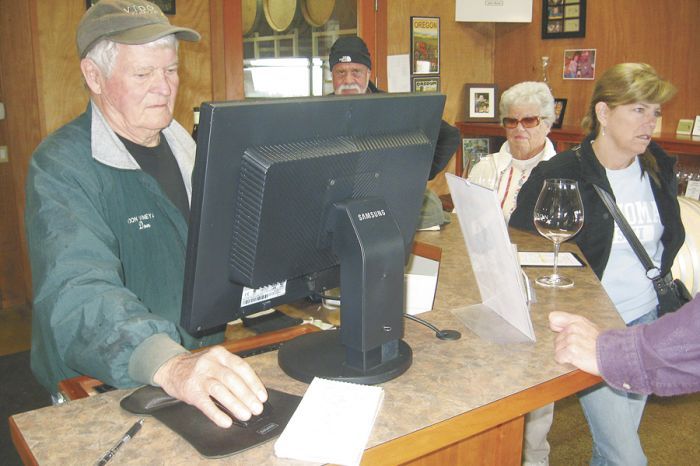 By Karl Klooster
Most wineries want as many wine-buying visitors as possible to pass through the doors of their tasting rooms. Well, at least as many as they can accommodate at one time.
Wineries relying on direct sales to ensure profitability feel they would miss too many opportunities if they didn't provide a consistent tasting room schedule. Only a handful maintain an appointment-only policy. Typically, they are small operations run by family owners committed to personally serving anyone who comes calling.
So it's rare to see a winery abandon a dependable tasting room operation and switch to appointment-only. It's even more unusual to see one focus on developing a club membership base as its primary source of sales. But that is exactly what Vidon Vineyard has done in the Chehalem Mountains AVA. Owner Don Hagge decided to discontinue regular tasting hours and remove the blue directional signs.
"I am very hands-on in all aspects of the winery," he said. "When we do have visitors, I want to ensure that they get the best attention possible, so they will join our Cellar Club and become regular customers."
Hagge offers generous discounts to entice people to join the Vidon Cellar Club, which assesses no membership fee. Members receive a 15 percent discount for the purchase of a case of wine within a one-year period, escalating to 20 percent for two cases and 25 percent for three. Members make their own selections, with all cases mix and match. Wines may be picked up at the winery or sent to a designated address at standard ground shipping rates.
To reinforce the value of the Cellar Club program, Hagge has initiated a varietal diversification plan. Presently, Pinot Noir is the Vidon's principal offering along with a Pinot Noir rosé and a Pinot Gris.
Of Vidon's 10.5 estate acres, half are devoted to Dijon 115, Dijon 777 and Pommard Pinot Noir clones. For comparison's sake, Dijon 115 characteristics are "regular yields, rich and powerful wines," 777 shows "high color and tannin" and Pommard characteristics showcase "structure, density, chewy texture and sweet nose."
Given those complementary features, Hagge is offering a Chehalem Mountains 3 Clones, a barrel-select bottling and individual clone Pinots named for his three grandchildren, Brigitta, Mirabelle and Hans.
The other five and a half acres are planted to Chardonnay, Pinot Gris, Pinot Blanc and Viognier — all whites. Plans include the planting of two more acres devoted to reds Tempranillo and Syrah.
With this expanded portfolio, Vidon will be able to present a broad selection of high quality estate table wines to its membership. "Our goal is to be entirely estate," Hagge said.
He noted his southwest to southeast site is a warm one, making him confident Rhône varieties Syrah and Viognier, and Spanish Tempranillo — all on early-ripening rootstock — will reach full maturity there.
Hagge and his wife, Vicki Lewis who recently retired from Nike, dreamed of establishing this "retirement" business for some years before it finally became a reality. They combined their names, Vicki and Don, to create a name for the venture.
"It's just coincidental that it sounds French," Hagge said. "But that's appropriate, because, when I spent a year there on a post-graduate assignment, I fell in love with Burgundian Pinot Noir."
After earning his B.A. and Ph.D. at Berkeley, he embarked on an aerospace career. He wound up working with NASA on the Apollo project.
During the last few years of his career, he came to Oregon and managed a couple of high-tech startups in the Silicon Forest. This serendipitous move set him on a new course.
"We started looking around for vineyard property in 1998," he said. "When we came across these 20 acres, we knew we had found it."
Over the next two years, they cleared the weeds, scrub oak and an amazingly large number of sizable rocks. Slowly, the vineyard of Vidon began to take shape.
Approaching the sites scientifically, Hagge discovered the exciting fact that there were three diverse soils on the one relatively small site, and most of the acreage was plantable.
"We have Jory, Nekia and Willa-kenzie soils," he said. "The Pinot Noir clones were planted on the soil types best suited for them. We used a vigorous, early ripening rootstock."
The final portion of the vineyard now being put in is rocky with very little topsoil. It is much like the southern Rhône, well-suited for Syrah and Tempranillo.
For the 2012 vintage, 1,200 cases will carry the Vidon label. It will be about the same this year, but Hagge anticipates steady increases, eventually building to 2,000 cases.
The Vidon philosophy is organic and minimalist. Both the vineyard and winery are certified sustainable under the LIVE program and Salmon Safe, and every step in the process is done gently, mostly by hand.
Meanwhile, Vidon is one of 19 Oregon wineries taking part in the Carbon Reduction Challenge. An efficient heat pump heats and cools the well-insulated buildings, while solar panels provide additional power. The winery is working toward eventually becoming energy independent and carbon neutral.
But, what about the bees?
After the Hagges moved into their new home on the property in the summer of 2003, they discovered bees emerging from under the floorboards. The house had been built over an old well, which had apparently been home to a large beehive for some time.
Rather than exterminate them, the couple have learned to live with their buzzing house-mates. They went so far, in fact, as to put a bee on the Vidon label and capsule.
Now 81 years old, Hagge has every intention of keeping his hand in at making wine, overseeing vineyard operations and, since the North Dakota farm boy still influences him, driving a tractor.
"The only thing I don't do anymore is pick grapes and pull leaves," he said. "I'm leaving that to our crews."
VIDON VINEYARDS
Address: 17425 NE Hillside Drive, Newberg
Hours: Open by appointment only
Phone: 503-538-4092
Website: www.vidonvineyard.com