Hot Saké!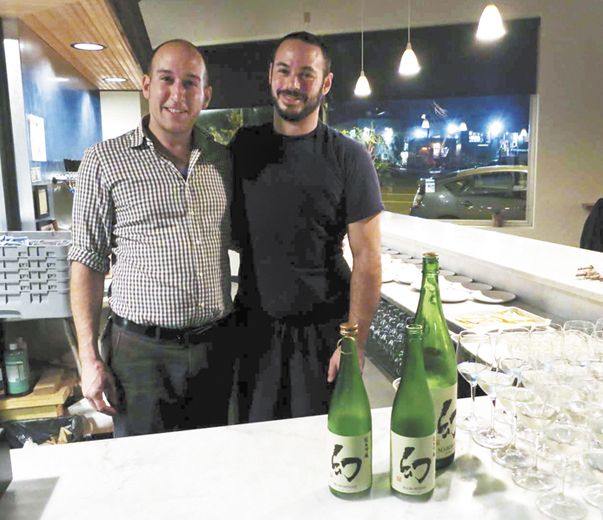 By Peter Szymczak
Now that it's winter in the Northwest, a steaming hot cup of saké makes a soothing sipper on a shivering cold, rainy night.
Right? Not exactly.
Although saké can warm you from the inside out, high-quality versions of the fermented rice drink should be served slightly chilled. Heating premium grades of saké is generally considered a no-no because doing so destroys its delicate aromas: "It's like boiling your Chardonnay before drinking it," said Marcus Pakiser, saké sommelier to Young's Columbia Distributing Co., the Northwest's largest saké, beer, wine and spirits distributor.
What's hot about saké is its growing sales, and that's okay with Pakiser.
"Ten years ago, we sold $400,000 worth of saké," Pakiser said. In 2013, he estimated his company's sales of saké will approach the $2.5 million mark — a six-fold increase. Today, Oregon is second only to California in per-capita consumption of saké on the West Coast.
Pakiser attributes saké's surge in popularity to Portland's hotly tipped dining scene and the adventurous appetites of epicurean enthusiasts. Over the past decade, several restaurants modeled after Japanese eateries, or izakayas, have opened up, including Biwa, Zilla Saké, Yakuza, Tanuki and Miho, to name a few. Traditionally, izakayas serve beer, saké and distilled spirits alongside small plates of food — Japanese tapas, as it were — as well as ramen and sushi.
Izakayas have proven especially popular with consumers in their 20s and 30s, the age group that has also embraced saké, but not to the exclusion of other craft beverages.
"Saké has fierce competition," said Gabe Rosen, chef/owner of Biwa restaurant. "We have a full cocktail program and a smart beer list. But do we have people who are interested in saké? For sure. Do we increasingly have people who know about saké? Absolutely. I see it trickling down with younger consumers; it has that trendy component," Rosen said.
Stella Parker, V.P. of sales for Joto Saké, confirmed Rosen's observation. "My parents humor me by drinking saké once in a while, but the reality is their age group is staid in its ways," Parker said. "Millennials, 30-somethings, people my age, they are much more likely to accept saké in new combinations. They're wine drinkers, too, but they want the cool wines."
That's not to say Baby Boomers, who are more accustomed to drinking wine, don't also seek out saké's enjoyment. At a recent saké-themed dinner catered by Biwa and hosted by Cyril's at Clay Pigeon Winery in Southeast Portland, there was an equal distribution of 20- to 60-somethings in attendance.
The occasion was held to highlight the sakés produced by Tsuyoshi Nakao, the sixth-generation president of Nakao Brewery in Takehara, Hiroshima. He was visiting Portland for the first time, showing off his Joto brand sakes — sold and distributed by Young's/Columbia — with their flashy new labels in English.
Addressing the guests, Nakao (translated by Pakiser) provided a brief overview of Japan's saké industry and his brewery's place in it. Among the approximately 1,300 breweries in Japan today, his is around the 200th largest. Family owned for 142 years, his brewery was once one of 26 in operation in Takehara during the last century.
But only three breweries remain in Takehara today. The decrease is due to less local demand, which has put breweries out of business and is spurring the development of new markets overseas. According to a 2011 Impact Databank report, the U.S. is now the largest export market for saké shipped from Japan.
Japan's youngest generation of drinkers, like their American counterparts, are exploring the wide world of beverages — whiskey and wine are trending there right now — and across all age categories, saké consumption is down. The situation is similar to that occurring in Europe, where wine consumption is also decreasing significantly.
Outside of izakayas, outlets for sales of imported premium sakés are limited. Asian markets in Portland, such as Uwajimaya, Anzen and Fubonn, stock the largest selections, but most bottles on the shelves have Japanese labels, making them largely indecipherable to inexperienced, albeit interested, saké drinkers.
To remedy this situation, Joto is striving to make premium saké more approachable by labeling their bottles in English. The labels also provide an explanation of saké terminology, which can also confuse new consumers.
Educating consumers is perhaps the greatest obstacle importers must overcome to gain mainstream acceptance of saké. Premium saké comes in a range of grades — from honjozo to junmai daiginjo. These classifications refer to the amount of "polishing" (removing the fats, proteins and other impurities from the exterior of the grain) done to the rice, and this translates in the quality of the finished product.
Saké is Not Rice Wine
"Wine is wine. Beer is beer. Vodka is vodka," Pakiser said. "People call it rice wine, but wine is made with grapes. Saké is a beverage fermented from rice."
In fact, aside from its textural, visual and roughly equal alcohol level — 14 to 16 percent — to white wine, saké differs in more ways from wine.
First, a bottle of saké, once opened, can keep up to a year when refrigerated. In theory, its shelf stability means less waste, which makes it appealing from both economic and environmental perspectives.
Unlike wine, most saké is meant to be consumed when fresh — no later than a year after it was made. Since cellaring a bottle for years until it reaches its prime isn't a factor, saké fits well with today's disposable, immediate-gratification culture.
"The Japanese are big gift-givers," said Rosen, who has traveled extensively and lived in Japan. "Fruit and saké are things that you can give someone, and by the act of consuming it, it disappears. You're not collecting a thing. You don't keep a cellar of saké, so there's no burden."
Along the same lines of keeping it light, there's also a popular conception that saké doesn't produce hangovers. "That's true as long as you're not mixing, and you're drinking premium saké, along with plenty of water," Pakiser said with a knowing wink.
It's the sulfites in wine that some blame for causing hangovers, and saké is 100-percent sulfite-free. Perhaps a greater selling point is the fact that saké is gluten-free, a consumer demand that has also skyrocketed.
Another potential inroad for saké is non-Asian restaurants. While most Americans equate drinking saké with eating sushi, the pairing is actually not commonly done in Japan since it pairs rice with rice, which is redundant.
"Just because you're eating spaghetti, doesn't mean you have to drink Italian wine," Parker said. (For food pairing recommendations, see the Tasting Notes section.)
And since every good twist deserves another, while sales of saké have taken off in America, Pinot Noir has become one of Oregon's hot exports to Japan.
Joto Saké: Tasting Notes
Nakao Brewery, maker of Joto Saké and other brands, is a pioneer of premium saké. The brewery rose to fame during the 1940s, when the Emperor of Japan served its saké for three consecutive years at the Imperial New Year Celebration. The brewery also earned accolades for its contribution to the craft of saké brewing.
Tsuyoshi Nakao's grandfather researched 2,000 types of yeast over 15 years before coming up with the idea of using apple yeast. "It was wonderful yeast, but it didn't work very well in the beginning," Nakao explained. "The problem was the apple yeast was very weak; inside the breweries, there was natural airborne yeast that was very strong and would overpower the apple yeast. During the fermenting process, the apple yeast would just stop. So, he came up with a way to make a new yeast starter so that the apple yeast could survive."
His invention of a yeast starter, called shubo, is now used by 60 percent of premium saké makers in Japan.
Gabe Rosen of Biwa and I tasted through the sakés made by Nakao Brewery. "Everyone says they want a dry, earthy saké, so flights are helpful conversation starters with guests," Rosen said. "Saké is kind of a tight profile, compared to European grapevines that can express a lot."
Joto Daiginjo
"Ginjo basically means fancy saké, and dai is a prefix that means big, above or elevated," Rosen explained. This daiginjo saké features Nakao's famed apple yeast; as a result, its aroma is very pronounced, with prominent scents of anise and acetone. "It's a little burn-y on the finish," Rosen noted, probably because daiginjo sakés have some alcohol added to further boost the aromas. FOOD PAIRING: Because of its bold flavor profile, this saké can cut through steak and roasted root vegetables.
Joto Nigori
Nigori translates roughly to "cloudy," which refers to its appearance. "To me, it's opaque — literally. It's sweet and chalky, but on the dry side," Rosen remarked. You may encounter flecks of rice when drinking unfiltered nigori-style sakés, but that hasn't seemed to diminish its appeal. Called the "White Zin" of the saké market, nigoris are popular with U.S. consumers, although they occupy just a small segment of the Japanese market. FOOD PAIRING: Because of their sweetness, nigoris provide a foil for Thai food and spicy dishes like kimchi-fried rice.
Seikyo "Omachi" Junmai Ginjo
Of the 15 or so rice varieties commonly used in making saké, omachi rice is the oldest heirloom saké rice. "This is a staff favorite," Rosen said, noting its mild aroma of bubblegum, strawberry and banana — "It's rooty tooty! Mouthfeel is really important with saké, too; viscosity and sweetness go hand in hand," Rosen said. FOOD PAIRING: Soft and smooth on the palate with fruit-driven flavors, this saké pairs well with a range of seafood dishes, from braised cod to sashimi.
Seikyo "Takehara" Junmai
Junmai saké is made with rice that's less polished (70 percent) than the previous two sakés, but Rosen advised not getting too caught up on the technical issues. "This saké made a huge impression on us when it first came around," Rosen said. "It's robust, big in flavor, a little rough-and-tumble." FOOD PAIRING: Rosen served this simultaneously piquant and earthy saké with chawanmushi, a traditional Japanese egg custard, which he accented with uni (sea urchin) and shiitakes.
Oregon's SakéOne
By OWP Staff
Although SakéOne was not part of the Biwa dinner, it is a must-mention, a must-taste for those who enjoy the local bounty of Oregon and are interested in American-made versions.
In 1992, Momokawa Saké was established as a joint venture between Frost International Group and Momokawa Brewing of Japan. A year later, the name was changed to The Japan America Beverage Company, which focused on importing saké from Japan for the U.S. market.
What started as a saké importer soon became a part of the saké-making business once it became apparent that its production in Oregon was possible and there was a market for it. The original owner chose the state because he believed the best quality water for saké was located in the Northwest, specifically on the east slope of the Coast Range.
Water is one of the most important ingredients in making saké, which made Forest Grove an ideal location. The company later changed its name to SakéOne in 1996 to reflect the goal of becoming the number one saké company in America.
In 1997, the construction of the kura — a type of Japanese-style building — was completed and the first brewed bottles under the Momokawa and Moonstone labels occurred the following year. Between the two product lines, SakéOne has won more awards than any other saké company in America and continues to strive for innovation while creating quality saké for its customers.
Today, SakéOne, located at 820 Elm Street, Forest Grove, is one of a handful of saké brewing facilities in America and the only saké brewery in Oregon. Additionally, SakéOne imports some of the finest Japanese made saké and distributes them throughout the U.S. market.
For more about SakéOne, visit www.sakeone.com.