Just Fondue It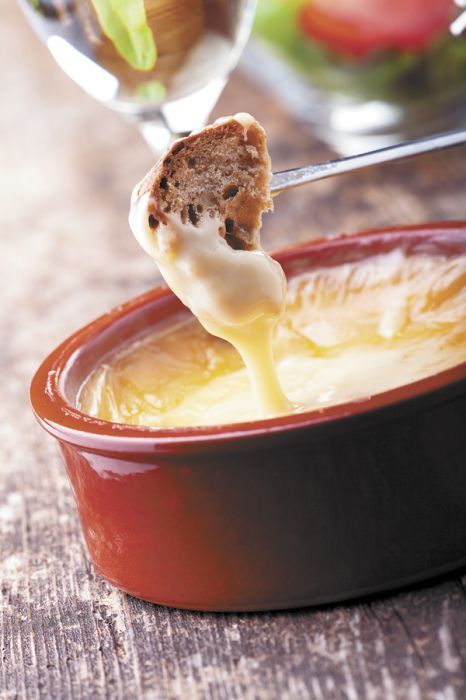 By Chef Wendy Bennett
Fondue may still be considered by some to be a party staple of days gone by, but this communal delicacy has enjoyed some reinvention in recent years with the addition of new cheese varieties and creative flavor combinations. Why not gather a group and ring in 2014 while dipping and sipping some of the combinations below? Start out with a cheese fondue, then move on to a hot oil fondue with a variety of proteins and dipping sauces and finish off the fun with a chocolate fondue! Fondue pots and forks, perfect for each application — cheese, hot oil and chocolate — are all available on the web.
TRADITIONAL FONDUE
Yield: 4 to 6 servings
INGREDIENTS
1 garlic clove, halved
1½ pounds aged Gruyère
1½ pounds Swiss Emmenthaler
1 tablespoon cornstarch
1 cup dry white wine
1 tablespoon lemon juice
1 tablespoon Kirschwasser (clear, colorless cherry brandy)
1/8 teaspoon freshly grated nutmeg
* finely ground black pepper, to taste
METHOD
1. Rub inside of fondue pot with clove of garlic and set aside. Keep garlic for another use or discard. 2. In a large bowl, coarsely grate cheeses and toss with cornstarch. Set aside. 3. In a medium saucepot, combine wine and lemon juice, and place over medium heat until hot. 4. Add cheese mixture, a handful at a time, while stirring, until cheese melts and all has been added. 5. Add Kirschwasser; then season with black pepper and nutmeg. 6. Set (empty) fondue pot on a low flame. When pot is warm, add fondue to pot. 7. Serve immediately with cornichons (petite sour pickles), cubes of good quality ham, steamed baby red potatoes and squares of crusty French bread.
WINE PAIRING: The classic pairing with traditional fondue is brut Champagne or sparkling wine. Why mess with classic perfection?
SMOKED GOUDA FONDUE
Yield: 2 to 4 servings
INGREDIENTS
1 garlic clove, halved
1 cup dry white wine
2 cups smoked Gouda cheese, shredded
¾ cup aged Gouda cheese, shredded
2 tablespoons cornstarch
¼ cup heavy cream
1 pinch allspice, ground
1 pinch cayenne pepper
* salt, to taste
1 pound lamb merguez sausage, grilled and sliced
1 loaf ciabatta bread, cubed
METHOD
1. Rub inside of fondue pot with clove of garlic and set aside. Keep garlic for another use or discard. 2. In a large bowl, toss the two Gouda cheeses with the cornstarch and set aside. 3. In a medium saucepan, heat the wine over medium-high heat. When the wine comes to a boil, add the cheese mixture a handful at a time while whisking, until all has been added and is melted. 4. Add heavy cream, allspice and cayenne and heat until very warm. Taste fondue and add salt, if needed. 5. Set (empty) fondue pot over low flame; when the pot is warm, add fondue. 6. Serve immediately with sliced lamb sausage, steamed broccoli, cauliflower florets and cubed Ciabatta bread.
WINE PAIRING: The acidity and subtle notes of cherry, cinnamon and vanilla of a Sangiovese is the perfect complement to the smokiness of this fondue.
HOT OIL FONDUE
With Beef Tenderloin, Panco Chicken and Coconut Shrimp and a Trio of Sauces
Yield: 6 to 8 servings
INGREDIENTS
2–4 cups peanut oil (see hot oil fondue pot instructions for exact quantity)
1 pound beef tenderloin, cut into ¾-inch cubes
1 pound chicken breast, cut in ¾-inch cubes, breaded with seasoned flour, then beaten egg, then panko bread crumbs
1 pound shrimp, large size (20–24 per pound), dipped in pancake batter, then rolled in coconut flakes
METHOD
1. Fill hot oil fondue pot according to manufacturer's instructions. This is important due to the possibility of overflowing the hot oil when food items are added. This can be very dangerous! 2. Heat the oil to 360–375°F. 3. Place a piece of meat, chicken or shrimp on fondue fork and gently lower into preheated oil. 4. Cook until done and remove from oil. Place cooked item on a plate and top with your choice of sauce.
HORSERADISH CREAM SAUCE
¾ cup sour cream
3 tablespoons fresh horseradish, grated
1½ teaspoons white wine vinegar
¼ teaspoon salt
¼ teaspoon freshly ground black pepper
1. Combine all ingredients well in a small bowl. 2. Refrigerate 2 hours before serving to allow flavors to blend.
PEANUT DIPPING SAUCE
1/3 cup creamy peanut butter
4 garlic cloves, minced
2 tablespoons grated fresh ginger
2 tablespoons low-sodium soy sauce
1 tablespoon light brown sugar
1 tablespoon toasted sesame oil
1 tablespoon Chinese black vinegar (or Worcestershire sauce)
1 tablespoon Sriracha chile sauce
¼ cup low-sodium chicken broth
1. Combine peanut butter, garlic, ginger, soy sauce, brown sugar, sesame oil, vinegar and chili sauce in blender or food processor and process 30 seconds. 2. Slowly add chicken broth. 3. Serve at room temperature.
BUFFALO SAUCE
1/3 cup Frank's RedHot®
¼ cup cold unsalted butter
1 tablespoon white vinegar
¼ teaspoon Worcestershire sauce
1. Combine hot sauce, butter, vinegar, and Worcestershire sauce in a small pot over medium heat. 2. Bring sauce to a simmer while whisking vigorously. Remove from heat and continue stirring with the whisk for 30 seconds. 3. Serve immediately.
WINE PAIRINGS: Beef with Horseradish Sauce: Tempranillo, Malbec or Cabernet Sauvignon are all great choices with this classic food combination. Coconut Shrimp with Peanut Sauce: Gewürztraminer pairs well with the sweetness of the shrimp and coconut and the spiciness of the peanut sauce. Chicken with Buffalo Sauce: Yes, there is a wine for buffalo chicken, and it is Syrah.
CHOCOLATE FONDUE
Yield: 4 servings
INGREDIENTS
8 ounces dark chocolate
½ cup heavy cream
1 teaspoon vanilla extract
METHOD
1. Melt chocolate and heavy cream in a double boiler until smooth. Stir in vanilla. 2. Serve immediately with marshmallows, doughnut holes, mini popcorn balls, strawberries, caramels, graham crackers, etc.
WINE PAIRING: Moscato, either still or sparkling, is a festive and delicious pairing. Pinot Noir has become a chocolate pairing classic and really works with the variety of flavor combinations.