Sipping the Stars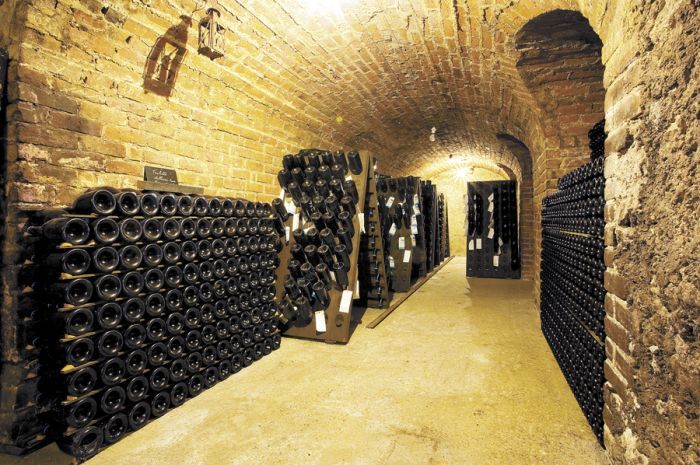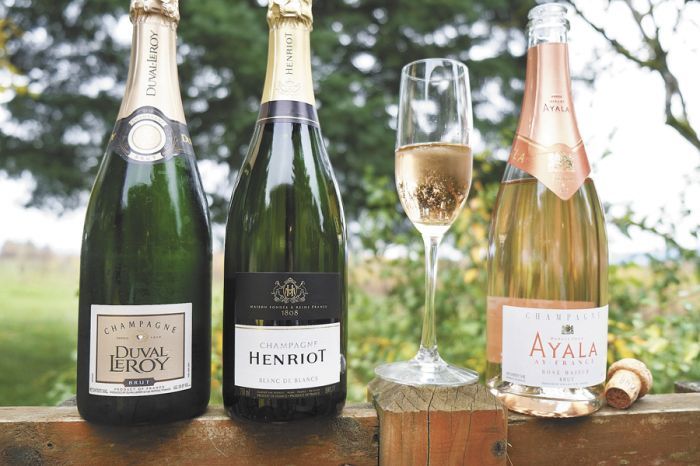 By Jennifer Cossey
With the holidays upon us, we start dusting off our party dresses and putting on our Champagne flutes…or is it the other way around? Either way, it's time to party and what better way to welcome the season than with a little lesson on our bubbly friend, the granddaddy of sparkling wine, Champagne.
Champagne is more than simply a category of wine. It's a region in France that gave birth to a renaissance of drinking wine with bubbles. The name has become synonymous with sparkling wine around the world, but, in truth, to be legitimately called Champagne, it must originate from the same-named region in France just east of Paris and north of Burgundy.
The specific method that creates bubbles in the wine through secondary fermentation in the bottle is known as méthode Champenoise. The primary grapes for Champagne production are Pinot Noir, Chardonnay and Pinot Meunier. It comes in a variety of styles, ranging from very dry to slightly sweet, white or pink, and it can be made from Chardonnay, called Blanc de Blancs, Pinot Noir and Meunier, Blanc de Noir, or a blend. Champagne can be vintage dated, or it can be a combination of vintages, referred to as Non-Vintage or NV. Most Champagne houses have many styles, including entry level wines and their tête de cuvée, the highest priced and most sought-after wines — think Louis Roederer's Cristal or Moët and Chandon's Dom Pérignon.
Starting in the 17th century, European royalty caught on to the new product and soon, through focused marketing efforts of producers and a thirsty aristocracy, Champagne quickly became associated with high fashion, festivity and exclusivity.
But the region was making wine long before kings and queens "discovered" it. In fact, the Romans began planting vines in the area around the fifth century, maybe even earlier. Later, churches owned vineyards and monks produced wine for use in sacraments. Winemakers of the ancient region looked enviously at their southern neighbors in Burgundy and sought to create wine that would not only match their quality and reputation but outdo them.
However, the Champagne regions had some challenges to overcome to accomplish this, namely that the region was cooler and the grapes struggled to ripen to the degree to make exceptional still wines. Yet, they continued their efforts working with fruit with naturally higher acidity and lower sugars… hmm, what to do?
Now, here is where the story begins to become mythical. Many have heard the tale that the Monk Dom Pérignon invented Champagne when an accidental secondary fermentation occurred while in the bottle and after pouring himself a glass he declared, "I'm tasting stars." While Pérignon did contribute to the development of modern day Champagne, he was not the inventor. Sparkling wine is thought to have been invented in 1531. The oldest recorded sparkling wine is called Blanquette de Limoux, believed to have been invented by Benedictine Monks in the Abbey of Saint Hilaire, near Carcassonne, not in Champagne.
More than 100 years later, an English scientist and physician named Christopher Merret made note of the addition of sugar to finished wine, encouraging a second fermentation. This documentation occurred almost 40 years before it was claimed that the famed Benedictine monk invented Champagne. In 1662, Merret presented the Royal Society with a paper in which he detailed what is now called méthode Champenoise.
Champagne actually didn't use méthode Champenoise until the 19th century, approximately 200 years after Merrett documented the process. Once the new method was employed, Champagne saw an explosive growth in production, going from around 300,000 bottles a year in 1800 to 20 million bottles in 1850.
Laws regulating the use of the word Champagne have become a little confusing. Even the terms méthode Champenoise and Champagne method were forbidden by a European Union in a court decision in 1994. As of 2005, the description most often used for sparkling wines not from Champagne yet using the second fermentation in the bottle process is méthode traditionnelle. And E.U. authorities aren't messing around. In 2008, more than 3000 bottles of sparkling wine produced in California labeled with the term "Champagne" were destroyed by Belgian government authorities.
We often describe Oregon's similarities to Burgundy in regard to climate and grapes, but as it turns out, we aren't so bad at sparkling production either. The Champagne region hasn't just inspired wines of Oregon, but her people, too.
Portlander Sharona Tsubota made her way to Champagne, motivated by the desire for learning more. Having been a wine educator for many years for her own enterprise, In Great Spirits, she decided to witness first hand the production of French wines; she moved to France in 2012 for a closer look.
"My initial intention was to stay three years or so, but now, who knows?" Tsubota queried. "Life here is great, and I'm learning so much."
Tsubota lives in a sub-region of Champagne called the Aube, where she works as the export and marketing manager for the "grower" Champagne producer, Vincent Couche, and offers visitors private, customized seminars and tours of various wine regions.
Local winery owner and importer Scott Wright of Scott Paul Wines is another Oregonian who has been inspired by Champagne, both the region and the stars in his glass. He started importing Champagne in 2006.
"Champagne was my 'first love'," Wright said, "I was blown away by a bottle of '61 Krug in 1969, and that's what sent me down the road to make wine and ultimately start my import company."
Wright is in good company here in Oregon. "Portland, and Oregon in general, is one of the best markets in the country for grower Champagne. There are more examples available here than perhaps in any other market in the U.S.," notes Wright, whose favorite Champagne pairing is truffled fries at Little Big Burger in Portland, as well as popcorn with truffle salt and sushi."
What will you pair with Champagne this holiday season? Whether it's popcorn, fries or party dresses and the sounds of celebration, enjoy every last sip and take in the stars.
FRENCH BUBBLES
Tasting notes by Jennifer Cossey
NV Ayala Brut Rosé Majeur, Ay-France, Champagne $45
Fresh notes of strawberry, peach, citrus and baked red apple along with hints of verbena, pie crust, honey and jasmine. It is elegantly balanced with prickly acids, creating a lovely, long finish.
NV Henriot Blanc de Blancs, Champagne $60
Apple, pear, dried lemon peel, biscuit, lily, hay, wheat, toast, olive oil, yeasty on the palate with a little more citrus and white flower, long finish and bright acid.
NV Duval Leroy Brut, Champagne $33
Yellow apple, Bosc pear, red apple, butter, cream, pastry dough (croissant), touch of white flower and citrus, fresh herbal note but very subtle, a little muted on the palate with some yeastiness in the finish.