When It's Wine, It Pours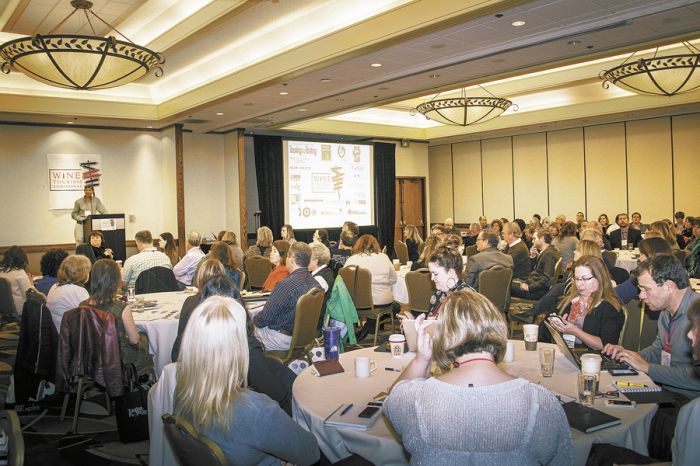 By Karl Klooster
From Wednesday, Nov. 13 through Saturday, Nov. 16, more important events wine-wise were happening on in Portland than any time before in the city's history. And that's no exaggeration.
On Tuesday, Nov. 12, attendees began arriving from around North America to take part in the third annual Wine Tourism Conference, a professionally focused overview of the rapidly growing wine tourism industry.
Although the conference did not formally open until Thursday, Nov. 14, a full day of workshops from 9 a.m. to 4:30 p.m. on Wednesday drew early arrivals interested in tasting room marketing and social media.
A still-evolving communications tool, social media received close evaluation. An entire three-hour session was devoted specifically to the subject as it relates to wine and wine tourism. Breakout sessions included: When wireless meets wine; Who are wine bloggers and how can you work with them?; Live website critiques; and Virtual tourism. The dialogue on this subject is crucial because, like it or not, being wired in to wireless is no longer the wave of the future. It has already broken over us and its tide is relentlessly rising.
Thursday morning, noted wine writer and journalist Linda Murphy delivered the keynote address, presenting some rather cogent remarks designed to get people thinking. Murphy posed the question: "How do you separate yourself from other wine tourism choices?" She then promptly provided her own well-reasoned answer: "By treating visitors kindly, with warmth and hospitality. Make them feel comfortable. Tell them a story."
In fact, Murphy postulated with a sense of certainty, "How tourists are treated is more important than the wine." Such a categorical declaration gave the partisan crowd something to ponder. She followed by advising, "Get out of the competitor mentality." Citing the old saying, "A high tide lifts all boats," she stressed how the wine industry must regard itself as one and work together.
Despite the growth of online opportunities, it remains her conviction that print publications, magazines and newspapers, remain the best media avenues to effectively reach the tourism audience. She stressed the importance of local, community publications as the most important sources for travelers.
Conference attendees included representatives of wineries, winery associations, travel and tourism agencies, chambers of commerce, public relations firms, event planners, publishers, bloggers and others. All were eager to exchange ideas and get to know one another better, even strategizing together to achieve similar goals.
Socializing time is an equally valuable element of these face-to-face encounters. Wine receptions on two consecutive evenings and a formal luncheon helped provide that opportunity at the tourism event.
The conference wrapped up at 4:30 on Friday, Nov. 15. After being immersed in up to three wine information-filled days, conference-goers needed only stay over Friday night to get in on some serious tasting action.
On Saturday, from 3 to 8 p.m., the inaugural Great American Wine Festival offered the opportunity to sample wines from Idaho, Ohio, Virginia, Maryland, Missouri, Colorado and Oklahoma, in addition to California, Washington and Oregon. (Click her to read more about the Great American Wine Festival)
Both the conference and the multi-state festival were organized by Zephyr Adventures, a Montana-based company specializing in tours, conferences and events with emphasis on the wine, beer, food and health industries.
Concurrently, from 4 to 8 p.m., the annual Northwest Food & Wine Festival featured wines from 40 Oregon wineries and seven artisan distillers, and samples from 24 restaurants and food purveyors.
All three events, the Wine Tourism Conference, the Great American Wine Festival and the Northwest Food & Wine Festival, were held at the DoubleTree by Hilton near the Lloyd Center. And there could have been no group more capable of fully appreciating such public wine events than the 300-plus tourism participants who needed only to take a few steps from their hotel rooms.