Enthusiasm for Oregon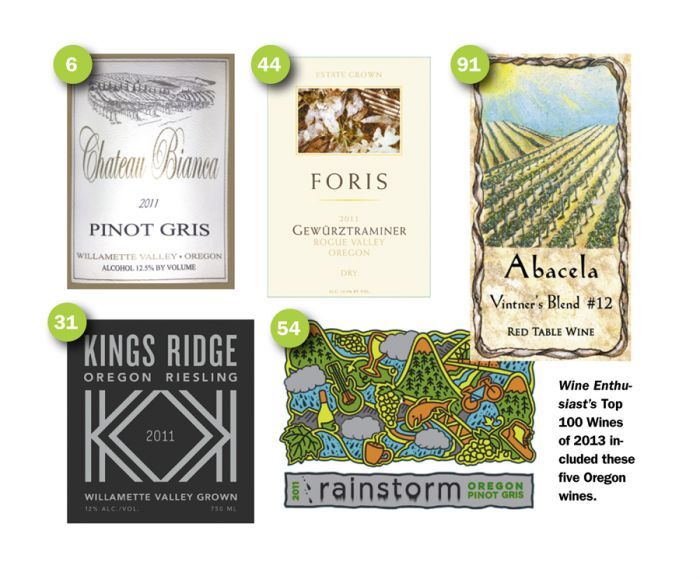 By Karl Klooster
Everyone with even a passing interest in the wine industry knows Wine Spectator. The most widely read wine magazine in the world, it claims to reach 2.6 million readers a year.
You don't hear much about No. 2, Wine Enthusiast, even though it has been around since 1986 and claims to reach 800,000 readers through 13 issues. Every issue, its tasting panel evaluates dozens of wines from around the world, putting the emphasis on wines costing less than $15 and thus offering optimal value.
Working with this large base, the magazine then selects its the Top 100 Wines of the year — its best of the best. And the 2013 list, just released, includes several wines from Oregon.
Capturing the No. 6 spot — and remember, this is a list encompassing the entire globe — was 2011 Chateau Bianca Willamette Valley Pinot Gris. Priced at $12, it had a modest production of 156 cases.
Chateau Bianca is situated almost at the entrance to the much-vaunted Van Duzer Corridor, where cool air from the coast flows freely, and sometimes forcefully, into the northern Willamette Valley.
The winery is Pinot-centric. That means Pinot Noir, Gris and Blanc account for most of its annual production of 15,000 cases. But it produces a sprinkling of other varieties, including Chardonnay, Gewürztraminer, Riesling, Syrah and Marechal Foch.
The winery is owned by the Wetzels, who proudly boast both a Germanic heritage and a winemaking tradition dating back several generations. Lying just off Highway 22, northwest of Dallas, it opened in the mid-1980s.
Here are the tasting notes for the winning wine: "Lovely tree fruits and a hint of honeycomb come through in this well-balanced Pinot Gris. It offers both easy drinkability and surprising depth of flavor, with a lingering finish that should cost you significantly more."
The panel accorded it 91 points.
Union Wine Co. captured Wine Enthusiast's No. 31 spot with its 2011 Kings Ridge Riesling. Priced at $13, it had a production run of 900 cases.
In business just four years, Union has come out of the gate at full gallop. The Tualatin-based winery was founded in 2009 by winemaker Ryan Harms and grower George Hillbery. From the outset, their concept was to "over-deliver."
Apparently, Harms, now the sole owner, has done exactly that with the Kings Ridge Riesling. The Enthusiast describes it this way: "The best since the 2007, this is a lickable, lip-smacking, sweet-tart bottle of lemon-lime fruits with a perfect blend of sugar and acid. It captures the refined elegance of the best Willamette Valley Rieslings, and the crisp minerality underscores the mouthwatering fruit."
It earned 90 in the blind tasting.
No. 44 on Wine Enthusiast's Top 100 is the 2011 Foris Rogue Valley Gewürztraminer. Year in and year out, for umpteen years, Ted Gerber has made one of Oregon's finest Gewürztraminers at Foris. So it's no surprise to see his 2011 on the list. Only 813 cases were produced. It's selling for $14 a bottle.
Enthusiast, which accorded the wine 90 points, said: "The lovely floral aromas are a pure expression of the grape's unique spice and rose petal characteristics. It's deeply flavorful, soft, elegant and lingering, with a lychee flavor."
Such accolades could just as well apply to a great Gewürz from one of the top producers in the Alsace. That it comes from Southern Oregon and costs half of what its French counterparts fetch makes it all the more remarkable.
Taking the number 54 spot was the 2012 Rainstorm Oregon Pinot Gris. Not yet a well-known name, Rainstorm was introduced at the beginning of 2012 by VinMotion, a marketing outgrowth of Pacific Rim.
The wine is made from Oregon grapes at Pacific Rim's Columbia Valley winery in Washington. Best known for its strong position in Riesling, Pacific Rim is owned by the Mariani family, which also owns New York-based Banfi Vintners, a major importer of Italian wine.
Rainstorm's 2011 Pinot Gris is priced at $14. Production ran 7,630 cases, and the colorful label should be easy to spot in the retail marketplace.
Wine Enthusiast's tasting notes were enthusiastic, saying, "This excellent Pinot Gris is loaded with Gravenstein apple, cut pear, and a taste of orange peel. Surprising length and power for a Euro-styled wine with modest alcohol."
Abacela's Vintner's Blend No. 12, priced at $15, ranked 91st. Another Southern Oregon wine with loads of character, its production totaled 1,243 cases.
Wine Enthusiast, which gave it a 90-point rating, said: "This blend of Tempranillo, Malbec, Dolcetto, Merlot and Syrah could have turned into a generic red, yet it is seamless and nicely proportioned. It's a real crowd-pleaser, with a ripe red-fruit flavor and generous new-barrel-derived toast and spice notes."
With such top value wines gaining national attention, the myth that the only good Oregon wines are high priced is rapidly being dispelled.