Grapeful for Gamay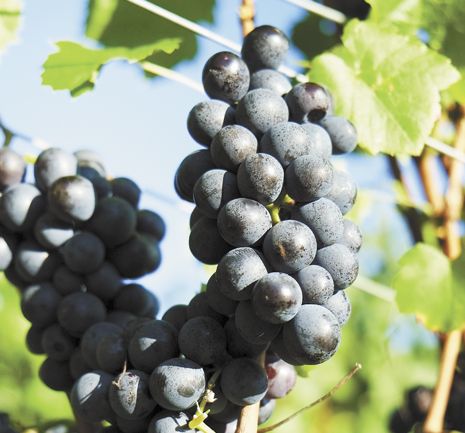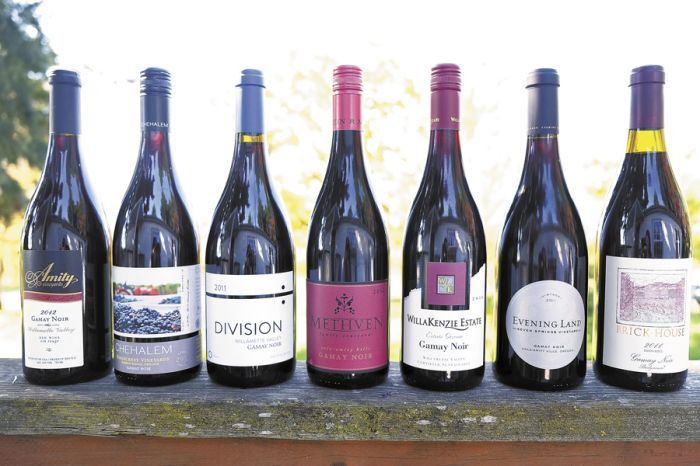 Story and Photos by Jennifer Cossey
During the holiday season, there is a lot of talk about Pinot Noir as THE red wine to go with turkey. While there is no debating the wisdom of that pairing, there is another grape not to be overlooked: Gamay Noir.
With qualities similar to Pinot, Gamay enjoys its own unique personality. Generally speaking, it's light-bodied, fruit-forward and laced with notes of herbs and spices. The wine's focused acid and pleasant texture make it a food-friendly option perfect for the Thanksgiving table. What's more, Oregon makes some fantastic ones.
Gamay Noir has become synonymous with France's Beaujolais Nouveau, which is aged just a few weeks before being released and celebrated on the third Thursday of November. Unfortunately, it has not consistently been equated with quality. The wine was started as a way to bring attention to Beaujolais, the growing region in the Southern-most part of Burgundy. It was also a way to bring money into wine businesses by releasing a product with extremely little bottle age.
Cellared to the fullest extent are the region's premium Village and Cru Beaujolais, celebrated by many winemakers and sommeliers for their depth, richness, complexity, food-friendly acids and price tags — generally much lower than the wines to the north in the Côte d'Or, home to world-renowned Pinot Noirs.
Today, several Willamette Valley wineries, including Brick House, Evening Land, Amity Vineyards, Methven, Chehalem and WillaKenize grow and produce Gamay from their estate vineyards, showing a real commitment to the grape. Portland wineries Division Wine Co. and Bow & Arrow also have followed their passion for the grape and are producing not only classically inspired reds but also Gamay-based blends and rosés.
Although Gamay's history dates to the third century in France, Oregon's experience with the varietal started in the '80s. The first true Gamay vines were brought to California in the early '70s, making their way north in 1987 when Amity's Myron Redford grafted the Gamay over two acres of Gewürztraminer at Seven Springs Vineyard in Eola-Amity Hills.
Amity's 1988 bottling was the first Oregon Gamay Noir ever made. Redford continues to make his wine in the style of the Village level wines of Beaujolais with no oak and a whole cluster fermentation technique called carbonic maceration. "The thing I love about it is the fresh fruit, lushness, and they can age quite well," says Redford.
Carbonic maceration, a traditional production method often used in Beaujolais, ferments most of the juice while it is still inside the grape, although fruit at the bottom is crushed by the weight and undergoes conventional fermentation. This method creates wines that are lighter in body, color and alcohol.
Tasting through some of Redford's older vintages, I ponder how Gamay is so often misunderstood. Many think it a wine to drink young but in tasting the '91, '97, '02 and '05 vintages, it becomes obvious that, like Pinot Noir, Gamay also takes on interesting secondary aromas and depth in the palate as it ages. The wines still show brightness and fruit, acid and even tannin with notes of dried rose petals, dried cranberries and herbs.
"One of the reasons they age so well is that they are never exposed to oak, they never oxidize. We get it into the bottle really fast with some fermentation character still in it," says Redford.
Since the '80s, many have followed in Redford's footsteps. Some of the newest to Gamay are Tom and Kate Monroe of Division Wine Co. The couple decided to work with Gamay when they fell in love with the grape while living and working with it in France's Loire and Beaujolais regions.
"When we moved here to the Willamette Valley, [Gamay] was made in very small quantities, though very well, so we wanted to explore its potential in the U.S." Kate says.
Today, the couple makes three Gamays: a light and fresh rosé with notes of fresh cranberries and strawberries, a Nouveau-style wine and a traditional Gamay inspired by the Crus of Beaujolais. They also incorporate carbonic maceration and ferment and age the wines in cement vats along with some oak aging. The Monroes feel the soils and climate of Oregon are a major reason why Gamay seems to thrive in this area.
"The volcanic terroir in the Haute Loire AOC has remarkable similarities to the Willamette Valley — even more so than Burgundy," Kate says. "The climate is also similar to that of the Beaujolais, one of the premier spots for growing Gamay in France. It seemed to be a likely match!"
Brick House Vineyards owner and winemaker Doug Tunnell has been making Gamay since 1994 from vines he planted on his estate vineyard in the Ribbon Ridge AVA. Tunnell had spent time in Beaujolais when he lived in France in the '80s; it reminded him of his home in the Willamette Valley.
Ultimately, it was the vineyard that dictated his decision to plant the grape, "Based on most of the indicators available to us back in 1990, Gamay Noir seemed a good bet for a hillside on Ribbon Ridge," said Tunnel. Those indicators included the fact that the soil — marine sediment — was similar to the soils of the Beaujolais, soil pH was almost identical and the temperature and rainfall patterns were very closely aligned.
As for growing it, there are of course similarities and differences in the process. "The Gamay is typically harvested four to seven days later than our Pinot Noir," Tunnell says. "It requires much more rigorous crop thinning. Canopy management of Gamay Noir is significantly easier than either Pinot Noir or Chardonnay because the shoots remain quite straight throughout the growing season. Once they are held in place by catch wires, they will remain upright until pruned the following winter."
But what about serving it? Pinot Noir glasses work quite well. Gamay's many styles allow for serving the wine at different temperatures. It can be a pleasant wine to serve at cellar temperature or slightly elevated in temperature to expose some of the more subtle and interesting flavors.
Vanessa Bazzani, sommelier and manager at Portland's Veritable Quandary, loves the food-friendly wine so much, she has an Oregon Gamay glass pour on the restaurant's menu.
"I love to drink wines that go with food. There's an incredible beauty in a wine that asks for food with it. I think Oregon Gamay is that wine right now," Bazzani says. "The intense fruit, sour cherry and black raspberry first, then a smack of minerality, chalk and black pepper that begs for a bite of duck confit with a fruit gastrique."
Tunnell feels that is one of the attributes that makes Gamay so special and as versatile as it is delicious, "The beauty of Gamay Noir is that it can be paired with almost anything."
A wine for every palate and every season. Now, that's something to be thankful for.