A Proper Binge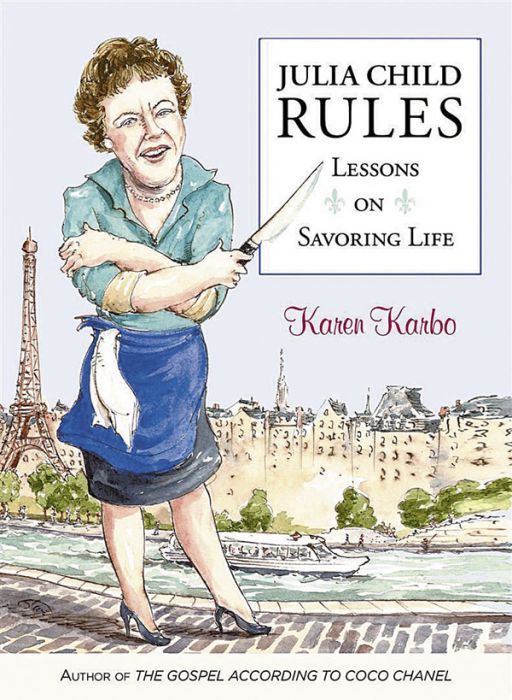 Review by Kerry Newberry
Even the most ardent Julia Child devotees will discover new quirky insights into the life of the iconic chef in Karen Karbo's most recent book "Julia Child Rules: Lessons on Savoring Life." This is the fourth title in the Portland author's best-selling "Kick Ass Women" series — others include "How Georgia Became O'Keeffe: Lessons on the Art of Living" and "The Gospel According to Coco Chanel: Life Lessons from the World's Most Elegant Woman."
Ten Child-inspired lessons — or rules for happy living — open each chapter. The first: Live with Abandon. "She craved adventure and made a point to find it wherever she could," writes Karbo. The book opens in the summer of 1946, with Julia McWilliams embarking on a cross-country road trip with the man she would later marry, Paul Child.
Sprinkled with stories of the Child's charming courtship and anecdotes from Karbo's own father — never marry someone until you've driven cross-country with him in a car without a radio — the first chapter introduces Child before she became the gourmet luminary. "A woman who played each day as if it were a piece of jazz," writes Karbo.
Between whimsical facts and tidbits about Child's earlier years, Karbo posits that our enchantment with the chef is less about her cooking, "and more about our admiration for her immutable aptitude for being herself," in the kitchen, in life and in love. With all her success, it's easy to forget that Child was 37 when she discovered her passion for cooking, 51 when she hit it big as "The French Chef," and as Karbo quips, ATV riding at 72.
The first chapter's message? "You are never too anything (too fearful, too short, etc.) for anything" when living à la Child. "Every time someone is trundling her cart down the wine aisle and thinks, 'I'm going to give this Schloss Gobelsburg Gobelsburger Rosé Cistercien a shot!' Julia is there," writes Karbo. When you reach for another stick of butter, "you're cooking with abandon, the Julia way," she adds.
The third rule, Learn to Be Amused, chronicles her years at Smith College. "When her roommate, Mary, hung a rug between their beds so that she could study, Child would toss jelly doughnuts over the makeshift wall," writes Karbo. In these stories, we see the wild, jovial streak that was always part of her.
Obey Your Whims is the next. "You've got to have a what-the-hell attitude," writes Karbo. Here, we follow Child following her impulses. "When America entered World War II, Julia woke up," writes Karbo. Child signs up to volunteer for the local Aircraft Warning Service, works for the Red Cross and eventually takes the civil service exam. She then leaves her comfortable life in Pasadena, Calif., for Washington, D.C., where she is hired as a junior research assistant for the OSS (Office of Strategic Services), the precursor to the CIA.
This pivotal moment lands Child working in Sri Lanka, where she meets her lifelong love and champion, Paul Child. "You never know what you might find at the end of an impulse," writes Karbo. "One of her abiding qualities was a belief in spontaneity, and the power of acting on a whim," she adds.
The provocative Rule No. 5? All You Need Is a Kitchen and Bedroom. Francophiles will indulge in this Paris-focused chapter in which Karbo recounts the simple meal that changed Julia's life (oysters on the half shell and sole meuniere) and the subsequent elaborate meals Child cooks in a tiny apartment kitchen for her love.
When fans wrote letters asking Child how to become passionate about cooking, Child always answered the same thing, writes Karbo. "Go to France and eat." And so, Karbo does. She travels to Paris with a good friend, not to eat in the finest Parisian restaurants, but to cook her favorite Julia Child recipes in a tiny Parisian apartment kitchen and layers her own comical Julia-inspired culinary escapades into the narrative.
As Karbo and her friend struggle over poaching fish in their oven-less apartment, she realizes that in their eagerness to experience French food the way Child did when she was learning to cook, they forgot an essential ingredient: Paul Child. "She was cooking for Paul, the love of her life, and Kathy and I were cooking for the heck of it," writes Karbo.
To Be Happy, Work Hard. This is the simple, but oh-so true Rule No. 6 in which Karbo illuminates Child's years of "cookery-bookery" — when she cooked and tasted and re-cooked and re-tasted enough recipes to comprise the first draft of "Mastering the Art of French Cooking, Volume 1." In subsequent chapters, when Houghton Mifflin rejects Child's 750-page manuscript, we are reminded to "Try again. Fail again. Fail better."
Karbo's quick-wit combined with entertaining prose is hard to resist. And overall, this spirited read is not just for Child fans; it's for any reader seeking that spark, or a story about charisma and a life well-lived. "Julia Child Rules" really inspires; it's a book sure to have ear-marked favorite passages and motivating anecdotes you'll repeat to friends. Perhaps, even, a new mantra to "live like Julia." Karbo has even started a movement on Twitter and in the blogosphere with devotees picking a chapter and aspiring to live that rule for one week.
The book's most pervasive lesson — and lasting impression — relates to finding your passion in life, and we are reminded that you can discover this at any age. Is it cooking, making wine, scuba-diving? "You don't have to be good at it," writes Karbo in the chapter titled Make the World Your Oyster (Stew), "it just has to be something that would consume your every waking hour if you let it."
I think Julia would chortle; there is no time like the present.
Kerry Newberry is vineyard-hopping, Pinot- sipping food and wine writer in Portland.