Firehouse Transformed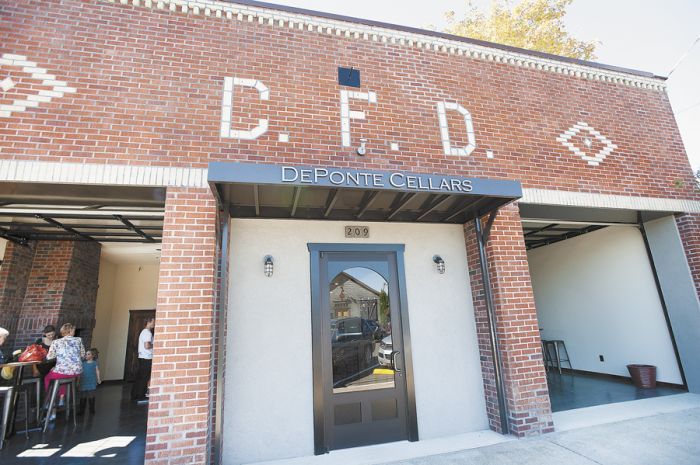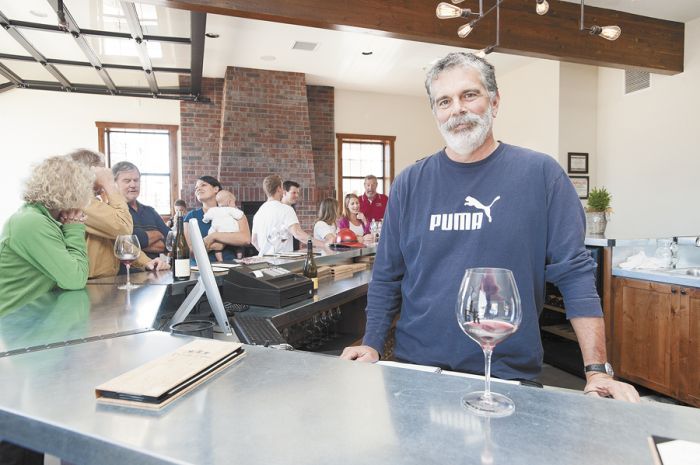 By Karl Klooster
In March 2010, a new fire hall opened on the northern edge of Carlton, replacing a 67-year-old badly outmoded brick building.
Completed in 1943, the old hall lies on Kutch Street, just north of Main. At the time of its construction, it was sufficient. But the area it serves has since grown exponentially. During the last decade of its fire hall service, its inadequacies became increasingly evident. First, it encompassed only 3,000 square feet.
When the new fire hall went into service, community leaders heaved sighs of relief and flashed smiles of satisfaction. But they were left with another task — finding a new use for the old building.
For three years, prospective buyers came and went, without any deal being struck. The building, carrying a seemingly excessive asking price of a quarter million dollars, sat empty. Then the perfect buyer came along. Seeking a prominent presence in Carlton, Scott Baldwin, owner of the De Ponte Cellars winery in the Dundee Hills, decided the old brick building would fit the bill.
Almost from the day it opened in 2001, De Ponte — pronounced duh pawnt — became a highly regarded figure in the world of exceptional Oregon Pinot Noir. This came about, Baldwin said, in large part because he was able, at the outset, to secure the services of the highly talented and respected winemaker Isabelle Dutartre.
Dutarte is a French woman with all the elan and je-ne-sais-quoi that accompanies top-tier winemaking. Before joining De Ponte, she worked for her old friend Veronique Drouhin at Domaine Drouhin Oregon, both of them commuting from France.
She studied at the University of Dijon in Burgundy, then worked in the vineyards of the Côte-d'Or. She came to Oregon in 1992, because the prejudices of the French wine industry made it difficult, if not impossible, for a woman to advance.
The warm acceptance she felt here cemented her commitment to Oregon. So when Scott and Rae Baldwin came calling in 2001, it was an easy transition for her. Within five years, Dutartre had made the move to McMinnville on a permanent basis, her children in tow. They have happily made the Yamhill Valley their home as she has continued her winning ways at De Ponte.
She inherited in her new job access to a 22-acre estate vineyard. It consists of 20 acres of Pinot Noir and two acres of Melon de Bourgogne, a Loire Valley white rarely seen here. The Melon — pronounced meh-lahn — was head-trained. Untrellised, it grew like a bush. This Old World throwback proved too troublesome, so the vines were re-trained to a single-wire trellis, with one head-trained plant remaining at the end of each row.
The Pinot plantings represent a mix of Dijon clones. They go into De Ponte's distinctive Dundee Hills AVA estate-style offering. The wines display juicy, round, red fruit characteristics that mingle with minerality.
Additionally, Isabelle makes her own Pinot, called 1789 in commemoration of the French Revolution. The fruit for it is drawn from the Chehalem Mountains AVA.
In 2007, Baldwin bought an 80-acre site featuring an existing six-acre Pinot Noir vineyard on Meadow Lake Road, just over the western edge of the Yamhill-Carlton AVA. A herd of Angus/Hereford steers roam, free-range, over the adjoining fields. He named it Lonesome Rock Ranch and planted another two acres there in 2010. Though it only qualifies for the all-encompassing Willamette Valley AVA label, the rocky site holds great future promise.
During harvest, the pampered bovines roaming nearby are treated to pomace left from De Ponte's winemaking process. Maturing in 22 months, they produce tender and tasty beef sold exclusively to members of the De Ponte Wine Club.
The winery was named after Baldwin's grandfather, Manuel De Ponte, who loved wine. He made wine in his native Portugal before bringing the hobby with him to the U.S. From honoring his grandfather to entirely changing his life for the sake of his son, Baldwin's devotion to family has manifested itself repeatedly.
Soon after the birth of their child, Clay, the Baldwins discovered he was deaf. Deciding what would be in their son's best interests preoccupied their minds. Scot and Rae were Californians. They were leading the good life in the Carmel Valley, one of California's most idyllic havens.
But testing had determined that, unlike some deaf children, Clay had the capability of speaking. Only a half-dozen schools in the country offered the highly specialized curriculum designed to achieve this difficult goal, and the Tucker-Maxon Oral School in Southeast Portland was one of them.
The Baldwins sold their walnut orchard in the Central Valley and headed for Oregon. They initially bought a hazelnut orchard near Forest Grove, where they also planted some winegrapes. Their thoughts continued turning toward wine. Baldwin said attending the 1997 IPNC was the turning point. "We were hooked and started looking around for a winery and vineyard."
A place on Breyman Orchard Road caught their eye, but the broker advised them a deal was already pending. He then discovered the pending offer was considerably below the asking price. "We told him to offer full price," Baldwin said. "We wanted this place. It was just too good to pass up."
Their offer was accepted and that was that. It was only later they discovered the other bidder had been San Antonio Spurs coach Gregg Popovich. The deal closed on January 1, 1999, and they promptly hired winegrower Buddy Beck to plant 2.5 acres in Pinot Noir.
That same year, they sold their Forest Grove property to the owners of Apolloni Vineyards. "They've done a nice job with it," Baldwin said, "but we are delighted with what we have."
The repurposed fire hall has proved quite a project. Everything has been redone, from walls to ceilings to flooring. Natural wood has been used to complement the rustic brick exposed on the interior as well as the façade.
"The structure essentially had to be rebuilt from the inside out," he explained. "The brick walls are no longer weight-bearing."
From the gleaming V-shaped bar and fireplace up front, to the long dining room and professionally outfitted kitchen, no attention to detail has been spared. And the garden patio offers yet another separate dining and tasting area.
"We will be making the dining facility available to virtual wineries, ones that don't have an entertainment facility of their own," Baldwin said. "There is a very large market potential in this area."
Yes, and there is always large potential for innovators like Scott and Rae Baldwin, who have taken their own path to winding up among the Yamhill Valley's best.