Neighborly Nibbles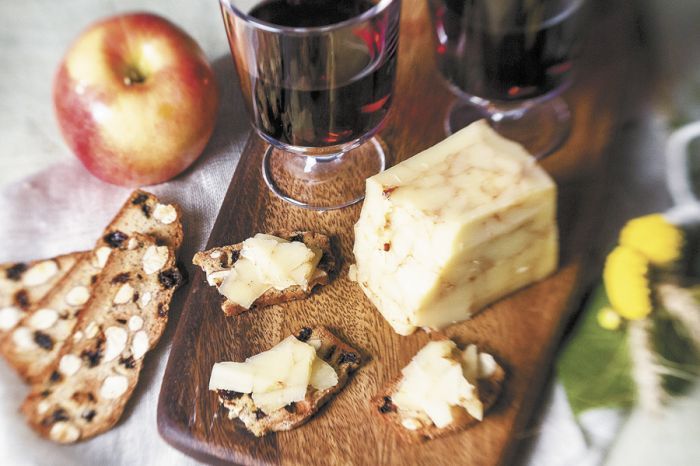 By Christine Hyatt
Sharing similar growing conditions with Burgundy, the Willamette Valley was practically predestined for Pinot Noir greatness. The state's wine pioneers were keen to realize this similarity, planting the noble grape decades ago and growing an industry that has officially made the world wine map.
Of course, Burgundy is also famous for cheese, and Oregon has started to follow suit. Cheeses of distinction are emerging much like the vines some 40 years ago. Entrepreneurial spirit and dedication is, once again, crafting an industry we can enjoy, especially with a glass of wine.
Like France, Oregon contains a variety of microclimates, a major contributing factor to the unique variety of cheeses now thriving here. North to south, a new crop of Oregon creameries is making it possible to create a distinctive wine and cheese trail.
When touring Oregon's wine country this Thanksgiving Weekend, I encourage you to seek out neighboring creameries and wineries for a pairing sure to please. To make your journey all the more flavorful, I recently asked a few of my favorite local cheesemakers to share a special pairing they created with a nearby winery.
In the Willamette Valley, two cheesemakers own creameries open for touring and tasting during the special open house weekend.
Just outside Salem in the Eola Basin, catch one of the early adopters of farmstead cheesemaking, Willamette Valley Cheese Company. Dairyman Rod Volbeda grew up on a dairy farm and, after college, decided to trace his Dutch history back to Holland, where he learned to make Gouda. Today, he crafts a line of award-winning aged and surface ripened cheeses from his herd of Jerseys. A tasting room on the farm allows visitors to savor the cheeses and buy their favorites to pair with local wines.
On the ridge, up the hill from his grazing cows is Stangeland Vineyards. A winning combination endorsed by both cheesemaker and winemaker is Brindisi cheese, an Italian-style variety based on a Fontina recipe, though firmer and drier than its European counterpart. Named for the cheesemaker's mother, Brindisi Fontina pairs beautifully with Stangeland Pinot Noir. Take home a wedge and a bottle, and see if you don't agree.
If your travels take you just north to the Dundee area, don't miss Briar Rose Creamery, one of the newest superstars in the state. Sarah Marcus and her husband, Jim Hoffman, are the dynamic duo behind what has become some of the state's finest aged and fresh goat cheeses. In fact, last month Briar Rose won four medals at the American Dairy Goat Awards held in Charlotte, North Carolina. The creamery also won Best Chèvre 2013 at the Good Food Awards in San Francisco.
Recently, Marcus and Hoffman brought some cheeses to their neighbors at Lange Estate Vineyards. The selection included their fresh and aged varieties along with a few of their highly addictive chocolate goat cheese truffles.
Harvest was in full swing the day of the visit, as totes of grapes were de-stemmed and crushed. Wendy Lange took a break from her work to pour a flight of wines, both white and red. The group sat in a corner of the bar, sipping and nibbling through the delicious pairings.
"When we tried a piece of Freya's Wheel alongside the Lange 2011 Three Hills Cuvee Pinot Noir, it just worked," Marcus says. "Together, the acidity in both the wine and cheese was softened. The cheese brought out the minerality of the wine, and the wine made the cheese taste richer and earthier." Lange also noted how the truffles paired perfectly with the Pinot, making the wine velvety smooth and bringing out hints of tobacco. Dessert, anyone?
For those tasting farther south in the Rogue Valley, a fantastic stop to savor both the local cheese and wine flavor, make sure to visit Artisan Corridor in Central Point. Rogue Creamery Cheese shop manager Tom Van Voorhees, an American Cheese Society-Certified Cheese Professional, went next door to Ledger David Cellars for a standout pairing. Two duos made the cut.
The first was 2010 Orion's Nebula with CacowBelle, a cheddar delicately flavored with local Lillie Belle Chocolate and spices.
"We are having a lot of fun with CacowBelle, pairing it with everything from Pinot Noir to Port," says Van Voorhees. "The chocolate notes work with the fruity sides of the reds and the cinnamon-chile hints play with the spicy, leathery, tannic layers really well.
The second pairing starred Rogue's fudgy, earthy natural-rind Caveman Blue with the 2010 Tempranillo.
"I have always loved Caveman with big, juicy red wines that have some acid to them," he says. "The cheese is slick and pudgy, but that is brought in line by the wine's acidity, while the earthiness in the Caveman's flavor is complemented by the fruitiness in the Tempranillo."
Any way you slice it, as you begin your Thanksgiving weekend wine journey, look just a bit beyond the vine for some local cheese and bring home a wedge to enjoy over the rest of the weekend.
Burgundian Bites
Famous cheeses from the Burgundy region include Époisses de Bourgogne, Delice de Bourgogne and Charolais.
Époisses, perhaps the most famous, is an aromatic, stinky cheese with a rust-colored rind protecting a dunkable, molten center. The cheese was resurrected in the 1950s after disappearing during World War II.
Délice is a more modern creation, emerging as part of a trend of uber-rich, surface-ripened butter-bombs like Brillat-Savarin and l'Exploratuer. The triple cream has a strong pungent aroma and a rind similar to Brie.
Charolais comes from the granite plains of Charola region of Burgundy. The subtle flavors of mixed cow's and goat's milk, the saltiness, sweetness and acidity sharpen with age.