Full Circle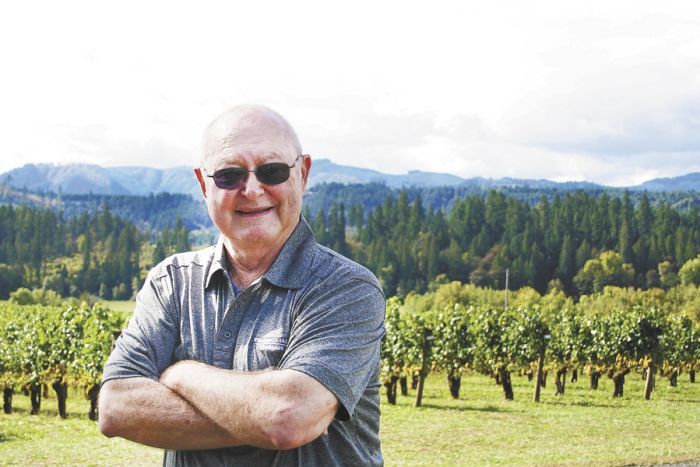 By Karl Klooster
A graduate of University of California, Davis, wine pioneer Bill Fuller had put in a nine-year stint at Louis Martini Winery in the Napa Valley before moving to Oregon in 1971. He co-founded Tualatin Vineyards west of Forest Grove in 1973 and quickly established a reputation as one of the state's top winemakers.
Fuller operated his winery for 26 years, taking the Tualatin brand nationwide and winning numerous wine competitions, including the London International Wine Challenge in 1984 and the Oregon Governor's Trophy two years in a row.
In 1997, he sold Tualatin Vineyards to Willamette Valley Vineyards and continued to consult for clients, such as the McMenamins chain and Cooper Mountain Vineyards.
The recent announcement that he has come out of retirement to oversee specially handled, limited bottlings of Pinot Noir and Chardonnay from selected blocks in the 40-year-old Tualatin Estate vineyard caps this esteemed winemaker's long career.
KK: How did you come to establish your vineyard and winery on the site west of Forest Grove?
BF: After I partnered with Bill Malkmus, a San Francisco banker who had become a good friend, I started searching seriously and saw an ad for the property. It sounded pretty good to me and one of the growers I knew from the Napa Valley had a brother-in-law in Scappoose who was an old time grapegrower, himself. I asked him to go over and take a look. He said he'd be glad to and when he came back he told me, "This is a great location. You can do well with it." So I took his advice, and I've thanked him for it ever since.
KK: Who were your closest wine industry friends and associates in those early years?
BF: I got to know Dick Erath the best. We shared the goal of wanting to do everything possible to build up the wine industry in Oregon. David Adelsheim was of the same mind. He also did a lot to move the idea forward. Another one was Bill Blosser who wanted to promote our growth. But Erath was by far the biggest promoter of anyone at the time.
KK: You took Best of Show in 1984 for both red and white at the International Wine Challenge in London. Did you go there to receive the awards?
BF: My partner, Bill Malkmus, went to England. He was the money man and Tualatin's president. He took a group of people from San Francisco with him, and I'm told he met the Queen, who presented the awards. But what counted for me was the fact that my wines got world recognition. I was really proud of that.
KK: What did you do after Tualatin Estate Vineyard was sold to Willamette Valley Vineyards in 1997?
BF: Well, I was 62, but not quite ready for retirement, so I worked with Willamette Valley for a while and consulted with McMenamins on developing some new wines from Tualatin Vineyards for their restaurants. I also worked four years with Bob Gross at Cooper Mountain Vineyards as his consulting winemaker.
KK: What about your new collaboration with Willamette Valley Vineyards. How did it happen and what is the extent of your involvement?
BF: Jim Bernau and I got our heads together awhile back. We agreed that we wanted to make absolutely the best wine possible and would do whatever it took to achieve that. And that is what we are out to do. Our goal is to make unique wines that reflect the epitome of the grape's potential. At this point, it involves just 20 barrels (500 cases) of Pinot Noir that will come from selected blocks in the 40-year-old Tualatin Estate Vineyard. The first vintage under my direction is 2013. I will oversee production all the way through according to the methods I have applied for years. The wine is called Willamette Valley Vineyards Fuller Pinot Noir. We plan to have a small quantity of Chardonnay from 2013 as well.
KK: What are your thoughts in regard to the current state of the Oregon wine industry and its future?
BF: Well, we are still in the developmental stages and it's up to us to build a stronger industry. But I can say one thing for sure: We are making better wine in Oregon than ever before and as long as we keep that up, we shouldn't have anything to worry about. In the long run, it's all about quality.