Warmest of Welcomes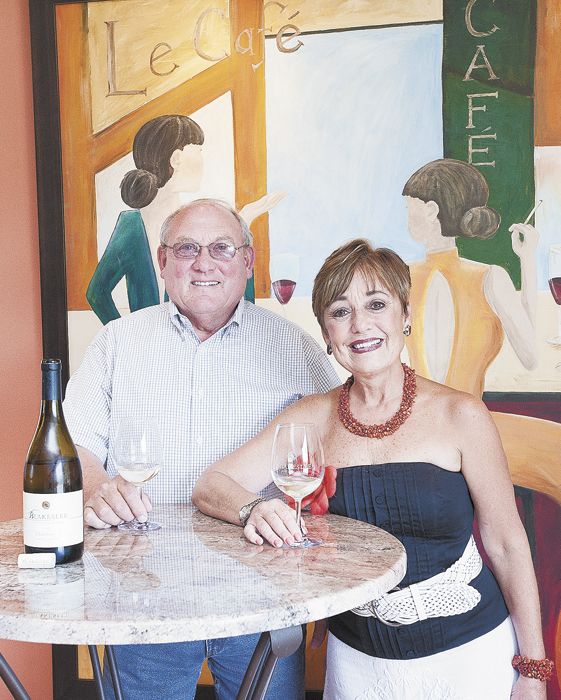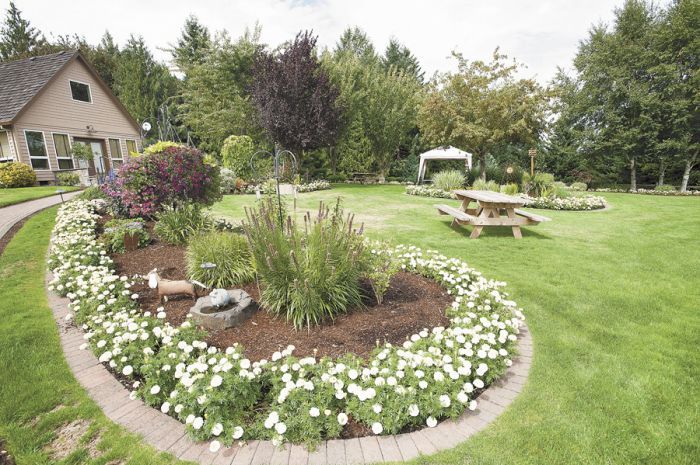 By Karl Klooster
When a person or place puts strong emphasis on hospitality, word gets spreads. You can have a fancy facility and top-tier products, but prompt, cordial and knowledgeable service can make or break the sale, even with something that practically sells itself. So, when you combine a good product presented by a congenial person, the odds of selling increase immensely to help assure success for a new company.
In the Oregon wine industry, a substantial percentage of product is sold face to face with customers who often visit a tasting room with the inclination if not the intention to buy. Guests to Blakeslee Vineyard Estate confirm that inclination turned to intention quickly after they were treated to a welcoming atmosphere usually reserved for invited guests at a private gathering.
Such a high level of hospitality seems to come naturally to Bill and Sheila Blakeslee, who bought the 20-acre, former Quail Hill Estate in 2005 and immediately began transforming it into the environment they envisioned.
The couple took over a sustainably farmed, 15-acre vineyard initially planted in 1997. Always dry farmed, the estate is devoted entirely to Pinot Noir — 10 acres of Dijon clone and five acres of Pommard.
LIVE (Low Input Viticulture & Enology) certification was completed as of the 2012 vintage for a site that is considered one of the best in the Chehalem Mountains. Ranging from 500 to 550 feet elevation, the vineyard lies east to west on a north-south slope consisting of Laurelwood top soil above a hard clay layer.
Winemaker Patricia Green sourced grapes from the vineyard through 2005. When the Blakeslees purchased the property that year, they intended to manage the vineyard and sell the grapes. However, they soon became acquainted with winemaker Robert Brittan, who already boasted a successful career in California before coming to Oregon in 2004 to take up the challenge of Pinot Noir.
He made the couple some wine from their estate grapes in 2006, and that modest beginning was enough to set them on the path toward establishing a winery of their own.
Brittan became the Blakeslee winemaker in 2010 and has made their wine ever since. It will become a part of the production at his new Britt Hill winery facility in McMinnville's Granary District.
This is a complete lifestyle change for the Blakeslees, who were urban or suburban dwellers most of their lives. Bill co-founded Bilet Products in 1973; the Sherwood-based company still supplies specialty pallets and skids to customers across the country.
Moving from their home of many years in Tualatin to the Chehalem Mountains required building a new residence on the property. But this was not to be simply another house. It was planned as their event center. A high-ceiling covered patio affords unrestricted views to the east and southeast through eight-foot-tall glass paneled doors designed to accordion-fold in good weather then closed, coming together with nearly invisible seams, when Mother Nature isn't quite so cooperative.
The folks at Blakeslee call it The Pavilion, and it is the site of numerous functions held each year at the estate. Keep in mind that these are not events for the madding crowd. They are smaller, more personal affairs wherein Bill and Sheila can circulate and chat with everyone in attendance. Most of the activity centers on their wine club, currently boasting more than 200 members.
"If it weren't for Brandon, we wouldn't have nearly this many members already," Sheila said, referring to their promotional and tasting room manager Brandon Harlacher who joined the winery in 2011.
Harlacher, a Portland State University graduate, fills the role of "majordomo" around the estate. He quietly and efficiently keeps everything running smoothly, even in the often chaotic circumstances that can occur when one engages in group entertainment.
For those not familiar with the term, a majordomo is a person who speaks, makes arrangements or takes charge on behalf of the owner of a large or significant residence.
Though this all might sound a bit "highfalutin'," as some Southerners say, the Blakeslees are anything but. They are lighthearted and down to earth, with an entrepreneurial spirit and a genuine enjoyment of others.
Bill has planted and grown things throughout his life, and both are passionate about good wine. They are also drawn to the ocean and often go to Newport for deep sea fishing on their boat, Tequila Sheila.
Since 2006, production has risen from just a few cases to 1,710 in 2012. Bill anticipates they will produce approximately the same quantity in 2013 and eventually peak at about 2,300 cases. Pinot Noir, Chardonnay, Riesling and rosé are the four types they'll focus on, with particular emphasis, of course, on Pinot Noir, which will likely be entirely estate.
With Brittan as winemaker and Stirling Fox as vineyard manager, they feel confident about the future of the brand. So much so that an estate tasting room was opened just a week prior to the 2013 Memorial Weekend.
Blakeslee is located at 20875 S.W. Chapman Rd., Sherwood. Hours are Wednesday–Sunday, 11 a.m. to 5 p.m. Three different flights — whites only, reds only or whites and reds — are available. Picnic tables are available in good weather. Tasting fees are refundable with purchase.
BLAKESLEE ESTATE VINEYARD
ADDRESS: 20875 S.W. Chapman Road, Sherwood, OR 97140
HOURS: Wed.–Sun., 11 a.m. to 5 p.m.
PHONE: 503-625-6902
WEBSITE: www.blakesleevineyard.com