Syrahhhhhh!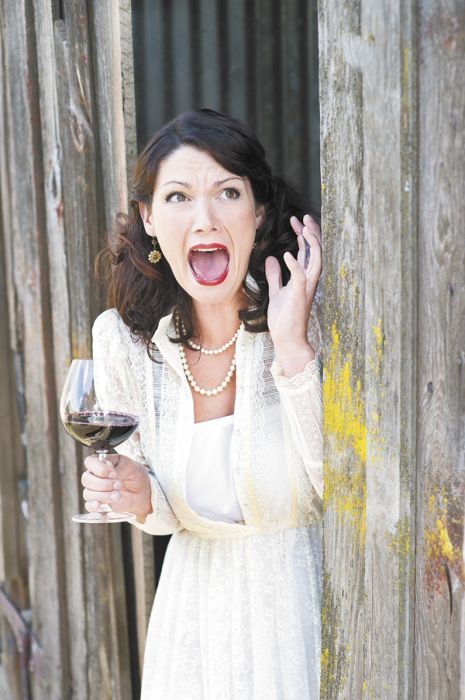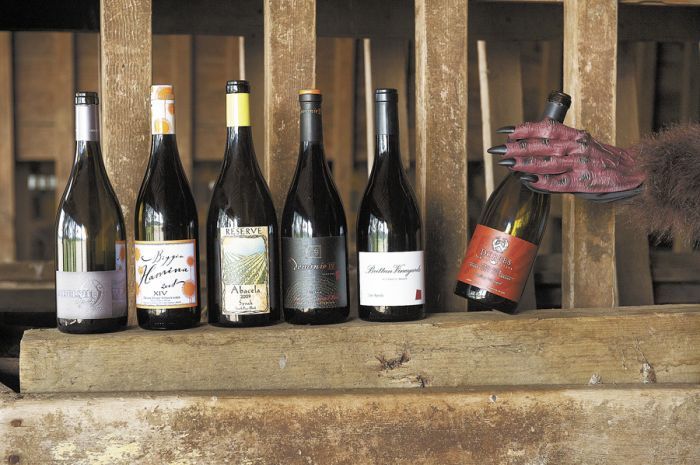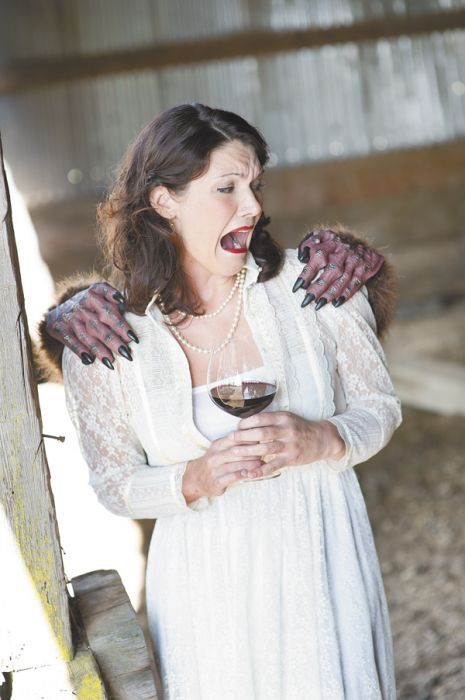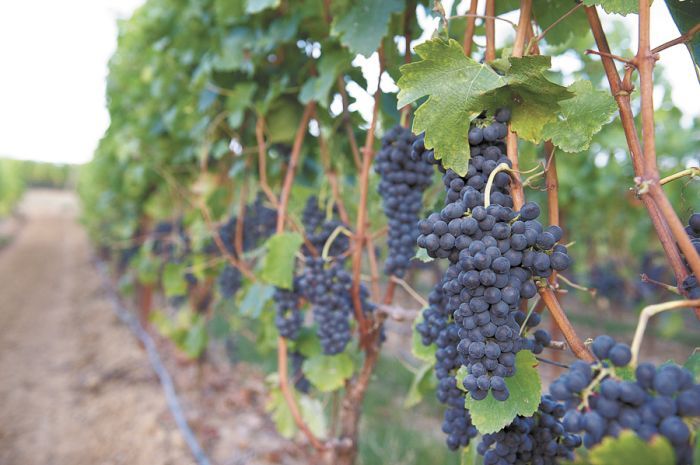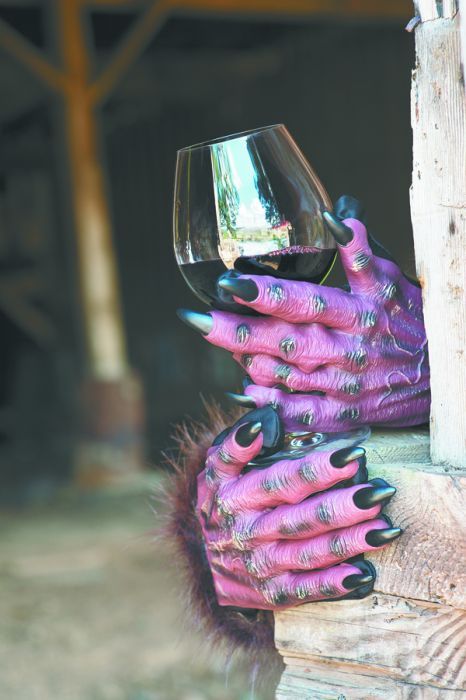 By Jennifer Cossey | Photos by Carolyn Wells-Kramer
Dark, brooding, mysterious and marked with multiple personalities, Syrah might be the perfect wine for the Halloween feast. Not only because of its character and its propensity to exhibit notes of chocolate in the nose — trick or treat — but also because it's shaking things up in Oregon and perhaps giving Pinot Noir a terrifying run for its life.
Okay, so Syrah won't overtake Pinot Noir anytime soon, but it has made a name for itself in Oregon both in the northern and southern parts of the state. Some of Oregon's most notable producers have not only a dangerous obsession for Pinot but also an undying thirst for Syrah.
Up north, wineries such as Adelsheim, Brittan Vineyards, Matello, Cristom, Francis-Tannahill and Biggio Hamina craft Syrah grown in the northern Willamette Valley. Dominio IV makes one from the Gorge; and Eola Hills Cellars sources its Syrah from the Columbia Valley. In the south, Syrah is grown for both resident wineries and Willamette Valley vintners. Dobbes Family Estate in Dundee produces multiple Syrahs sourced from Southern Oregon; Penner-Ash bottles southern Syrah, too. And local wineries Abacela, Del Rio and Folin Cellars have become known for their vinified versions. And that's just to name a few.
So what sets the two areas apart in regards to Oregon's other red grape? Southern Oregon, though generally warmer, has cool nights lending to long growing seasons and extended hang time. Northern growing regions, such as the Willamette Valley, are typically cooler with a shorter growing season. The climates and soils of the regions are also quite different and so, too, are the wines grown from them.
To explore the differences, let's examine several wineries, winemakers and the resulting Syrah.
Inspired by cooler climate wines, Robert Brittan, of Brittan Vineyards in McMinnville, moved from California to Oregon with a mission to grow world-class Pinot Noir, but having grown Syrah in his former state, he added the variety to his Oregon repertoire. His goal? Make wines that are more about "structure, elegance, and longevity than about fruit."
In 1982, Brittan completed his first trip to the homeland of Syrah, France's Northern Rhône Valley, where he tried some of the world's finest. "I've been trying to make wines like that in the New World for 30 years; the wines that I'm making from the Willamette Valley come the closest," says Brittan, who makes 120 cases of Syrah from two acres of eight-year-old vines at his estate vineyard.
He feels the wines of the area show distinct notes of reserved but rich, dark fruit with savory complex aromas and pronounced, fine and elegant tannins. While Brittan is encouraged by the success of Syrah in the area — in fact, he is planting even more land to Syrah — he still believes there is much to learn regarding the selection of rootstock and clones.
Todd Hamina of Biggio Hamina Cellars sources Syrah from nearby Yamhill-Carlton AVA. Hamina, who starting making Syrah in 2007 from the Deux Vert Vineyard, also deeply respects Northern Rhône Syrahs and was excited to try his hand at the variety. He even makes his Syrah in the time-honored tradition of the Rhône Valley by co-fermenting it with Viognier.
The major challenge faced by Hamina, and many Northern Willamette producers, is ripening the fruit. "There are some years that if it's cool for Pinot, it's super cool for Syrah," says Hamina.
But the allure of cool-climate Syrah is too much to resist, so Hamina persists. "The hallmark of Syrah is its white pepper component and, unfortunately, in much of the New World, it's planted in fairly warm places," remarks Hamina, continuing, "A lot of times Syrah comes off as one-dimensional and, in my opinion, that's because it's mainly planted in the wrong spot. It needs to be fairly cool to retain that yummy white pepper note."
Just outside Newberg, Adelsheim also crafts Syrah alongside its famed Pinot Noir. The longtime, pioneering
winery planted the Rhône red in its Calkins Lane Vineyard in 2003. This site is their warmest, earliest ripening and lowest elevation vineyard. The clone and rootstocks they planted have shown to be more of an early ripener.
"We stacked the deck in our favor," says Catherine Douglas, marketing and communications manager for Adelsheim. She describes the style of their cool-climate Syrah as not overripe, sweet or jammy. "It is natural for us to lean toward a cool-climate style, as our Pinot Noirs are rich and elegant, and our whites are classic and crisp.
Farther north and east along Interstate-84, winemaking power couple Patrick Reuter and Leigh Bartholomew grow Syrah at their estate vineyard in the Columbia Gorge for their Dominio IV label. For Reuter, it was first about choosing the land and then selecting varieties best suited based on the soil components and weather. As it turned out, Syrah was one of those grapes.
The production techniques Reuter employs for their Syrah he considers more Old World than New but says overall Gorge Syrahs are a balance of both.
"We over-vintage the Syrah, ferment it in small batches based on clone, using all native and natural yeasts — including malo — and we use a varying array of oak barrels for different flavor profiles. It has the ripe characteristics of New World and complexities of the Old."
To the south, winemakers and vineyard managers sing a slightly different tune. Joe Dobbes of Dobbes Family Estate makes three Syrahs from Southern Oregon, two single-vineyard designates and a blend that includes Viognier.
While Dobbes is confident that great Syrah can come from Southern Oregon, he feels site and clone section are crucial, and when done right can be something very special, indeed. Warm days and very cool nights of the region, especially close to harvest, create that potential.
"We are able to get some good hang time and develop good flavors and still make wines that are not too heavy, over extracted and alcoholic," says Dobbes who considers Syrah as the second great red wine of Oregon. "It is like Pinot Noir on steroids, not too tannic, and a great alternative that I think competes with the best in America."
For Earl Jones, founder and proprietor of Abacela in Roseburg, Old World examples of Syrah are also his muse. He believes that the climate at Abacela is very similar to that of the growing season and climate of the Northern Rhône.
Though Jones feels that parts of the Umpqua AVA, where their Syrah is grown, are great for the variety, he notes that other parts might not be as well suited.
"Only the warmer, drier southern portion of this roughly 50-mile north-to-south AVA can do a good job with Syrah," says Jones, who loves working with the grape in part because of the way it ages, develops and expresses itself from their estate vineyard.
But, as with anything that has value and great passion behind it, there are challenges.
'"We farm at the climatic edge, which is the only place to make great varietal wines," states Jones. "That then also means that we have vintage variation. About 80 percent of our vintages are truly fine, and we can produce reserve quality wines four or five years in ten from our South Face Block. The other 20 percent are challenging, but in those cooler or damp years, we can still produce a peppery, cool-climate Syrah."
So, fear not, Pinot lovers everywhere, Syrah most likely will never take the place of the Burgundian noble red in Oregon, but it is nice to know that from either the north or south, with a meal or by itself, on picnic blankets under sunny skies or lost in a dark forest under a full moon, the variety of styles of Syrah can accommodate any occasion. And that's something to scream about.
Special thanks to model Katie Koenig, hair stylist Julie Wolf and photographer Carolyn Wells-Kramer, CWK Photography, for their time and talents.
OREGON SYRAHHHH!
Tasting Notes By Jennifer Cossey
2010 Adelsheim Vineyard Calkins Lane Vineyard, Syrah, Chehalem Mountains-Willamette Valley ($45)
Dark red color with aromas of black cherry, blackberry, fig and fresh blueberry. Additional floral notes add to the hints of cocoa, cinnamon stick, black tea and sweet pipe tobacco. Rich flavors, bright acids and long finish.
2010 Brittan Vineyards Syrah, McMinnville-Willamette Valley ($40)
Subtle yet elegant aromas of plum, raspberry, blackberry and black cherry integrate with slight oak notes of cedar and vanilla as well as herbal and floral characters. This acid-driven wine, while it is a pleasure to drink now, has years ahead of it and will continue to refine.
2010 Dominio IV Song of the Uncaged Bird, Three Sleeps Vineyard, Syrah, Columbia Gorge ($30)
Black pepper, fig, blackberry and dried black cherry unite to characterize this wine with some herbal notes of sage and rosemary. Rich in flavor with more dried fruit and herbs on the palate, as well as notes of sarsaparilla and bittersweet dark chocolate.
2008 Eola Hills Cellars Reserve La Creole Syrah, Columbia Valley ($25)
Aromas of cedar, smoke and black peppercorn play with the senses along with fruit notes of dried black cherry, baked blackberry, pie crust, cola bean and purple flowers.
2008 Biggio Hamina XIV, Deux Vert Vineyard, Syrah, Yamhill-Carlton ($25)
Dried cranberries and cherries, blood orange zest, dried rose petals, clover honey, thyme, red chili and peppercorn integrate to characterize this wine. Co-fermented with 14 percent Viognier, it is elegant and approachable with pleasing persistence and softening tannins.
2009 Dobbes Family Estate Sundown Vineyard, Syrah, Rogue Valley ($50)
Dark purple in color, with baking spices upfront on the nose followed by cedar, vanilla, fig, wild plum, graphite and rose petal. Rich on the palate with a good balance of acidity and weight.
2010 Dobbes Family Estate Grand Assemblage Syrah, Rogue Valley ($28)
Fig, black cherries, raspberry, plum and blackberry notes with a touch of forest floor, vanilla, coffee, cedar and violets with more plum characteristics on the palate and lingering notes of cola and dried herbs.
2011 Del Rio Vineyards Syrah, Estate Grown, Rogue Valley, OR ($35)
Characterized by notes of blueberry, blackberry, dark plum, black pepper, cocoa powder, and savory spice with a rich, round and full finish balanced with food-friendly acids and tannic structure lending itself to longevity in the bottle.
2009 Abacela Syrah, Umpqua Valley ($21)
Pretty nose with floral hints, black cherry, black plum, blackberry pie, nutmeg and coffee bean. Medium-bodied, easy drinking wine with high acid and a sense of richness in the finish. A great food wine.
2009 Abacela South Face Block Reserve Syrah, Umpqua Valley ($50)
Dark in color with floral notes and hints of forest floor, plum skin, black and red cherry, black pepper, dried lavender and cocoa bean. It is rich and serious on the palate with some young tannin and bright acids.
2009 Folin Vineyard Syrah, Rogue Valley ($30)
Spicy upfront with notes of chocolate shavings, blackberry, dried black cherry, raspberry, leather, black peppercorn and baking spices with great texture and a long finish.