Wine Country Cooking - Savoring Autumn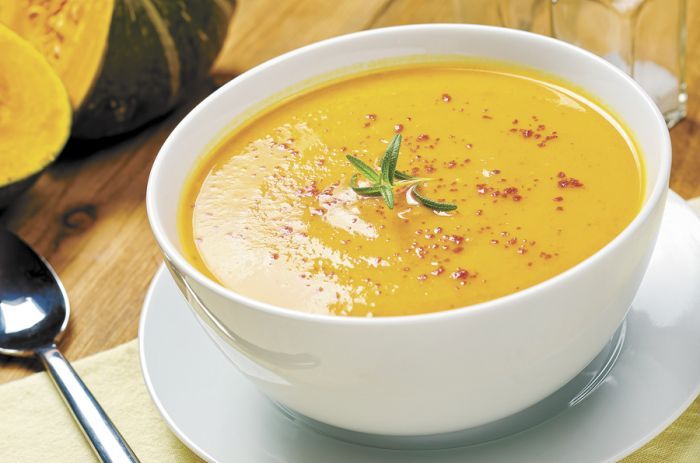 Recipes and text by Wendy Bennett
Grab a sweater, light the fireplace, open a bottle of your favorite wine and experience the aromas while these dishes simmer and bake!
CURRIED SQUASH SOUP
This easy-to-prepare soup has a mild curry flavor and is a favorite in my home! Pair it with a Riesling or Gewürztraminer to balance the sweetness of the squash and the spices in the curry.
Yields 4 servings (10 ounce)
INGREDIENTS
1 squash (Butternut, Acorn, Hubbard or other variety)
2 tablespoons olive oil
1 cup onion, diced
1½ tablespoons curry powder
½ cup dry white wine
4 cups stock or broth, chicken or vegetable
* salt and freshly ground pepper
METHOD
1. Preheat oven to 350°F.
2. Cut squash in half; remove seeds and place cut-side down on a parchment-lined baking pan. Pour ¼ cup water on parchment (reduces browning) and place pan in oven. Bake approximately 45 minutes, or until tender (check by piercing with a knife). Cool 10 to 15 minutes.
3. Using a spoon, scoop cooked flesh out of squash. Measure out 2 cups of squash and freeze any remaining squash for the next batch of delicious soup.
4. Heat oil in a Dutch oven or large, heavy pot over medium heat. Add diced onion and cook, while occasionally stirring, until clear and slightly brown, about 10 minutes. Add curry powder, stir to combine and cook for 2 minutes, allowing spices to toast and release their flavor and aroma. Add white wine and cook until reduced slightly. Add stock or broth and stir to combine. Add 2 cups squash purée and stir. Simmer for 15 minutes.
5. Purée the soup using a stick blender or counter-top blender until smooth. Adjust seasoning with salt and pepper. Serve with an optional garnish of 1 tablespoon sour cream or toasted pepitas.
CORN RISOTTO WITH TOMATO CONFIT AND BASIL-PARSLEY GREMOLATA
Freshly shucked corn stirred and stirred yields a sweet flavor balanced by the tomato confit, lemon zest and herbs in the gremolata. Pinot Noir with a hint of pepper is the perfect pairing for this fall dish.
Yields 4 servings
INGREDIENTS
1 tablespoon olive oil
4 tablespoons butter, divided
½ cup yellow onion, diced
½ cup Arborio rice
1 cup white wine
4 cups vegetable or chicken stock, heated for 45 minutes with corn cobs
4 cups corn, cut off cob, purée 2 cups
½ cup Parmesan cheese
1 tablespoon fresh parsley, chopped
2 ounces Basil-Parsley Gremolata (below)
2 ounces Tomato Confit (see below)
* salt and pepper, to taste
METHOD
1. Heat 2 tablespoons butter and olive oil in a heavy sauté pan. Add onion and cook until clear (do not brown). Add rice and cook until it browns slightly and has absorbed oil, about 3 minutes. Add wine and stir until absorbed, then begin adding the hot stock 1 cup at a time, stirring constantly until absorbed before adding additional stock to the rice. This process will take 20 minutes or so. Use as much stock as needed to reach proper consistency.
2. When the rice is al dente (to the tooth – tender with a firm center), add the corn and corn purée and stir until heated. Remove pan from heat, and add 2 tablespoons butter (cut in small pieces) and cheese. Season with salt and pepper. Garnish and serve immediately.
TOMATO CONFIT
12 fresh plum tomatoes
½ cup extra-virgin olive oil
* coarse salt and freshly ground pepper
2 teaspoons fresh thyme, minced fine
METHOD
1. Preheat oven to 250°F.
2. Bring a large saucepan of water to a boil. With a sharp paring knife, cut out and discard stem end of each tomato; score opposite end. Place tomatoes in a large bowl. Pour boiling water over tomatoes; let sit until skin is easily peeled, about 15 seconds. Drain tomatoes, and cover with ice.
3. Peel tomatoes when cool enough to handle. Halve lengthwise and place, cut-side up, on a parchment paper-lined baking sheet. Drizzle with olive oil; season with salt, pepper and thyme. Roast until tomatoes are dried halfway through, about 5 to 6 hours. Let stand until cool. Transfer tomatoes to a storage container; pour oil from baking sheet over top. Refrigerate for up to 1 week. Yields 1½ cups. Adapted from Thomas Keller's "Bouchon" (Artisan, 2004)
BASIL-PARSLEY GREMOLATA
1 lemon, zested
1 clove garlic, crushed
2 tablespoons parsley
2 tablespoons basil
1 teaspoon olive oil
¼ teaspoon salt
1/8 teaspoon black pepper
METHOD
1. Thoroughly combine all in ingredients in a food processor. Refrigerate until needed. Store for up to 1 week. Yields 2 ounces.
BEEF BRASATO AL VINO ROSSA
This hearty beef stew (a gluten-free version) can also be prepared in a crock-pot, simmering for 8 hours. Great to prepare while family or friends are carving pumpkins or traipsing through a corn-maze. Come home and dinner is ready! A hearty red wine, like a Nebbiolo, will complement the rich flavors in this smoky, braised dish.
Yields 6 to 8 servings
INGREDIENTS
1 tablespoon olive oil
8 ounces smoked bacon, diced
2½ pounds stew meat, preferably chuck, cut into 1-inch cubes
* kosher salt and ground black pepper
2 large yellow onions, diced
3 tablespoons garlic, chopped
¼ cup tomato paste
¼ cup garbanzo flour (or chickpea flour)
3 cups dry red wine
2½ cups beef broth
1 pound carrots, 1-inch pieces
1 tablespoon fresh rosemary, minced
1 pound pearl onions
2 ounces butter
12 ounces mushrooms, crimini or button, quartered
¼ cup parsley, minced
METHOD
1. Preheat oven to 300°F.
2. Heat olive oil in a large Dutch oven over medium heat. Add bacon and continue cooking until bacon is lightly browned; remove and reserve, leaving bacon fat in pot.
3. Season beef with salt and pepper. Increase heat to high; add meat to oil and sear beef, turning to brown on all sides. Remove seared meat and cook remaining beef using same method. Reserve.
4. Once all the beef is browned and set aside, add the onions and garlic to the pan; cook 8 to 10 minutes. Add tomato paste, and cook for an additional 5 to 8 minutes. Add garbanzo flour, and stir well to combine. Add wine while whisking continuously to prevent lumps. Add beef broth while continuing to whisk. Add bacon, beef, carrots and rosemary to wine mixture and increase the heat to high and bring to the boil; then immediately reduce heat to a simmer. Cover and place pot in the oven. Continue to cook for 1½ hours. 4. Meanwhile, melt the butter in a sauté pan over medium-high heat without browning. Add mushrooms and cook for 10 minutes. Reserve.
5. Remove beef mixture from oven and add the pearl onions and mushrooms. Return pot to oven, and continue to cook for 30 minutes or until the meat is tender and the vegetables are cooked. Adjust the seasoning with salt and pepper. Serve over polenta or rice, if desired.
PUMPKIN CHEESECAKE WITH GINGERSNAP CRUST
The warmth from the gingersnaps enhances the sweet pumpkin in this dish. A dry sparkling complements the spices and elevates the creamy pumpkin flavors.
Yields 12 servings in 7-ounce ramekins
CRUST
1¾ cups gingersnap cookies, ground
3 tablespoons light brown sugar
1 stick salted butter, melted
FILLING
3 8-ounce packages cream cheese
1 can puréed pumpkin (15-ounce)
3 eggs
1 egg yolk
¼ cup sour cream
1½ cups sugar
½ teaspoon ground cinnamon
1/8 teaspoon ground nutmeg
1/8 teaspoon ground cloves
1 teaspoon vanilla extract
METHOD
1. Preheat oven to 350°F.
2. In medium bowl, combine crumbs, sugar and cinnamon. Add melted butter. Press equal amounts (2 tablespoons) down flat into buttered 7-ounce ramekins. Set aside.
3. Beat cream cheese until smooth. Add pumpkin purée, eggs, egg yolk, sour cream, sugar and spices. Add vanilla. Beat together until well combined.
4. Pour into ramekins, filling 2/3 full. Spread out evenly and place in a sheet pan in the oven. Fill the sheet pan with warm water and bake for 20 to 25 minutes. Filling should be a little jiggly.
5. Remove from oven and let sit for 15 minutes. Cover with plastic wrap and refrigerate for 1 hour. Serve with maple whipped cream.
CARAMEL APPLE GALETTE
Who can resist apples and caramel? This soon-to-be favorite, with its rich caramel flavor and flaky pastry is well suited to a Port … and a blazing fireplace.
Yields 4 servings
INGREDIENTS
½ cup sugar
1 tablespoon flour
1 lemon's zest
1½ teaspoon cinnamon
3 cups fresh apple, diced (Gala or Yellow Delicious)
1 egg, well beaten
2 tablespoons butter
4 4-by-4-inch squares of puff pastry
2 tablespoons sanding sugar, clear
* garnishes (vanilla bean ice cream, caramel (see recipe below), powdered sugar, cinnamon)
METHOD
1. Place an oven rack to the center of the oven and preheat the oven to 375°F.
2. Mix sugar, flour, lemon zest and cinnamon together in a bowl until well combined; stir in the diced apples.
3. On a floured surface, gently roll each piece of pastry out slightly. This breaks up some of the pastry layers to prevent it from being too puffy when baked. Next, lay the squares of puff pastry on a sheet pan lined with parchment paper, and using a pastry brush, lightly coat the edges of the pastry with beaten egg. This will help the pastry form a pouch while cooking.
4. Spoon ¼ of the apple mixture into the middle of each pastry and top with a ½ tablespoon of cold butter. Fold edges of pastry over filling, leaving some filling exposed. Brush edges with beaten egg and sprinkle with sanding sugar. Bake 20 to 25 minutes, until the pastry is puffed and brown and the apples are tender when pierced with a toothpick.
5. Serve topped with homemade caramel and fresh whipped cream or vanilla bean ice cream.
CARAMEL SAUCE
1 cup granulated sugar
¼ cup water
2 tablespoons light corn syrup
1 cup heavy cream
2 tablespoons unsalted butter
1 teaspoon pure vanilla extract
METHOD
1. Combine the sugar, water and corn syrup in a medium-sized saucepan. Bring to a boil over medium heat, and cook without stirring until the sugar begins to turn golden. Swirl pan carefully to allow sugar to color evenly. Continue cooking until sauce becomes a rich amber color with a dark nutty, almost burnt, smell.
2. Immediately remove pan from heat, and carefully add cream; it will bubble up. Return sauce to heat and bring back to a boil. Add butter and vanilla; simmer the sauce for 5 minutes more. Sauce will keep in the refrigerator for about one week. Reheat before serving. Yields 1¼ cups.
Wendy Bennett, a longtime professional chef, owns Wine Country Cooking Studio in Dundee. She lives nearby on a 12-acre farm with her family and a barn full of animals.