Behind the Line - Plowing Ahead at Paulée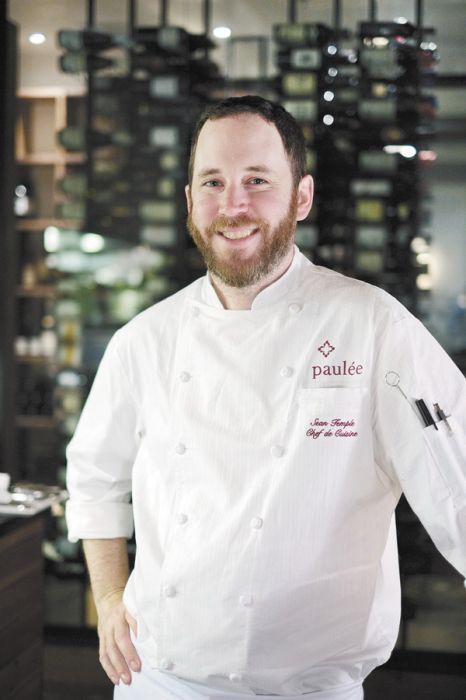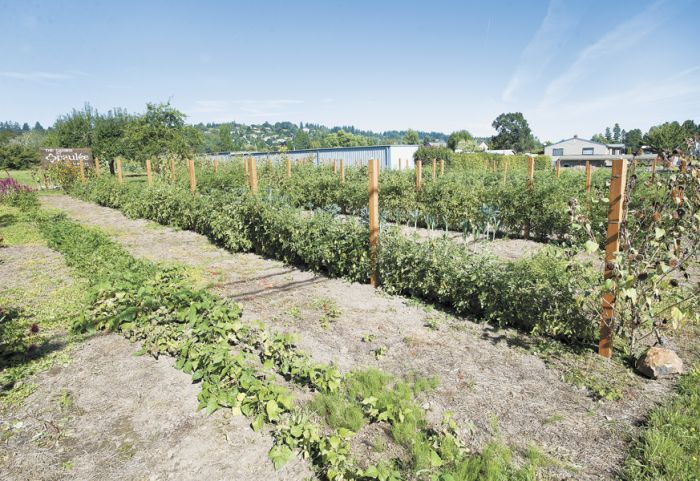 By Peter Szymczak
Executive Chef Sean Temple beams with pride as he strides through the rows in his restaurant's garden. "So many people used to drive right past, but now they notice this," he says, gazing over the 1.35-acre plot. "Plus, the sign draws people in."
In just its first full year of production, the garden at Paulée in Dundee has become the restaurant's calling card — and with good reason. Located 100 feet from the restaurant's front doors, the garden has produced more tomatoes than Paulée can use — so much so that Temple, who is also a restaurant partner, started selling excess fruit to fellow local chefs at Jory, Painted Lady, Community Plate, Red Hills Market, Thistle and Tina's.
"We're becoming a farm in our own right," Temple says, beaming his winning smile at a row of prodigiously fruiting plants laden with San Marzano tomatoes in various stages of ripeness. "We picked about 250 pounds during the last batch and just finished canning for wintertime."
In addition to tomatoes, Temple lists the other "normal" produce grown in the garden: cucumbers, eggplants, beans, artichokes, cardoons, berries, broccoli, cauliflower, fruit trees, squash, herbs. "We didn't go crazy and try to grow weird, esoteric types of vegetables — just stuff we can use every day and get full consumption out of."
Temple says his down-to-earth food sensibility resulted from moving to Oregon and working under veteran farm-to-table chef Vitaly Paley, but shades of it permeated his career, both before and after he became a chef.
Born and raised in New Jersey, Temple started working in restaurants as a dishwasher at the age of 15. "You talk to guys in this industry, and you're hard-pressed to find someone who didn't start as a dishwasher," he says, his baritone voice resonant with an unmistakable East Coast accent. "It turns into a high-school job; then it was my college job," he says.
He majored in finance, leaving restaurant life behind him to work as a stockbroker in Orlando. "I thought that would be the grown-up job to have," he says. "I got off at 5 o'clock at night, had weekends off, but I didn't enjoy it," he recalls.
That era of his life ended on 9/11. Following the events of that day, the stock market collapsed and Temple found himself laid off.
Based on his love for cooking, he decided to return to the kitchen and enrolled at Florida Culinary Institute. Outside class, he apprenticed beside chef Richard Ruiz at La Vieille Maison in Boca Raton, "the best French restaurant in Florida," Temple says fondly.
There, he had his first experience at sourcing directly from fishermen. "We did a lot of business with the Seminole Indians," he says. "They had rights to all the swamps, so they were bringing us turtles and frog legs."
Unfortunately, another series of catastrophes — the 2004 Atlantic hurricane season, which pummeled the Florida coast with three tropical storms that year — forced the closure and eventual demolition of the historic restaurant.
Temple returned to New York, quickly working his way into the kitchen at the flagship restaurant of renowned French chef Jean-Georges Vongerichten. The year was 2005 — when the Michelin Guide rated restaurants in the U.S. for the first time. Jean-Georges was awarded its highest rating of three stars.
"At that sort of place, thousands of people want your job. You can't screw up," he says. What he took away from the experience, however, has remained with him. "I learned flavors. Simplicity. Even though it's not necessarily simple cooking, it's straightforward flavors."
After two years at Jean-Georges and paying far too much in rent — most of the time he was commuting from New Jersey — Temple was ready for a change. He and his girlfriend embarked on a 40-day road trip, starting in Los Angeles and going all the way up the Pacific Coast to British Columbia.
Along the way he "staged" (worked for free in a restaurant's kitchen) everywhere he could, from California wine country to the Oregon Coast, Vancouver, Seattle … and Portland, at Paley's Place. That experience lead to his first job in the Rose City as Paley's sous chef, a position he held for the next two years.
"I learned a lot there," he says. "Dealing with the farmers, the personal relationship building — that was huge. You're not just calling a 1-800 number for food; you're calling that person's home. You have to be respectful of that."
While the path that lead Temple from Paley's to Paulée wasn't direct (he spent a year and a half at Alu before it unceremoniously closed, followed by a few months at June), the food philosophy was the same.
"We source out every person we deal with here. If there's a farmer that has a great product, we visit their farm, see how their day-to-day is. We've even gone to every slaughterhouse around here, just to see how they deal with the animals," he says. "I just think it's good to know where everything comes from."
Temple, still youthful at 38 years of age, indicated he thinks he's finally found someplace to hang his hat for a while and put all his experiences to use.
"It's going great. I just want it to keep going. We've got that garden out there," he says.
Paulée Restaurant (www.pauleerestaurant.com) is located at 1410 SW Highway 99W, Dundee, OR. For reservations, call 503-538-7970.
Peter Szymczak has written about food, beverages and culinary travel for Northwest Palate, The Oregonian, Sip Northwest and other publications. He lives in Southeast Portland.
RECIPE
PARISIENNE GNOCCHI WITH BRAISED LAMB, CIPOLLINI ONIONS, CHERRY TOMATOES AND KALE
"It's not like making a potato gnocchi," Temple says about this French version of the Italian classic dish. "These literally take 15 minutes to make. You can keep them in the refrigerator for four to six days. You could even freeze them."
It's also a versatile dish. Temple changes the accompaniments to the gnocchi based on what's in season. Braised short ribs have appeared in place of the lamb, and he has left out the meat entirely when serving it as a vegetarian entrée.
WINE PAIRING: Winderlea 2011 Pinot Noir
INGREDIENTS
¾ cup water
3 ounces butter
2 teaspoons kosher salt
1 cup all-purpose flour, plus more as needed
1 tablespoon Dijon mustard
2 ounces chèvre (goat cheese)
¼ cup chopped herbs (parsley, basil and/or chives)
¼ cup grated Parmesan cheese
2 large eggs
METHOD
1. In a 1-quart sauce pot, bring water, butter and salt to a simmer. Add flour and Dijon mustard. Stir with a wooden spoon until mixture forms a dough. Cook over low heat, stirring periodically for the next 8 to 10 minutes. Dough should be slightly dry to the touch — touch it with your finger, and if your finger looks wet or oily, continue cooking for a couple more minutes.
2. Transfer gnocchi dough — called "pâte à choux" in French cookery — to a mixer with a paddle attachment. On a low setting, add chopped herbs, then cheeses, followed by eggs, one at a time, until all ingredients are incorporated and batter starts pulling and stretching from the paddle and mixing bowl. Transfer the gnocchi batter to a piping bag.
3. Heat a large pot of salted water to just below a rolling boil. Pipe batter into water, using a knife or cake tester to cut batter into about 1-inch pieces.
4. Cook gnocchi in batches — about 10 pieces at a time — so cooking times stay consistent. Once gnocchi float to the top and feel firm to the touch, scoop them out with a slotted spoon onto a parchment paper-lined baking sheet tray drizzled with olive oil. Once all gnocchi have been cooked — you should end up with about 40 total — put in refrigerator to cool.
5. To serve: In a large sauté pan, heat 1 tablespoon olive oil; add gnocchi. Allow them to get a little golden, about a minute or so; then add a couple ounces of braised lamb — or any other meat such as confit chicken or duck, braised beef, or no meat at all — along with roasted cipollini onions. Allow to warm through, about another minute, and then add a little butter along with a couple tablespoons of sherry/tomato water. Finish with some chopped grilled kale, halved tomatoes, fresh herbs and season with salt and pepper to taste. Makes 2 servings.