Tasting in Tinseltown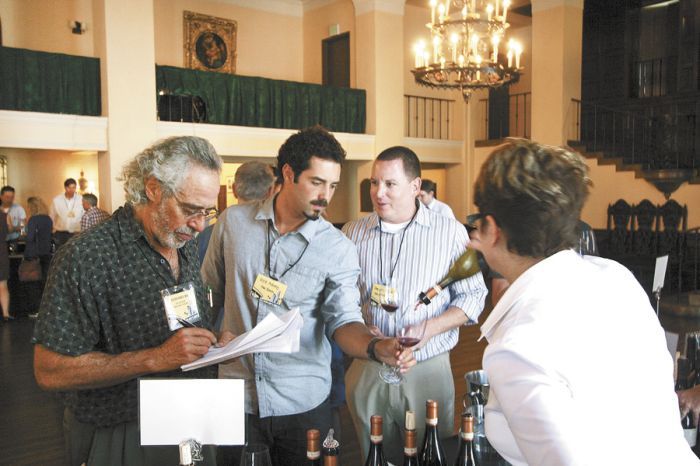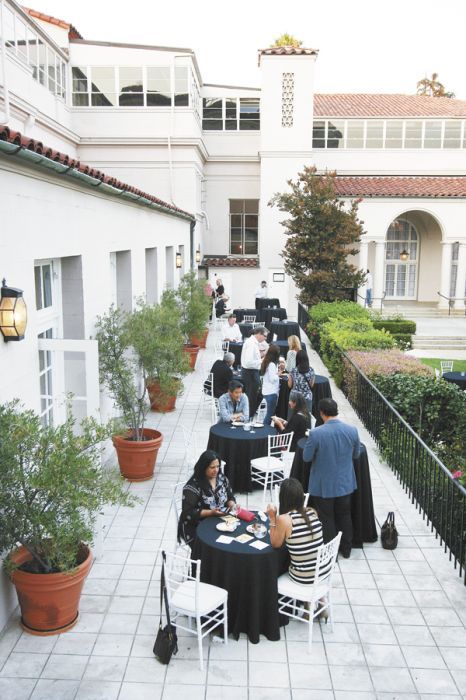 By Mark Stock
On Sept. 11, sixty-some Willamette Valley producers entertained trade and public guests at Pinot in the City. Part of a broader series of road shows that has wowed cities like San Francisco, New York and Chicago, the Willamette Valley Wineries Association-sponsored event plans to showcase and educate attendees on the breadth of wine quality rooted in Oregon's renowned appellation.
Not surprisingly, Pinot Noir played the role of hero and main character. Attendees quickly learned about the broad spectrum of flavor in Oregon's prized varietal as they meandered through the elegant surroundings of the Ebell Hotel in downtown Los Angeles. No two wines were exactly alike, particularly considering the extent of sub-appellations, vintages and varying winemaking styles on hand. The occasional lesser-grown varietal made its way to the event tables as well, from Viognier to Chinato to Grenache Blanc, among others.
Big players like Erath, Domaine Serene, Ponzi and Duck Pond shared a room with boutique brands Et Fille, Matello and Angela Estate. In essence, the layout was similar to a concentrated version of the Valley itself, with producers big and small in the same vicinity. And from a consumer standpoint, one who lives nearly one thousand miles away, this kind of setup is invaluable. Add a peculiar, detailed old venue for backdrop and the event becomes truly special.
The Ebell, headquarters for one of the nation's oldest and largest women's clubs, is a magnificent 75,000-square-foot building set on the edge of downtown Los Angeles. In 1999, the Ebell was named an Official American Treasure by the National Trust for Historic Preservation. The stunning and meticulously detailed complex is filled with spacious event space, patios, a library, original art and furniture befitting the building's age. Winemakers and owners of Willamette Valley labels appeared as distracted by their Renaissance-era surroundings as the healthy turnout of eager tradespeople and inquisitive tasters.
Partnering with the WVWA for Pinot in the City was the Environmental Media Association. This organization promotes environmental sensitivity through the entertainment industry and its powerful public voice. The two camps set up a raffle for a wine country getaway at The Allison in Newberg, with some of the proceeds aiding the organization's cause. The raffle prize also included special tours, meals and an instant wine cellar of 120 donated bottles of Willamette Valley wine.
Attendees marveled at 50 and 100 case lots being poured in a state producing more than 200 million cases of wine per year (according to the California Wine Institute). No strangers to wine, the Golden State crafts on a level Oregon can hardly relate to, with 3,800 bonded wineries and 4,600 grape growers combining for an estimated $62 billion impact statewide. California produces about 90 percent of all wine in the U.S. But that's to be expected in a state with not only the largest population, but also the richest viticultural history.
Rich history tends to produce informed citizens and the L.A. event seemed to substantiate this claim. Tasters interacted with vintners about yeast strains, tricky vintages and the evolution of New World rosé. Most producers were pouring from the relatively cool and challenging 2010 and 2011 harvests, a collective show of pride and skill. Between sips, attendees were regaled with backstories of bird damage, picking fruit in November and extended aging. All this, of course, amid an 85-degree late summer day in sunny Los Angeles.
From noon to four o'clock, wineries poured for industry members. Nearly 300 tradespeople attended, primarily in the form of restaurant, retail and distributor representatives. While most wineries already had regional or state distribution, there was opportunity to reacquaint with chefs and bottle shop openers aware of the product and perhaps interested in the next vintage in line. Additionally, a few wineries without distributors attended, shaking hands and hoping a sample or two might earn them a place in the southern California market.
The consumer tasting took place from 6 to 9 p.m., attracting about 250 people. Participants snacked on sliders and various cheeses while wading through a sea of Oregon Pinot Noir. The stone archways, floor-to-ceiling windows and overhanging chandeliers made for an ambience reminiscent of a castle in 1600s Europe. It was hard not to imagine the men in upper hose and jerkins and the women in stomachers and funnel sleeves, discussing the promise of the New World. But, alas, the nervous energy of Oregon winemakers on the verge of harvest forced me back to the present. Several winemakers in attendance were rushing back to Portland the following morning to start picking.
For the WVWA, the idea is to avoid the stereotypical boring hotel ballroom setting. "We like to have a unique venue that will complement the wines being poured," said WVWA Marketing & Project coordinator Emily Richardson. "We were thrilled at how many attendees commented on the beautiful venue.
"People are hearing more and more about Willamette Valley wines and a tasting like this gives them the opportunity to experience dozens of producers under one roof," added Richardson. She cited certain inherent problems with Los Angeles — the size, the traffic, the sheer number of events happening on any given day — but was more than pleased with the results. "Even though our consumer numbers were smaller than usual, we got some great media coverage, lots of social media mentions and great feedback from those that were able to attend," she said.
Riding momentum from Pinot in the City and prior events, the WVWA already has Washington, D.C. and Texas in its sights for host cities in 2014. The Association is also considering Boston and Atlanta for future events. The Sept. 11 gathering marked the first time that the association took its road show tasting to the City of Angels.