Early Start Marks 2013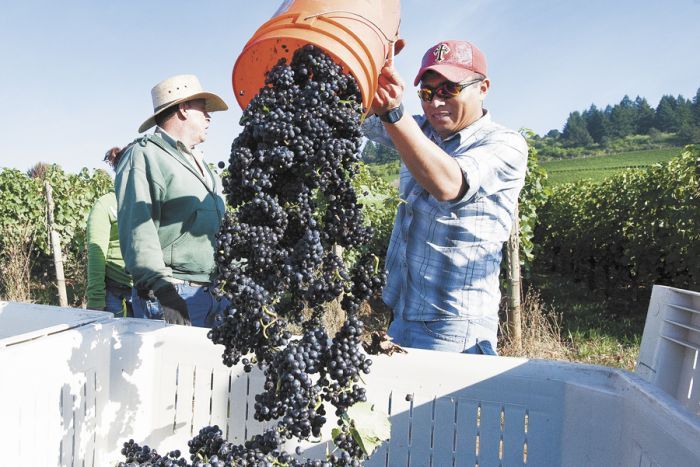 By Karl Klooster
Note: This story was written Sept. 17, actual conditions may differ.
Let's hear it for the weather forecasters. They were right. In June, the consensus was if the growing season played out as projected, Oregon winegrowers would begin picking by mid-September or earlier.
As it has played out, harvest is now underway and the expectation is that everything will be in, even at the coolest sites for the latest ripening grapes by mid-October.
Some Southern Oregon vineyards harvest began the second week of September. Del Rio Vineyards in Gold Hill, one of the region's largest growers, began picking Sept. 10. Owner Rob Wallace expects to complete this year's harvest within three weeks.
One of the state's southernmost wineries, Bridgeview, in the Illinois Valley southwest of Grants Pass, started filling bins on Sept. 16. Vice president and winemaker René Eichmann said "flavors were right where we wanted them."
In the north, the very first vineyards yielded fruit midway through the week of Sept.9. From north to south, picking schedules are at least three weeks ahead of the norm.
Daniel Fey, president of Results Partners, which manages some three dozen vineyards in and around the Willamette Valley, says they began picking selected sites on Sept. 13 and have increased from there.
"Everything looks good at this point," he said. "But flavors are our priority and if weather conditions hold, we will have a smooth harvest. Any major changes would obviously call for some quick decisions."
Given the continuation of mild weather through September, it is likely that 2013 will turn out similarly to 2012, with record or near-record tonnage and minimal problems in the vineyard.
Most Northern Oregon wineries expected to harvest all their estate grapes over the next three weeks. Instead of starting in mid-October, as has happened in some years, they'll be finishing by then.
"Even a little rain won't be a problem," said pioneer Myron Redford, who began his 36th harvest on Sept. 15. "It's a part of the process almost every year. We just work around it."
Rebecca Moore of Monks Gate Vineyard says her family's 20-acre estate vineyard east of Carlton should be picked within the week. "The numbers look right for Pinot," she said. "We expect an excellent harvest."
When they finish picking their 18 acres of Pinot Noir, most of it will be taken by contract buyers from other wineries with a small amount going to their own label. Another two acres, devoted to Riesling, will hang a bit longer to fully ripen.
The additional weeks will probably see some rain but, according to Professor Greg Jones of Southern Oregon University, the weather forecast through October appears favorable.
Jones, whose work as a climatologist specializing in viticulture has brought him acclaim throughout the wine world, provides frequent updates to winegrowers during harvest season.
His advisory during the week of Sept. 16 included the following: "A general southward shift in the jet stream, which happens around this time every year, is developing and is bringing the western U.S. a pattern of on-again, off-again precipitation events.
"Thursday through Friday night is forecast to dry out and warm to above normal temperatures, but gives way to the next system for the weekend. Models suggest a larger, more widespread wetting rain up and down the West Coast with the arriving storm track determining the wettest locations.
"The week of Sept. 23–27 is mixed with some models showing a slight drying and warming trend, while others continue the on-again, off-again precipitation events. Keep an eye on the forecast developments into the weekend."
Overall, September is still forecast to be warmer than normal, with near normal to slightly below normal rainfall. Long lead forecasts into October and November are also still pointing to a greater chance of warmer and drier conditions for the western U.S.
In defense of weathermen and women everywhere, Jones added, "Most people would say that they never get it right, when in reality the skill rate for forecasting temperature is well over 95 percent and rainfall over 90 percent."
More importantly, long-term trend indicators point strongly toward increasingly warm growing years in Oregon, according to Jones, whose work has considerably augmented the prestige of SOU's Department of Environmental Studies.
What this means for, say, northwestern Oregon, at least over the next couple of decades, will be the benefits of cooler-climatic conditions coupled with less variability through the growing seasons.
However, by the time it reaches that level of consistency, the average temperatures will have risen to the point that different varietals will have to be planted. Carlton Cabernet, anyone?