Growers Explore Options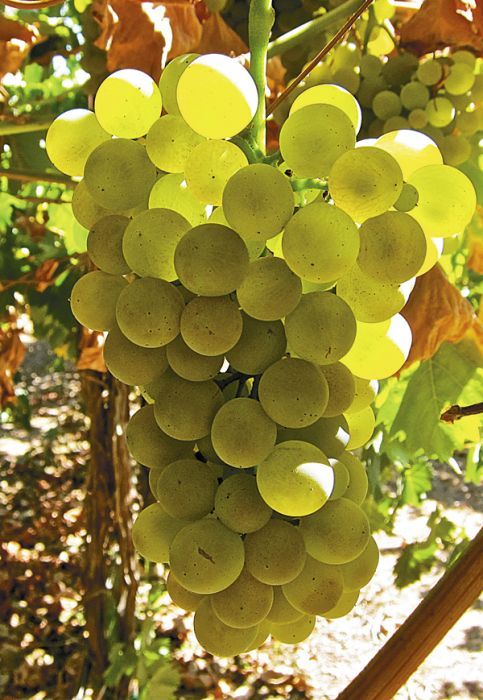 By Janet Eastman
Grapegrowers and winery owners took a break from overseeing vineyards, tasting rooms and bottling lines on Aug. 23 to attend the Oregon Wine Cluster Conference in Jacksonville that focused on the economics of the state's $3 billion wine industry.
Speaker after speaker presented information on growing lesser-known grapes to interested buyers, marketing bottles of wine beyond state boundaries and promoting Oregon as a quality producer of higher-priced wines.
"No one has to buy wine," said Mike Veseth, editor of the Washington-based Wine Economist. "And no one has to buy your wine."
The Southern Oregon Wine Institute at Umpqua Community College organized the conference. This was the first time the biennial meeting was held in Jacksonville and in conjunction with the Southern Oregon World of Wine Festival, a four-day series of events for wine consumers that concludes at that night's Grand Tasting.
The 100 industry professionals who attended the business conference were reminded that wine manufacturing, shipping and sales in the state supports 11,000 workers, according to state economic reports. Most of the jobs are in the Willamette Valley.
At the conference, Anne Root, who founded EdenVale Winery in Medford in 2000, said she learned more about out-of-state stakeholders coming to invest here.
"Our wine industry is growing and making a contribution to our region with higher-paying jobs and a different agricultural product that enhances pears and other fruits businesses here," she said.
Future success, however, depends on a statewide effort to continue to promote the Oregon brand, rather than focusing on the Rogue Valley region, she said.
"There is already a lot of good traction for Oregon wine overall," she said, after spending the day listening to marketing experts and then participating in discussions about wine styles and vineyard sourcing.
Mark Wisnovsky, a second-generation owner of Valley View Winery in Jacksonville, noticed that conference-goers who are new producers or people who want to enter the business kept their questions focused on the bottom line.
"They were there to do their homework," he said, "which is a good sign."
People wanted to hear about grape varieties that are economically viable, not necessarily the most well-known.
Speaker James Wolpert of the viticulture and enology department at the University of California at Davis offered details on little-known grapes that ripen consistently and are finding a place in the market, such as Vermentino, a late-ripening Italian white; Carmérnère, a member of the Cabernet family; Cinsault, an ancient red variety known for its heat tolerance; and Grenache, a popular red made famous in Spain.
A handful of Southern Oregon growers have already planted some of the varieties. Troon champions Vermentino, Quail Run Vineyards grows Carmérnère, Linda Donovan sources Cinsault from Long Walk Vineyards and several wineries produce Grenache.
Winemaker Stephen Cary of Yamhill Valley Vineyards and Jeff Cohn of JC Cellars in California spoke about working with smaller vineyards that produce better grapes.
Terry Brandborg of Brandborg Vineyard & Winery in Elkton attended the conference with his wife, Sue, to learn from out-of-state presenters who bring a perspective to wine that he says refreshes the local industry's understanding of Oregon's place in the world's wine industry.
"This year's discussions of potential varieties suitable to the climate of this emerging region will be a valuable tool for further research into what might best fit both growers and producers in building a sustainable industry," he says. "Also, you can't overlook the opportunity to network with your colleagues and stay abreast of the news from Southern Oregon."
Grower John Pratt of Stone Hollow Vineyard in Medford says he appreciated hearing discussions beyond establishing one varietal as the "identity" of Southern Oregon.
"Not only have such tactics not worked well for some wine regions such as Australia, but we have such a great varied landscape and climate here, we can grow grapes from France, Italy and Spain, and make excellent wine," says Pratt, who has found buyers and earned medals with Barbera.
"Growers at the conference wanted to know what types of grapes they can sell to wineries or sell in their own tasting rooms," said Wisnovsky, rather than planting what the owner likes to drink.
Wisnovsky said finding the grapes that will grow well here, year in and year out, will help build a larger industry and allow the grower to pay his workers and his bills. "Which is always a good thing," he said.
Reprinted with permission from the Medford Mail Tribune. Reporter Janet Eastman can be reached at 541-776-4465 or jeastman@mailtribune.com.