This Way to Chile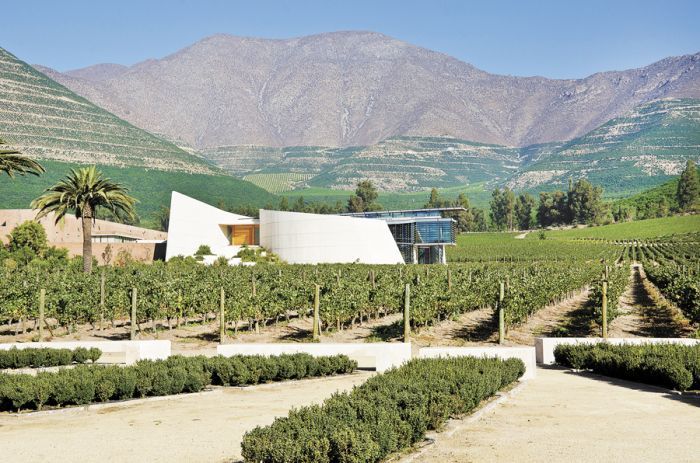 By Jennifer Cossey
Once upon a time, I dreamed of living in a place with oceans and mountains and, of course, vineyards. I had in my mind that I would either make a life in California's Santa Cruz Mountains or the country of Chile. As it turns out, Oregon had everything I wanted and more, but it doesn't prevent me from having a warm place in my heart for the country I thought I might one day call home.
In Chile, wine stands as one of the country's major industries, along with copper, fish, fruit and paper. Chile's vineyards lie along an 800-mile stretch of land protected from most pests and disease by the natural barriers of the Atacama Desert to the north, the Andes Mountains to the east, the Patagonian Ice Field to the south and the Pacific Ocean to the west. Those individual elements also produce a varied but ideal climate in which to grow grapes, with very hot and dry conditions in the north and cooler temperatures in the south with more moisture accumulation. Most of the country's growing regions enjoy a Mediterranean climate (summers are warm and dry with wet and cold winters). The cooling effect created by the Humboldt Current and the Andes Mountains makes for warm days and cool nights, helping grapes retain acidity while still fully developing flavors.
Chile's viticultural roots broke ground with the introduction of vinifera vines in the 16th century, when Spanish conquistadors colonized the regions. The industry grew in the 19th century as wealthy landowners traveled to France. Inspired by their visits to the great wine châteaus of the country, they returned newly energized and armed with rootstock from the Old World to plant in their home country.
Another milestone in the country's wine history occurred in the 1980s when famed Spanish winemaker Miguel Torres arrived in Chile to make wine and introduced modern technologies in the cellar, such as stainless steel fermentors and French oak barrels. From that point there was no turning back. Wine in Chile had established itself not only as a major industry of the country but as a player on the international stage.
Included in the import of vine cuttings in the 19th century was grape variety Carménère that nearly became extinct in Europe but played a role in Chile's rise of its wine industry. Now Chile's signature grape, Carménère is deep purple in color and often displays notes of berries, spice and black pepper. The grape needs a long growing season to reach its highest potential and most of Chile's growing regions are precisely the places to provide that luxury.
Though Carménère might be special to Chile, Cabernet is still king, with almost five times as many acres planted to the grape. Other red grapes making a home in the coastal country are Merlot, Syrah, Malbec, Cabernet Franc and, drumroll please, Pinot Noir. As for whites, Sauvignon Blanc and Chardonnay lead with acres planted with smatterings of Riesling and Viognier in the mix.
It turns out that my youthful imagination was not the first to be drawn to the coastal country. Many people with a love for Oregon also find themselves intrigued by the country with some much Pinot potential. One is California native Byron Kosuge. As the winemaker for B. Kosuge wines, he has made Pinot Noir in California and Oregon and is consulting winemaker for Kingston Family Vineyards in Chile's Casablanca Valley.
Kosuge grew up making trips to Oregon to visit his aunt living in Portland. "As a family, we spent many summer vacations touring around Oregon. So I have a sentimental attachment to the place that long predates any involvement in wine," recalls Kosuge. "Wine-wise, I like the freshness and focus you find in the best Oregon wines. And I appreciate the determination among the Oregon winemakers I know to really understand their land and their vines."
For Kosuge, the climate in the Casablanca Valley has a lot of parallels to both California and Oregon, most notably, the influence of the Pacific Ocean on the air temperature, humidity and winds. Yet, he attests that there are some pretty dramatic differences in making wine from Oregon grapes vs. Chilean.
"I would say that Casablanca, Chile, where I work, has more in common with the south central coast in California, in terms of the geology and climate, and is thus a very different place to grow Pinot Noir than from Oregon," Kosuge says. "The other really dramatic difference is the strength of the Southern Hemisphere sun. Chilean sun is intense, and it changes how the skins and their phenolic compounds develop."
According to Kosuge, Chilean red grapes have tremendous amounts of anthocyanin and are generally more tannic than comparable grapes in the northern hemisphere.
Culturally, of course, there are many differences. Patrick Reuter, winemaker and co-owner of Dominio IV wines, learned that first hand when he worked harvest in Chile's Maipo Valley for Viña Errazuriz. For him, it was all about the people who he described as "generous and happy."
"We worked in an old (1903) facility. In mid-October, the electricity was cut every day at 6:30. We played soccer every day at 6:45," recalls Reuter, who still plays soccer, just on Sundays. Some things transcend culture, not the least of which is the thing that, according to Reuter, Chile and Oregon have in common, "good people to work with, hard but happy work and fantastic wines."
Chile has been a draw to wine lovers and makers for centuries now and that enthusiasm combined with the growth of the industry shows no signs of stopping. Chile now aims to take center stage in the movement toward a sustainable future with an ambitious goal for the coming decade: to become the Number One producer of sustainable and diverse premium wines from the New World by 2020. As they would say in Chile: Salud y amor y tiempo para disfrutarlo. (Health, love and time to enjoy it all).
To learn more, visit www.winesofchile.org.
TASTY TRIO OF CHILEAN WINES
2008 Miguel Torres Cordillera, Carignan, Maule Valley ($25)
Red cherry, cranberry and pomegranate fruits with notes of dried leaves, rich chocolate and clove in the nose. Beautiful and expressive on the palate with balanced tannins and acids and a long velvety texture to the finish.
2010 Errazuriz Max Reserva Cabernet Sauvignon, Aconcagua ($18)
Black currant, black cherry and raspberries with additional aromas of red flowers, herbs, spicy cinnamon and a touch of cedar. Medium-bodied and elegant on the palate with harmonizing flavors that carry over from the nose.
2011 Leyda Classic Pinot Noir, Leyda Valley ($14)
Herbal notes upfront with hints of rose petals, raspberries, red cherries and cinnamon stick. Light on the palate with approachable acids and pleasing texture.