Center for Culinary Arts
Ashland's combination of world-class chefs, wine and theater sets the stage for a standing ovation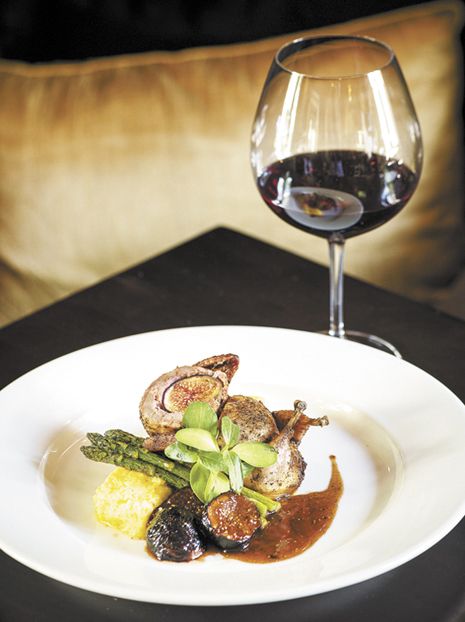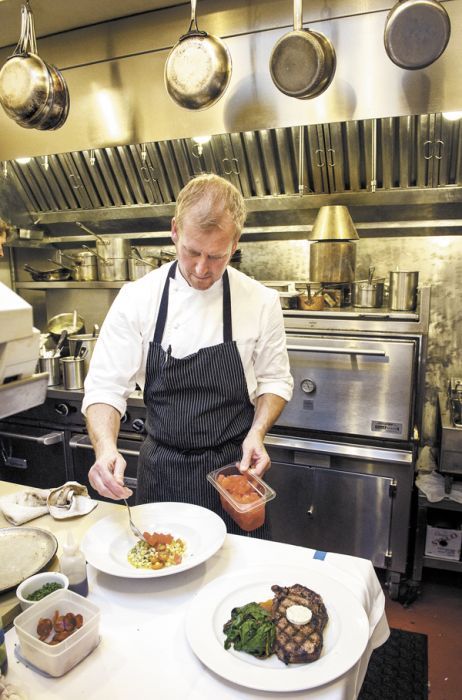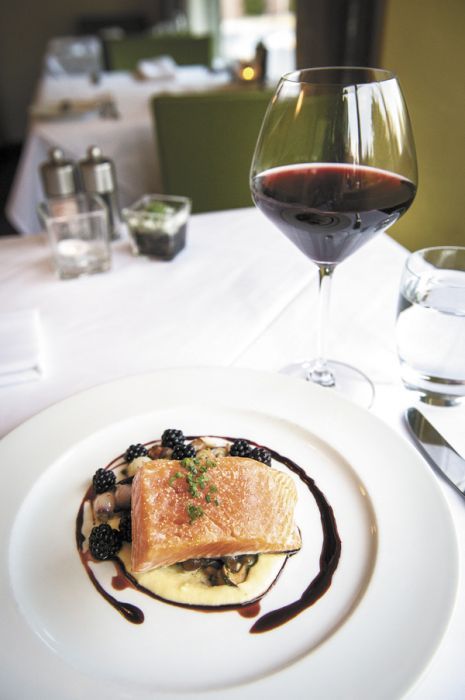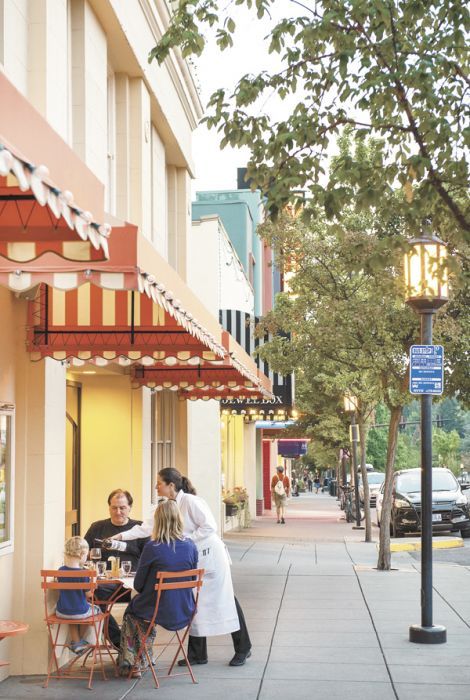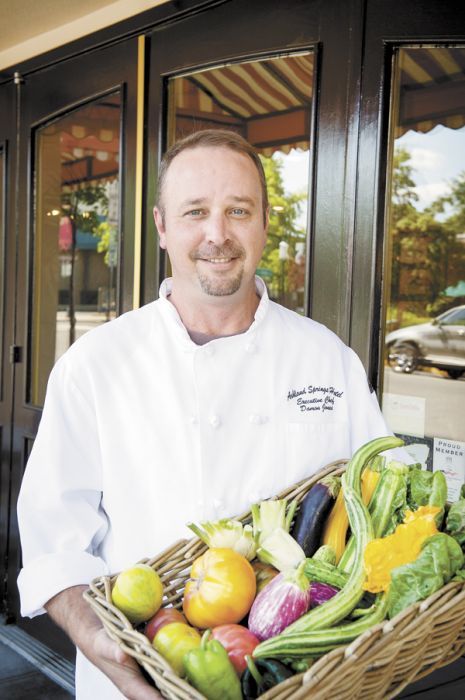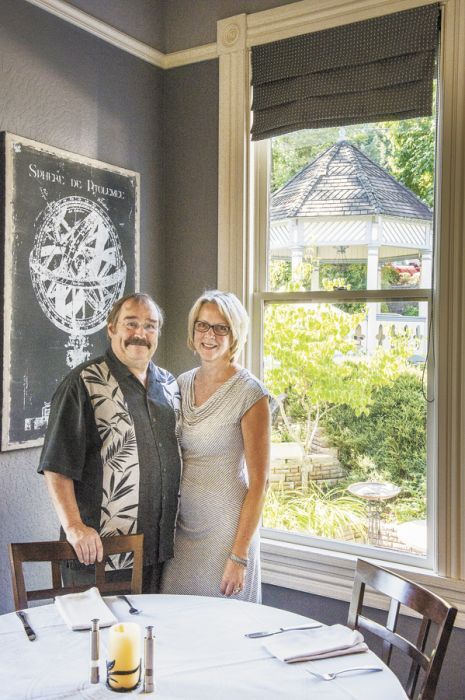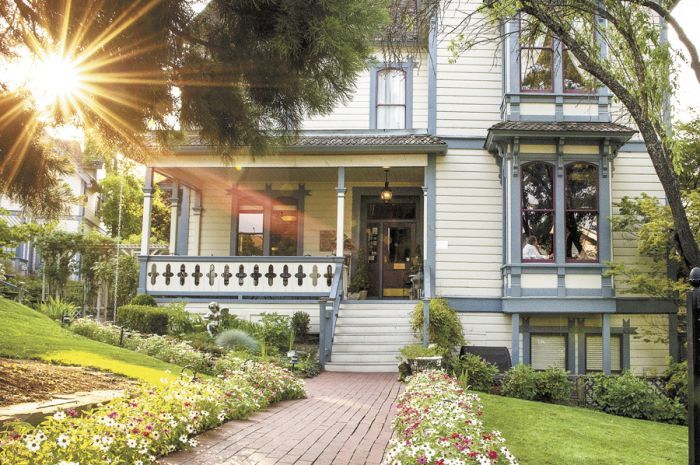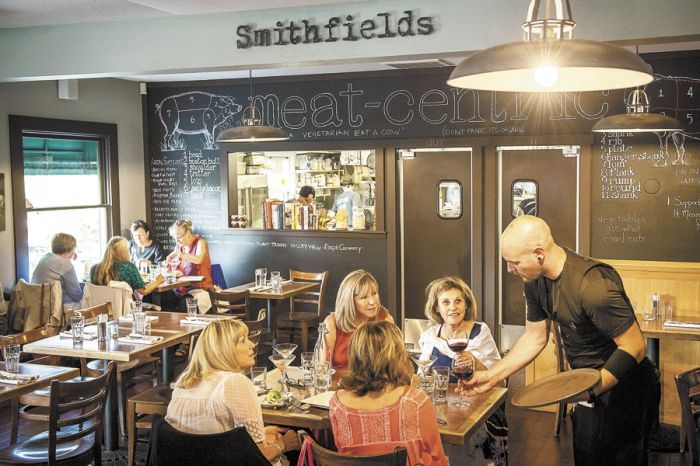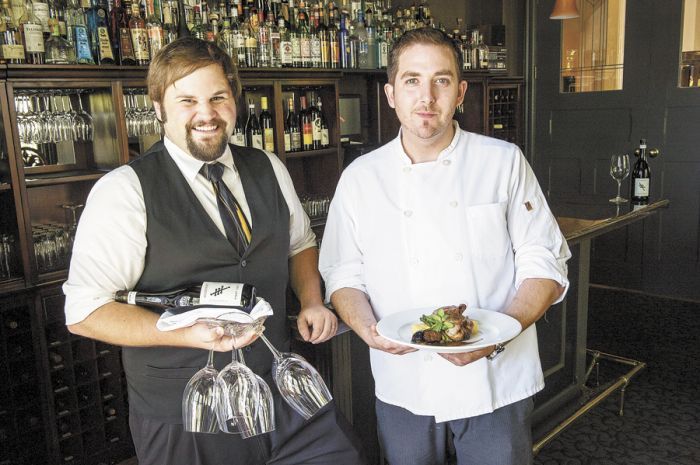 By Mark Stock
If it were a boxer, the city of Ashland would likely weigh-in as a featherweight. But the fight it puts up in the kitchen is enough to floor something several times its size. Southern Oregon's Shakespeare-adoring wine town boasts the appealing combination of a moderate local population with a big tourist draw. I saw firsthand how that one-two punch translates: By attracting decorated chefs to this city of 20,000, making way for perhaps the greatest food town per capita in the state.
Just 15 miles from the California border and nestled comfortably away from the interstate, Ashland feels independent of any sprawling mass of civilization. Well-preserved architecture and the nation's first Globe Theatre spinoff impart sophistication. Meanwhile, Southern Oregon University and an agricultural backbone keep things at ground level. Everybody seems to know everybody, and most wear smiles, having just hiked through Lithia Park, climbed Mount Ashland or returned from a wine tasting adventure in one of the nearby Rogue or Applegate valleys.
The city as we know it today started as a more feasible railroad link between Portland and San Francisco. Hudson's Bay Company explorers had discovered the place a couple generations earlier, following the Siskiyou Trail at the beginning of the 19th century. Orchards and mills flourished. Residents praised local "lithia" water (or prized mineral water) for its healing and restorative powers. Ashland's public fountains continue to draw from this rich natural well. The city's green heart, Lithia Park, was established in 1852 and is on the National Register of Historic Places. Landscape architect John McLaren, also known for Golden Gate Park in San Francisco, expanded and reworked the park — to stunning effect — in 1914.
The state's original recorded winery began in neighboring Jacksonville in the late 1850s. The start of the more refined and modern wine industry occurred in 1961, when Richard Sommer planted in the North Umpqua Valley, calling his ill-advised — at the time — endeavor Hillcrest Vineyard. Four official AVAs and scores of wineries now reside within an hour's drive from Ashland. And where there's a thriving local wine scene, there's often an equally strong taste for fine food, especially during wild salmon season.
Larks Home Kitchen Cuisine feels like the restaurant of an old Public Works building in a storied National Park. An extension of Ashland Springs Hotel, built in 1925, the restaurant epitomizes naturalism. Framed flora samples line the walls, along with vintage paintings of scenic Southern Oregon locales. It's the kind of place you almost expect to encounter John Muir, sipping a Caldera Pale while fine-tuning an essay.
Bright wicker furniture adds to the organic feel of the place. A "what's fresh" list appears on a chalkboard at the end of the restaurant, and the menu is decidedly seafood and comfort food focused. Executive Chef Damon Jones — formerly of Emeril's in New Orleans and Crosswater Resort in Sunriver — curates the menu. He attended culinary school in Alabama, which is reflected in his dishes. There's a detectable, feel-good Southern flare to many of the offerings. Mainstay dinner items like Southern Fried Chicken Breast with Bacon Pan Gravy, Mashed Potatoes and Green Beans share the menu with Potato-Crusted Red Trout with Horseradish Crème Fraîche, Cauliflower Purée and Wilted Chard.
"Just because one guy wants spring rolls on the menu doesn't mean it needs to be there," said Jones. He refers to the way of life at Larks as more of a co-op than anything else. Sure, he has final say on the menu, but he leaves much of the creativity to his staff and his beloved local farmers. He aspires for a James Beard award, "but not for me, for the restaurant," Jones explains. Just about everything at Larks is house-made, including the condiments. And Jones estimates 70 to 80 percent of the produce is grown by local farmers.
Jones' first restaurant gig was at a barbecue joint in a small Alabama town. The access to abundant, fresh produce in Southern Oregon is one of the main reasons he decided on Ashland. "It's mainly about service and ingredients," he added. "And things that are in season are generally less expensive as well." With so much to work with in late summer — carrots, greens, tomatoes, salmon, kale, corn — he refers to this time of year as the "no-brainer season."
But preparing food in Ashland is not without challenges. The theater town knows how to eat and everyone seems a critic. Jones adjusts the menu about every two and a half months, depending on his farmers' produce. "I'm never satisfied," he concludes, demonstrating a trait shared by good chefs: Tirelessness.
The Wild Salmon Poke special was noteworthy, so fresh it just about swam off of the plate. The Pan Seared Rockfish with Tomato Aioli, Fried Green Tomatoes and Sweet Corn Salad was also memorable, and Larks has a fleet of fairly priced, fish-friendly wines to accompany such an entree. Unsurprisingly, Ashland is justifiably proud of its local wine culture, and the restaurants offer a slew of them front and center on the drink menu. On top of a generous bottle list, Larks was offering 13 wines by the glass, 11 of which were from Oregon.
Partway up the hill from Main Street is The Winchester Inn, a beautifully refurbished one-time hospital set in a pastoral dreamscape. It's easy to feel like royalty on holiday here, among the gazebo, veranda, gently reaching flowers and creaking old trees. The main house itself dates back to Andrew Jackson's presidency, built the year Jesse James held up his first bank and the House passed the 14th Amendment (1866). It is rumored that the original structure was constructed several blocks away, then transported to its current location via horse and log.
Whereas Larks maintains a somewhat urban feel because of the adjoining hotel, the Winchester's restaurant, Alchemy, is pure countryside. It sits on the main floor of the main building, an oversized gray-blue dollhouse with delightful architectural details. An outdoor patio spills into a thick garden, so dense with well-manicured vegetation that it's easy to forget this is still the heart of town. It's a bucolic slice of northern Europe just a short walk from Main Street.
Executive Chef Billy Buscher commands the kitchen. The Alchemy menu is fairly upscale, mixing classic French cuisine with Pacific Northwest flavors. Buscher hails from the Rogue Valley, having run kitchens in Bandon and at the Jacksonville Inn, a nearby celebrated establishment. Before settling in at Alchemy, Buscher was the chef at McAndrew Grill in Medford. He works closely with Alchemy's general manager and certified sommelier, Drew Gibbs. Alchemy has received Wine Spectator's "Award of Excellence" every year since 2006.
The special of the evening sounded too good to skip: Corn and Halibut Bisque with Corn Salsa, Chile Oil and Basil and Mint Mousseline. Rich and heavy, the bisque paired wonderfully with a Sauvignon Blanc and is well-suited for a number of whites. The corn was lively and sweet, while the halibut managed to assert itself through the creaminess of the French soup. For dinner, the Whole Basted Quail Stuffed with Guinea Fowl Sausage and Prosciutto-Wrapped Fig Stuffing. Goat cheese polenta cake and fig marsala accompanied the bird, perfectly cooked and practically deboning itself as I sliced. The polenta played the ideal sponge for the juice and marsala I was unwilling to abandon on the plate.
True to its name, Alchemy takes a certain pride in its mixology and resulting cocktails. Their "elixirs" and "tinctures" are split up by spirit, one of the best, most summery the Strawberry Rhubarb Manhattan. Strawberry- and orange-infused rye join rhubarb bitters in this handshake of a cocktail; equal parts sweet and savory. The immediate hit of fresh strawberry is a declaration of sorts, as if to say "school's still out, fret not." Also fitting is Alchemy's appreciation of absinthe, the Old World anise-flavored spirit popularized by sophisticates like Ernest Hemingway and Vincent van Gogh.
Part of the joy of dining at Alchemy speaks to the delight of eating in Ashland at large. Think of eating at a friend's home. This is to take nothing away from the elegance of Alchemy, of which there's plenty, from the plating to the decor. But the smallish-sized restaurants and everybody-knows-everybody themes seep into the town's culinary scene. In addition to the thrill of putting on a performance — this is a Shakespeare town, after all — I couldn't help but wonder if at least part of the reason the restaurants perform so well is small town relativity. Cooking for friends is more rewarding than cooking for strangers and that seems to be Ashland's stance, whether you're here for the first time or live just up the street.
Much of the local food conversations I overheard also included Amuse. The centrally-set restaurant is going on its 13th year, fairly impressive in the fickle arena of food. Erik Brown and Jaime North started the place, the former doing the cooking; the latter,
the baking. The two also own Mix Sweet Shop, a pastry and coffee house on Main Street in Ashland. Brown grew up in Berkeley before moving to Oregon for college while North was raised in Medford, taking her first restaurant job through her family's place at age 10.
Amuse features a New American, French-tinged menu with items like Parisian Gnocchi with Zucchini, Glazed Carrot, Green Beans, Tarragon, Brown Butter and Reggiano. Not surprisingly, desserts show prominently as well, including items like beignets, Champagne sorbet and warm polenta cake. The wine list is more eclectic than local, comprised of everything from Alsatian Gewürztraminer to Spanish Tempranillo.
Perhaps one of the more daring Southern Oregon menus, Amuse toys with combinations like peach purée and crispy veal sweetbreads, or beet chips and balsamic syrup. There's a special focus on cheese as well, from area creameries such as Rogue in Central Point and Pholia Farm in Rogue River. Of the Ashland restaurants, Amuse Chef Brown is the most likely to win Iron Chef, showing obvious invention and new-school culinary concepts.
For your fix of meat, Smithfields is the spot. The carnivorous eatery just across the street from The Winchester Inn pushes "tail-to-nose" dining with menu items like Roasted Bone Marrow with Parsley, Capers, House Pickles and Charred Sourdough and Char-Grilled Hanger Steak with Watercress, Bearnaise or Green Peppercorn. "Feel good" items like Buttermilk Fried Chicken with Mash, Chives and Crimini Gravy beg for beer and Smithfields obliges, offering a healthy list of British ales alongside cocktails and New and Old World wines, Southern Oregon included.
Neil Clooney heads Smithfields, an English expat who initially worked on the high seas aboard the Queen Elizabeth II. After jobs at the Goring Hotel and Ransomes Dock in London, Clooney headed to the States, taking a gig as executive chef at Cantina in San Diego. The two-time Ashland Food & Wine Classic champion started Smithfields in 2011. In many ways, it is a Western saloon gone deluxe, with a woody interior and a rancher's appetite. And while meat is center stage, a varied cast of interesting sides, salads, soups and desserts add to the restaurant's down-home drama.
Back at the Ashland Springs Hotel, one of the tallest buildings in town at nine stories, one can see across the entirety of Ashland. Even now, amid the summer tourism season and a busy Oregon Shakespeare Festival schedule, the city is compact but comfortable, a pulsing dot in the foothills of the Siskiyous. Lithia Park is the vital green organ of the land, a meandering green space that chases Ashland Creek back to its origin up the hill. An hour from Oregon's only National Park and on the edge of the state's oldest winegrowing terrain, the appreciation of food, wine, and nature here needs little elaboration.
William Shakespeare mentioned food and drink in countless plays. But it was typically framed as a necessity within the Elizabethan era, a commodity the poor needed as opposed to savored.
Present-day Ashland continues to idolize the iconic poet and playwright but has its own interpretation of food. Restaurants like Larks, Alchemy, Amuse and Smithfields showcase a vibrant Southern Oregon gastronomical world that contradicts its petite size.
"If music be the food of love, play on,
Give me excess of it; that surfeiting,
The appetite may sicken, and so die."
Twelfth Night, Shakespeare, 1602.
Mark Stock, a Gonzaga grad, is a Portland-based freelance writer and photographer with a knack for all things Oregon. He currently works at Vista Hills Winery.