Where's for Breakfast?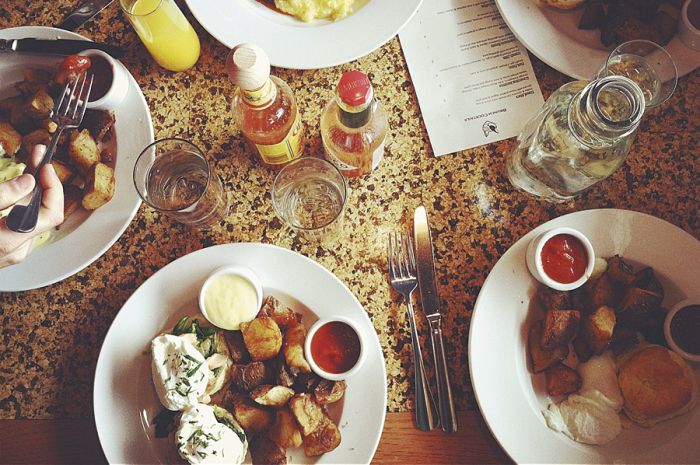 Breakfast. Just seeing the word on the page conjures up a smorgasbord of sights, sounds, smells and tastes. The pitch of the coffee pot, luring you out of bed and into the kitchen. The roasted aromas wafting from your mug into the pleasure center of your brain. The stirring sight of swirling crème, and, at last, the bite — then buzz — of your first sip.
And that's just the coffee.
Eggs, bacon, pancakes and much more add to the experience, enticing even the sleepiest folks, including Oregon's hardworking wine industry.
Winemakers are passionate about their food, no matter the time of day. While wine is — traditionally — not part of the morning meal ritual, a winemaker's breakfast can be just as momentous as any five-course dinner.
The following winemakers share some forenoon food for thought by answering OWP's question: What's the best place for breakfast? And whatcha havin'?
1910 Main Forest Grove
"My favorite thing to order is the eggs Benedict special, like their crab and asparagus Benedict. Delicious. The atmosphere is fantastic and they usually have a mimosa with a twist. They also source local food and wine whenever possible."
—Juanita Lint, Plum Hill Vineyards, Gaston
Avalon Bar & Grill Talent
"I recommend the wild salmon cakes with poached eggs, homemade hollandaise, sautéed spinach and Yukon hash browns."
—David Traul, Ledger David, Central Point
Brewin' in the Wind Espresso Bar & Grill Oceanside
"I love their crab Benedict or crab scramble. It is only an hour and half from most of wine country with great views of the ocean and friendly people — including my sister, Cathie, one of the owners."
—Ann Fisher, ADEA Wine Co., Gaston
CHOW Bend
"The most unique and satisfying breakfast experience we've had recently was at CHOW. I had poached eggs with polenta, sautéed spinach and red pepper hollandaise with a side of corn-crusted tomatoes. My husband had an amazing savory potato cake with eggs and a delicious sauce — we all kept dipping into his plate because it was irresistible. The menu was fresh, local and innovative. We also tried a pomegranate Man-mosa and spicy bloody Mary, which was chock full of delicious pickled veggies. Go early or expect a wait, but well worth it."
—Katherine McCleary, JAXON Vineyards, Medford
The Country Cat Portland
"There is no finer way to start your day than with one of Adam Sappington's breakfasts. To start, the spicy Bloody Mary with housemade jerky and pickled vegetables is a true wake-up call, along with a buttermilk biscuit that has a subtle hint of bacon fat. I would suggest any item on the menu that includes his cast-iron home fries, which have to be double dipped in butter because of their fantastic crunchiness. We enjoyed the cured, rolled and smoked Porchetta with hash browns last weekend with a lovely surprise of an egg poached in our own Penner-Ash Pinot Noir. If we are getting out of bed to head to breakfast, we will go big or why bother!"
—Lynn Penner-Ash, Penner-Ash Cellars, Newberg
Crescent Café McMinnville
"Corned beef hash. Add in the fresh squeezed OJ and a homemade biscuit or muffin, and you have the best breakfast in McMinnville, hands down."
—Tim Wilson, Denison Cellars, McMinnville
Maggie's Buns Forest Grove
"When I am in the northern part of the valley, I love to finish off my early morning vineyard visits with a stop at Maggie's in downtown Forest Grove, right next to Pacific University. Where else can you get awesome home-baked muffin tops, scones and, of course, who could forget those buns?"
—Adam Campbell, Elk Cove, Gaston
Sckavone's Portland
"It's all about their chicken fried steak breakfast!"
—Ryan Sharp, ENSO, Portland
Simpatica Portland
"We love the Sunday brunch at Simpatica. The Laurelhurst Market bacon they serve is so good, the last time we had it we decided to have our wedding dinner at Simpatica!"
—Kevin Johnson and Beth Klingner, Dion Vineyard, Cornelius
Tasty 'n' Sons Portland
"I order the Burmese pork stew: spiced pork, pork belly in a savory-sweet sauce with an egg on top served over rice. It's just plain yummy."
—John Olson, TeSóAria Vineyard & Winery, Roseburg
Tomaselli's Pastry Mill Elkton
"I order either the Chorizo con Huevos or Marty's Omelet, depending on my mood or how hungry I am. What makes this place so special is the atmosphere and the quality of the freshly prepared food. Don't be in a hurry because quality takes time. The staff is friendly and you might even get to hear Marty (owner) singing. There is always a familiar face and I love eating at the "locals" table so others may gather."
—Nina Pace, Anindor Vineyards, Elkton