Taste of Argentina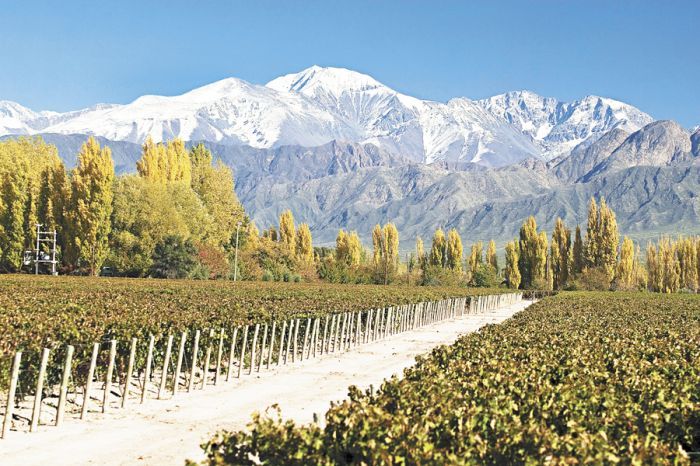 By Jennifer Cossey
Famous for beef and Tango, Argentina is also known for its wine.
While nearby Chile had long been the South American leader in wine, Argentina has surpassed its neighbor in production — 1,547,300 metric tons in 2011 compared to Chile's 1,046,000. And quality is catching up, too. Just as Australia is synonymous with Shiraz, Argentina is associated with Malbec; both countries are known for their high-quality yet affordable wine.
Argentina has a lengthy history of winemaking and drinking for that matter. In fact, it dates back to the early 16th century when Spanish colonizers first arrived in the Americas bringing European grapevines. Centuries later, the industry has significantly grown, making Argentina the fifth largest wine-producing country in the world.
Argentina's three main growing regions and its 24 sub-regions — spanning from the north border to as far south as Patagonia — are primarily situated on the western side of the country where the Andes Mountains create a rain shadow effect, protecting vines from the more intense coastal weather and creating a drier continental climate.
The topography of the country includes forest, deserts, woodlands, summits and even glaciers. Low nutrients in soil, varied microclimates, high altitudes and low rainfall create a unique environment for grape cultivation.
Extremely low humidity in most of the nation's regions keeps fungus out of the vineyards; while snowmelt provides plentiful water for irrigation, an element that is necessary for the wine industry to exist. Argentina is also home to some of the highest altitude vineyards in the world, some nearly 3,000 meters (9,842 feet) above sea level.
Because of its location in the Southern Hemisphere, Argentina's growing season is indeed different. With their fall occurring during our spring and summer during our winter, bud break typically begins in October, and harvest usually starts in February, lasting as late as April.
While Malbec is still king in terms of acres — more than 31,000 planted — Argentina's other wines, Bonarda, Cabernet Sauvignon, Syrah, Merlot, Tempranillo, Sangiovese and Oregon's most prominent, Pinot Noir, are gaining attention from the international market.
As for whites, there is also great diversity. Pedro Giménez makes up more than 28 percent with 12,000-plus acres. Torrontés is next, and grapes like Chardonnay, Chenin Blanc, Semillon, Viognier and Riesling are planted throughout the county.
Just as Argentine reds and whites travel many miles — more than 6,000 — to land on Oregon wine shop shelves, Juan Pablo "JP" Valot, winemaker at Silvan Ridge and native Argentinean, traveled the same distance, but in the opposite direction, to his new home in the Rogue Valley.
Before heading north, Valot completed a five-year degree in agricultural sciences, with a focus in enology and viticulture, at the National University of Cuyo in Mendoza. After graduation, he worked as an oenologist for Esmeralda, a Catena winery. Then, in 2001, Valot was looking for a new challenge; he set his sights on Oregon.
"I was attracted by the state's growing wine industry," Valot said.
In 2002, he met his wife, Doris, and together they decided to settle in Oregon.
Valot worked for Willamette Valley Vineyards, Soter Vineyards and Dobbes Family Estate before finding Silvan Ridge. After working seven years at the South Willamette winery, he became the brand's head winemaker in August 2012.
While in Oregon, he has played additional roles in Oregon's wine industry, including vineyard manager and educator; and just last year, he was appointed by the Governor to be a board director of the Oregon Wine Board.
His passion is wine, but like any true Argentinian, Valot also loves soccer, "futbol," particularly his beloved Boca Juniors, and always enjoys a good "asado" — barbecued beef.
Going back the other direction, to Argentina, are many young, aspiring winemakers searching for their own new challenges, such as an Argentine harvest. Brianne Day of Day Wines accomplished exactly that. Inspired by a visit to Argentina in 2006, Day returned in 2010.
While working harvest — called "vendimia" or "cosecha" in Argentina — at Cepas Elegidas, a small winery in Mendoza, Day discovered considerable differences compared to Oregon, starting with the vines.
"Almost all of the vineyards are irrigated in one way or another, some of them utilizing technology dating back to the Mapuche tribes that lived in the area centuries prior," Day said.
Besides history and heritage, Day witnessed contrasting winery practices, as well.
"Fermentation vessels are very different — they mostly use huge concrete fermenters mostly — as well as production methods, such as pump overs 24 hours a day throughout fermentation," Day noted.
As for similarities, some elements of the wine business even hemispheres can't change; she says of her Argentine co-workers, "They are hardworking, happy people."
Day also says she experienced great camaraderie with the locals who worked in the vineyards and the cellars. "We had great 'parrillas' (barbecues) all the time. I made awesome friends."
For more about Argentina wine, visit www.winesofargentina.org.
Try these Argentine wines:
Alma Negra Sparkling Malbec, Mendoza $24
Notes of cantaloupe, Meyer lemon, pink grapefruit, white cherries and fresh herbs take over the aromatics with hints of wafer cookies and honeysuckle nectar creating a harmonious balance to the wine's playful acids and elegant bubbles.
Catena 2011 Malbec, Mendoza $23
Red and black cherries, blueberries, blackberries and raspberries leap from the glass with notes of cocoa powder, pecans and cedar bringing it all into focus. Rich and round on the palate with a creamy texture and a long finish.
Bodega Noemia 2012 A Lisa, Patagonia $20
The wine — a blend of 90 percent Malbec; 9 Merlot and 1 Petit-Verdot — is highlighted with fruit notes of Bing cherries, blood orange peel and dried blueberries and with floral, herbal and savory notes of rose petal, verbena and cinnamon. Well balanced on the palate with bright, food-friendly acids.