Donovan Departs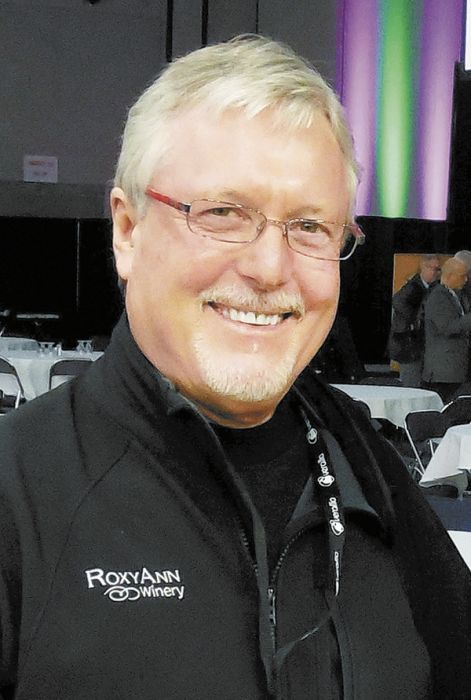 By Janet Eastman
For a decade, Michael Donovan has been the voice of RoxyAnn Winery and Southern Oregon's wine industry.
As the Medford winery's director of national sales and a vocal member of the state's trade associations, Donovan has traveled across the country and to Asia with Gov. John Kitzhaber to promote Oregon's flourishing wine enterprises.
Owners of other Southern Oregon wineries say they turn to Donovan to represent their marketing, tourism and political interests in Salem and throughout the Pinot Noir powerhouse Willamette Valley.
At the beginning of August, however, Donovan officially stopped working at RoxyAnn, a business he helped grow.
Wine club members learned through an e-mail in late July that Donovan would be leaving the winery, one of the most successful in the Rogue Valley, and has no concrete plans for the future. RoxyAnn's general manager, Chad Day, will be assuming Donovan's wholesale and distribution duties.
"Michael has decided to seek other opportunities," said Day, the great-grandson of Reginald Parsons, who, in 1908, founded Hillcrest Orchard, where RoxyAnn Winery is located.
In 1997, Chad Day's father, Jack Day, planted 20 acres of Cabernet and Merlot vines on the 250-acre property. Jack Day then hired Donovan to manage the operation from a corner of an old barn.
During Donovan's tenure, RoxyAnn went from making 150 cases of Claret in 2003 to about 13,000 cases of wine this year. Plantings expanded to other grape varieties grown across 70 acres, and the old barn was converted into a tasting room for guests and a 1,200-member wine club with daily events organized by tasting room manager Brenda Walden Pine.
Donovan will remain a shareholder and serve as a consultant on expanding RoxyAnn's national market distribution.
"This is part of our succession plan," said Chad Day, who is new to the wine industry. "I'm taking over the day-to-day operation of the business."
When the original vineyard was planted, Chad Day graduated from South Medford High and left to earn a bachelor's degree in construction management from Cal Poly, San Luis Obispo, Calif., and an MBA from Seattle University.
On July 24, Donovan was inside RoxyAnn's warehouse on Parson Street, where 10,000 cases are stored. He was clearing out his desk, bundling up documents to hand over to Chad Day.
Donovan said he would prefer to find a job in the valley, near his three children and four grandchildren. And he'd like to continue to work in the wine industry as he completes his governor-appointed term on the Oregon Wine Board, which ends in 2016.
"I have a real passion for Oregon wine," he said.
Since he joined RoxyAnn after selling his interest in Chateaulin Restaurant in Ashland, the number of wineries tripled in the southern part of the state.
While at RoxyAnn, he worked with winemakers such as the late Sarah Powell, as well as Will Brown, formerly with Agate Ridge Vineyard, Gus Janeway of Velocity Cellars, Rachael Martin of Red Lily Vineyards and currently John Quinones.
"It's been a long, wonderful ride," said Donovan, who lives in a house overlooking RoxyAnn's vineyards. "I feel confident to step away because Chad is learning the wine business, and he brings a youthful enthusiasm to the project that someone outside the family can't."
Since the announcement, he's heard from people surprised by the news.
"This is the first I've heard of him leaving RoxyAnn," said Al Silbowitz of Grizzly Peak Winery in Ashland. "I hope we will not be losing his talents in our region."
Earl Jones of Abacela in Roseburg said Donovan supported local wine as a restaurateur during a critical time for the fledgling industry.
"He bought our Oregon wines and promoted them to his customers in such a way it floated all boats," Jones said. "When he joined RoxyAnn, his support for Oregon wine increased, and soon he became active in the state's trade-industry organizations. The industry needed that, and he delivered."
When Donovan served as the president of the Oregon Wine Association and Oregon Wine Board, he was a "tireless" promoter of warm-climate wine producers in a state focused on cool-climate Pinot, said Laura Lotspeich of Trium Wines and Pheasant Hill Vineyard in Talent.
She said Donovan spearheaded a large portion of the Southern Oregon Wine Association's activity for years, bringing many wineries into the organization.
"His even-handed and calm but assured voice carries our message of quality, diversity and professionalism," she added.
Lena Varner, owner of Ledger David Cellars in Talent, worries that Donovan may leave Southern Oregon.
"Michael Donovan has demonstrated the perfect balance of passion and diplomacy," she said.
Reprinted with permission from Mail Tribune.