The Jackson Family Agrees to Purchase Acclaimed Willamette Valley Winery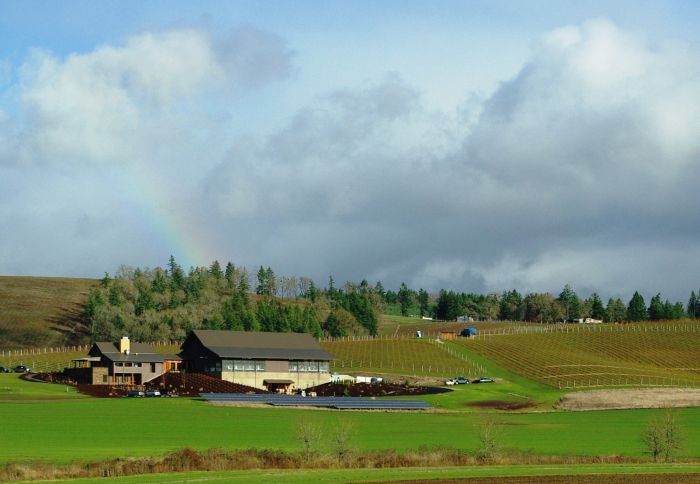 Jackson Family Wines today announced it has agreed to purchase the 15,000 case winery and 35 acres of vineyard currently home to Soléna Estate, owned by Laurent Montalieu and Danielle Andrus Montalieu. The sale does not include the Soléna Estate brand or the Domaine Danielle Laurent Vineyard; Soléna will move its production to its new Dundee Hills winemaking facility.
Located in the Yamhill-Carlton district, the gravity flow winery features an open-air fermentation hall, underground barrel cellars and a Northwest-style tasting room and hospitality area.
"In order to fulfill our vision for creating world-class Pinot Noir from the Willamette Valley, we need a winery capable of producing artisan wines," said Hugh Reimers, executive vice president and chief operating officer, Jackson Family Wines. "The Soléna winery is beautifully designed for boutique, small-lot winemaking."
"We welcome Jackson Family Wines to the neighborhood, and believe they will help us build upon the reputation of the Willamette Valley, and in particular the Yamhill-Carlton AVA, as a luxury producer of exceptional Pinot Noir," said Laurent Montalieu, owner and winemaker for Soléna Estate.
Soléna Estate is already making some of its wines at NW Wine Company, a custom wine making facility created by the Montalieus in partnership with John Niemeyer of Oregon Wine Services. It will transition more of its production during the 2013 harvest season. Soléna will also continue producing its two single vineyard wines, Domaine Danielle Laurent and Hyland.
"Since opening our winery in 2003 we've seen tremendous success. With the recent purchase of two new vineyards, we've outgrown our current capacity," said Danielle Andrus Montalieu, co-owner of Soléna Estate. "Moving all of our production to NW Wine Company, our sister winery, allows both for continued growth and for Laurent to focus on the winemaking at one location during harvest."
In addition, Soléna is building a new tasting room and visitor's center on its Domaine Danielle Laurent vineyard, which will accommodate consumer direct sales as well as barrel aging. The new facility is expected to open in May of 2014.
Terms of the transaction were not disclosed.