The French Connection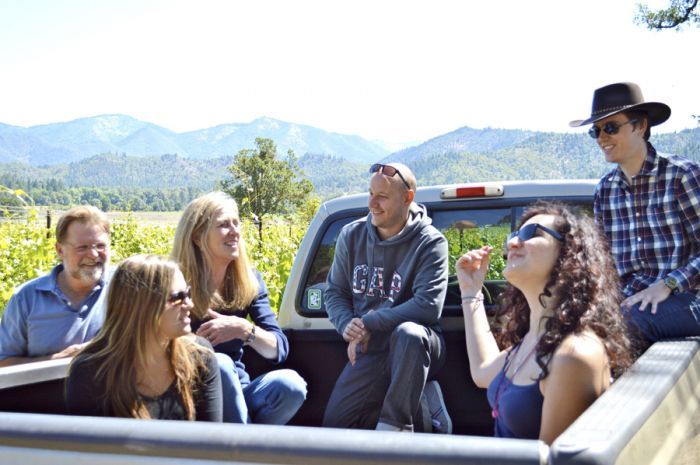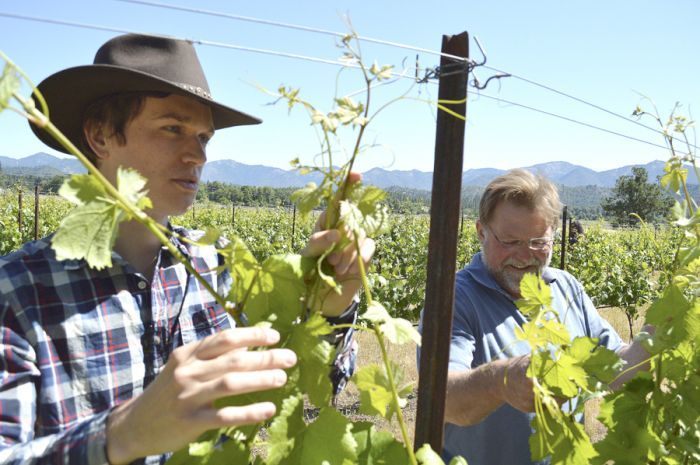 By Janet Eastman
It was unusual for a French person to pass through New York's Ellis Island, travel across the country and start a vineyard in the Rogue Valley more than a century ago.
But that's just what Joe Ginet's grandfather did.
Today, Ginet, a winemaker, grapegrower and rancher in Williams, recently hosted a young French relative who is tracing their family's history. Linking the generations across the Atlantic are common professions, love of the land and a rare, almost-extinct winegrape called Mondeuse Noire.
In June, Joe Ginet and his wife, Suzi, were showing their vineyard to Joe's cousin's son, Bruno Carle, 24, and Carle's three friends, also visiting from France.
Carle's family owns a grapevine nursery in eastern France's fabled Savoy wine region. There, they sell rootstock originally from the U.S. Since the 19th century, after the phylloxera louse wiped out native plants, grafted vines across France have thrived on aphid-resistant American rootstock.
Standing in front of one of his French Mondeuse vines, Ginet reached down and plucked a wayward leaf off its trunk. He then flicked it away, turned to Carle, and said, "We call those bottom leaves 'suckers.'"
Carle stooped down, picked off a leaf, flicked it away and laughed. "In France, we call those 'Americans.'"
There are further differences in the way the Old World and New World deal with winegrapes, and Ginet and his family's five generations of grapegrowers know them well.
Ginet's grandfather, Joseph, grew up in vineyards in the Savoy region, long recognized for its white wines made from Roussanne and Pinot Gris grapes, and red wines from Pinot Noir and Mondeuse. The Mondeuse grape, which is related to Syrah, was decimated by the phylloxera blight in France and replanted. But it is rarely grown here.
Hearing that, Carle pointed out additional differences between here and there. In Savoy, vineyards ascend hillsides so steep, he says, that grape pickers must secure themselves with ropes. Surveying some of the Ginets' 12 acres of vineyards, he referred to them as flatland.
Suzi Ginet, who has helped harvest Pinot Noir, Chardonnay and other grapes since they were planted on gently sloping land here in 1998, smiled and shrugged off the comment with, "It's all relative, I guess."
Carle then spread his arms out between the rows and said that French vineyards are planted closer together. Joe Ginet explained how his spacing was set by the width of his tractor.
Carle then remarked that vines are trained to grow low to the ground in France to allow the soil and rocks to radiate heat onto the vines after sunset. Ginet said American growers prefer a higher-trellised vineyard to make it easier to pick the grapes, keep the vines above the frost zone, and have room to install drip irrigation, which isn't allowed in France.
During his visit, over a bottle of Mondeuse Noire called "Papa Joe's Private Stash," Carle spent time with Suzi, looking through the family album and reading some of Joe's grandfather's letters.
Carle learned that the original Joseph Ginet started making wine and selling fruit and grape plants outside Jacksonville in 1904. The pioneer called his land Plaisance Orchard. Pronounced "PLAY-zonce," it's French for "pleasure."
Two generations later, Joe Ginet named his property Plaisance Ranch where, like his grandfather, he nurtures vineyards, sells rootstock for grafting and produces wine.
Some of the wine is made from Mondeuse grapes grown on plants Ginet brought here from his family's vineyard in the Savoy village Saint-Jean-de-la-Porte.
This past spring, Ginet returned to France with his wife and three grape-growing couples: Lee and Vicki Mankin of Carpenter Hill Vineyard in Medford; Cal and Judy Schmidt of Schmidt Family Vineyards in Grants Pass; and Andy and Peggy Pearl of Pearl Family Vineyards and Redlands Vineyard in the Applegate Valley.
After visiting vineyards and talking to winemakers, they learned more about the French government's regulations on chemical use and how it restricts the type of grapes grown in a region, and the number of buds left on each plant, which dictates quality and quantity.
In Oregon, Ginet told Carle, grapegrowers look to the marketplace to decide the grape type and the quantity produced.
Back and forth, the two relatives good-naturedly discussed more differences between the countries. Then the conversation stopped as Carle looked longer at the land adorned by Grayback Mountain. He circled around, taking in the view.
"I can see why your grandfather came here," he said. "This valley looks like Savoy."
Janet Eastman is a reporter for the Mail Tribune. Story courtesy of the Mail Tribune.
PLAISANCE RANCH
Address: 16955 Water Gap Rd., Williams
Hours: Noon to 6 p.m., closed Tuesdays
Phone: 541-846-7175
Website: www.plaisanceranch.com