Tasty Twists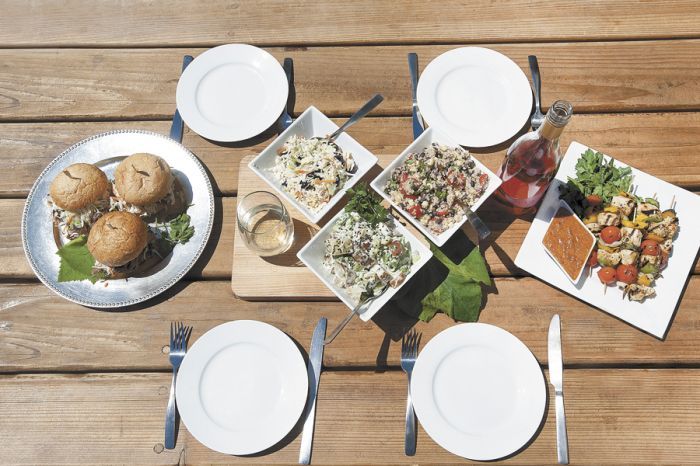 Recipes by Wendy Bennett
DR. PEPPER-CHIPOTLE PULLED PORK SLIDERS WITH TANGY CHERRY COLESLAW WITH KALE
Yields 6 servings
Wine Pairing: Winter's Hill Vineyard 2011 Dry Rosé Pinot Noir, Dundee Hills, Oregon.
"The combination of smoke from the pork and sweet from the coleslaw pairs beautifully with the dry rosé." —WB
PULLED PORK
1 boneless pork shoulder, approx. 5 pounds
*sea salt and freshly ground black pepper
1onion, large, peeled and quartered
1can chipotle peppers in adobo sauce
(11 ounces)
1liter Dr. Pepper (1 quart)
2tablespoons brown sugar
METHOD
1. Season pork shoulder well with salt and pepper. Place in a 6-quart slow cooker. Add onion, chipotle peppers and brown sugar. Pour in Dr. Pepper until ¾ of pork is covered but not totally submerged. Amount of Dr. Pepper may vary. Cover with lid, set heat on low and cook for 8 to 10 hours. 2. Remove lid and test doneness by pulling pork with a fork to ensure it is 'fork tender' and easy to pull apart. If pork is not very tender, continue to cook for an additional 2 hours or until pork is tender. 3. Remove pork from liquid and set aside. Using a ladle, remove grease from top of liquid. Discard grease and reserve remaining liquid. If time permits, liquid can be refrigerated and the pork fat will harden on top of liquid, making it easier to remove from remaining liquid, which will not harden. 4. Use two forks and 'pull' the pork into shreds. Add 2 cups of reserved Dr. Pepper cooking liquid and stir to combine. Serve immediately or chill and reheat to serve. Leftovers can be frozen up to 3 months. Yields 4¾ pounds.
COLESLAW
1/3 cup lime juice, freshly squeezed
2 tablespoons sugar
3 tablespoons honey
¾ teaspoon dry mustard
½ teaspoon celery salt
¼ cup vegetable oil, preferably sunflower or avocado
4 cups green cabbage, shredded
1 cup kale, thinly sliced
1 cup carrots, grated
1 cup cherries, dried, tart
½ cup chives, sliced ¼-inch thick
*sea salt and freshly ground pepper
METHOD
1. In a small bowl, cover cherries in warm water until softened (about 30 minutes); drain, keeping the cherries and discarding water. Slice cherries in half and reserve. 2. In another bowl, whisk lime juice, sugar, honey, mustard, celery salt and oil until well combined. Set aside. 3. In a large bowl, toss cabbage, kale, carrots, chives and reserved cherries. Add dressing and stir to combine. Add salt and pepper to taste. Refrigerate until needed.
SLIDER ASSEMBLY
1½ pounds pulled pork
1 cup cherry kale coleslaw
16 crusty dinner rolls
METHOD
1. Slice bun or roll in half horizontally and set top aside. Place 1 ½ ounces of pulled pork on bottom of bun. Then top with 2 tablespoons of coleslaw and replace top bun. Secure with a fancy toothpick.
CURRY SATAY-STYLE CHICKEN KABOBS WITH PEANUT SAUCE
Yields 12 kabobs
Wine Pairing: Stoller Vineyards 2008 Chardonnay SV Estate Dundee Hills.
"This full-bodied wine with a hint of apple can hold its own when paired with the curry marinade and peanut sauce in this dish." —WB
SKEWERS
2¼ pounds boneless, skinless chicken breasts, cubed
1 red bell pepper, sliced 1-inch cubes
1 yellow bell pepper, sliced 1-inch cubes
1 large onion, sliced 1-inch cubes
24 cherry tomatoes
MARINADE
1 teaspoon Thai yellow curry paste (can use curry powder)
1 teaspoon fresh ginger, minced
1 tablespoon fresh garlic, minced
1 teaspoon lemon zest
1 tablespoon dark soy sauce
1 tablespoon light brown sugar
¼ cup vegetable oil
SAUCE
1/3 cup creamy peanut butter
4 garlic cloves, minced
2 tablespoons grated fresh ginger
2 tablespoons low-sodium soy sauce
1 tablespoon light brown sugar
1 tablespoon toasted sesame oil
1 tablespoon Chinese black vinegar
1 tablespoon Sriracha chili sauce
¼ cup low-sodium chicken broth
METHOD
1. Skewer chicken and vegetables in an alternating pattern. (If using wooden skewers, soak in water for 1 hour before using.) 2. Combine marinade ingredients and brush over skewers. Cover and refrigerate for at least 1 hour or up to 1 day. 3. Preheat the grill to medium-high heat. While the grill is heating, prepare sauce by combining peanut butter, garlic, ginger, soy sauce, brown sugar, sesame oil, black vinegar and Sriracha into the bowl of a food processor or blender. 4. Process until mixture is well combined and forms a paste, 1 minute. With the processor running, slowly add the chicken broth and process until the sauce is creamy and well combined. 5. Transfer to a saucepan and gently heat to combine flavors for 3 to 4 minutes. Do not overheat, or the sauce will turn oily. Remove from heat until serving. 6. Grill skewered chicken until fully cooked, approximately 6 to 8 minutes. Serve immediately with peanut dipping sauce.
WASABI EDAMAME POTATO SALAD
Yields 6 servings
Wine Pairing: Cana's Feast 2010 Barbera.
"The spiciness of the wasabi is enhanced by the 'juiciness' of the Barbera grapes." —WB
INGREDIENTS
1½ pounds Red Bliss potatoes, small
1 cup edamame, shelled
1 cup snow peas, sliced 1-inch pieces
1 cup mayonnaise
1 tablespoon wasabi paste
2 tablespoons rice vinegar
* black sesame seeds for garnish
METHOD
1. Wash the potatoes well and place in a large pot. Cover with cold water and add 1 tablespoon of salt. Bring to a boil and immediately turn to a low simmer. Cook until just tender (small knife inserts and pulls out easily). Drain and cool. Once cooled, cut into 1-inch pieces and place in a large bowl. Add edamame and snow peas. Set aside. 2. In a separate bowl, combine mayonnaise, wasabi and rice vinegar. Pour over potato mixture and gently stir to combine. Refrigerate until serving.
QUINOA SALAD WITH BLACK BEANS, CORN AND TOMATO
Yields 4 to 6 servings
Wine Pairing: Cubanísimo Rosado de Pinot Noir.
"The crispness of this rosé balances the spiciness of this flavorful dish." —WB
INGREDIENTS
1 cup uncooked quinoa, rinsed
½ teaspoon salt
2 cups water
½ cup red onion, chopped
1 can black beans, drained and rinsed
2 ears corn, grilled and cut off cob (1½ cups)
16 cherry tomatoes, cut in half
2 tablespoons jalapeño, seeded and finely chopped
¼ cup cilantro, chopped
¼ cup lime juice, fresh squeezed
3 tablespoons olive oil
* salt and freshly ground pepper
METHOD
1. Place the rinsed quinoa, salt and water into a pot and bring it to a boil. Reduce heat to a simmer and continue cooking for 10 to 12 minutes or until tender. Remove from heat and let sit for 5 minutes. Fluff with a fork and cool completely before using. 2. In a large bowl, mix onion, black beans, corn, cherry tomato and (cooled) quinoa. Set aside. 3. In a small bowl, mix the jalapeño, cilantro, lime juice and olive oil together until well blended; pour over quinoa mixture and stir well to combine. Taste and adjust seasoning with salt and pepper. Serve.