Wine and Dandy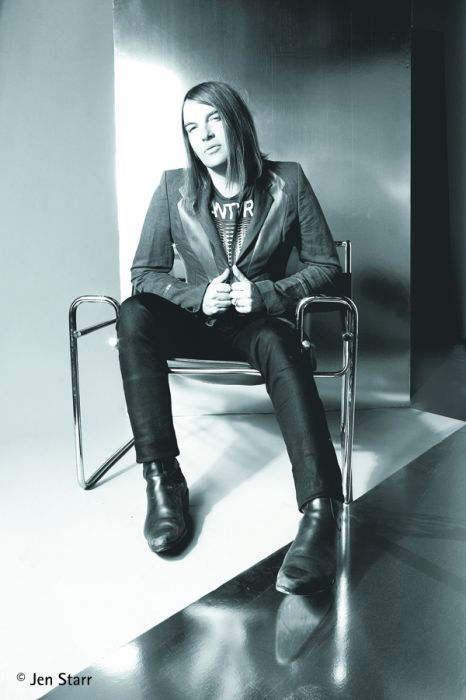 Courtney Taylor-Taylor
Courtney A. Taylor, known as Courtney Taylor-Taylor, is the lead singer and guitarist of alternative rock band The Dandy Warhols, a Portland band he co-founded in 1994.
The majority of the band's songs are written by Taylor-Taylor, including "Bohemian Like You" and "We Used to Be Friends," adopted as the theme song for television show "Veronica Mars."
Taylor-Taylor co-wrote a graphic novel titled "One Model Nation" about a fictional 1970s German krautrock band, which was released in 2009. This was accompanied by a studio album titled "Totalwerks, Vol. 1 (1969-1977)," a fake greatest hits album by the fictional band, released in 2012.
Last year, he also released his first wine, a Bocca d'Avolo 2010 — a blend of 90 percent Nero d'Avola and 10 percent Grillo — under his own label, Chateau Taylor-Taylor. Only 75 cases were made available.
OWP: How'd you become interested in wine? Was there an "ah-ha" wine?
Probably from classic literature. I suppose film, too. We tend to portray wine as the most gorgeous high that one could possibly imagine. It took me awhile, but I finally found it. The first words I learned to say that would get me a wine that I like was Châteauneuf- du-Pape. Turns out that if you utter these magic words and produce around 45 to 80 bucks, you will usually get that romantic wine experience. Shortly after, I found a neighboring Gigondas, which worked for me, too. Ultimately though, my big AH-HA wine was a '96 Bordeaux. I can't remember who made it but wow did it ever change my life. Aged Bordeaux is exactly what I like; that's putting it mildly.
OWP: Chateau Taylor-Taylor uses Sicilian grapes. Why this region for your wine? Who makes it?
My wine came about from a desire to have red wine that I can drink the hell out of with big flavor-type spicy foods. Mexican, Thai and Indian are my three favorites, all of which are notoriously hard to pair red with. The Nero was simply the best inexpensive red that I tried during my month of "research," and I ended up putting some Grillo in there also, to soothe the spicy burn. The result is about the weight of an Oregon Pinot but at a quarter of the price. It's not necessarily a wine that you sit around sniffing for hours, but, man, I took some bottles to Cinco de Mayo this year, and we sure drank the hell out of it.
OWP: When friends come over for dinner, what's your go-to dish and wine (or cocktail) that you like to serve?
Dinner at my house is gonna be at least five courses starting with oysters on the half shell and an Alsatian Cremant that I buy 20 cases of every year. I like to keep on that through a salad. Then for soup, I bring in either my '90s burgs (Chateau Fuissé or Mersault) or an oddball late-'90s Steele Chardonnay — which I am finally running out of — depending on the soup's density and flavor. Then a root vegetable preparation is a nice segue (where I bring on the mid-'90s Bordeaux — I have literally hundreds — into something very Frenchy meaty. I like a giant braised beef rib or a bunny two ways, or confit de canard, or creamy shredded pork stuffed in a cannelloni or … well, you get the picture.