Major Moves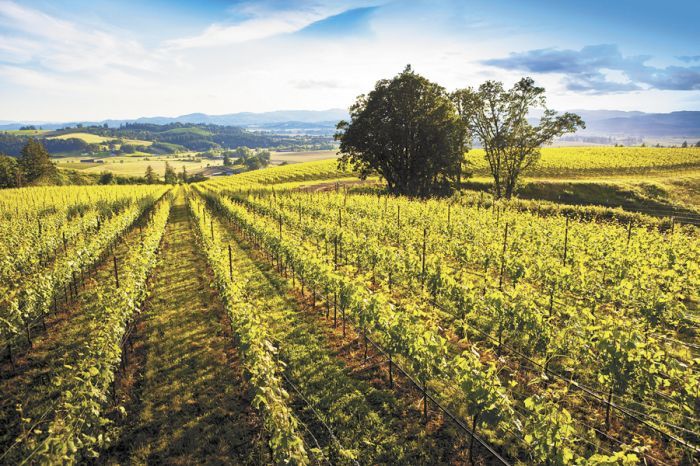 By Karl Klooster
Anyone paying attention to the Oregon wine industry lately is well aware that over the past several months, some major action has occurred in regard to vineyard land acquisitions. Precept Wine of Seattle, Jackson Family Wines of Santa Rosa and Dundee-based NW Wine Company have all made significant investments in both existing vineyards and sites yet to be developed.
In mid-May, Precept Wines purchased the 374-acre Yamhela Vineyard property, neighbor of esteemed Shea Vineyards. Though only 30 acres are currently in grapes, the plan is to expand to 120.
Two separate deals in early 2013 added 392 prime Eola Hills acres to the Jackson Family fold, 42 of which comprise the much-heralded Zenas Crown vineyard group.
Acquiring additional vineyard property for its growing operations, NW Wine Company bought two prime vineyard properties totaling 385 acres — already planted to Pinot Noir and Pinot Gris — near Monmouth. With this purchase, they became Oregon's second largest vineyard owner after Duck Pond. NW Wine already owned 185 acres in vineyards outside McMinnville. In all, 1,150 acres had changed hands.
Precept, celebrating its 10th anniversary this year, has come on strong in the past few years and currently stands 21st among U.S. wine companies. All in all, Precept now owns something north of 4,000 vineyard acres in Washington, Oregon and Idaho, close behind Ste. Michelle Wine Estates, whose vineyard holdings top 4,600 acres in Washington and California. With 23 wineries in its current portfolio, the Woodinville-based company is the big dog, production-wise, in Washington.
Washington's wine industry set a new record in 2012, harvesting 190,000 tons, ultimately yielding some 12 million cases. And Ste. Michelle's Washington holdings account for more than half that. Bigness surrounds the Ste. Michelle operation. As the country's ninth largest wine company, it sold 7.3 million cases in 2011. Its parent company, Altria Group, boasts annual revenues in excess of $24 billion.
How such outside influences mesh with or alter the course and character of Oregon's wine industry remains to be seen. But there can be little doubt that things will change. A positive outcome will likely be an increase in public awareness of the Pacific Northwest in general and Oregon in particular. A less beneficial result could be changes in how Oregon operates.
Until now, almost all Oregon winemaking has been in the hands of residents. Despite some differences in style and substance, everybody has been rowing the same boat. But what will happen as out-of-state companies become increasingly involved in and wield a greater influence over the industry?
An analogy could be drawn from looking at how the power structure in many larger cities has changed over the years; Portland, a prime example.
Through the 1970s, Portland was headquarters for many major Oregon businesses. U.S. Bank, Hyster, Georgia-Pacific, Louisiana-Pacific, Jantzen, White Stag, Pendleton and Fred Meyer were prominent among them. Then, these Oregon companies were bought by or merged with out-of-state outfits. Corporate headquarters in Portland were closed and relocated to other major cities.
Top executives tend to bestow financial largesse where they reside. If their hometowns are out of state, they aren't likely to support the local programs or community causes. The same applies to the wine industry. If vineyard and winery owners live here, their awareness of and sensitivity toward local needs are acute. If not, they're a blip on the radar.
Even more crucial to the future of Oregon wine is what will happen to the longstanding tradition of openness, collegiality and mutual support. As things stand now and have since the first few winemakers came to Oregon, if you need help during harvest, you don't send a formal request to San Francisco or Seattle. Someone or several someones show up in response to a phone call, text, e-mail or even word of mouth. And you would do the same for them.
If local laws need change or modification, industry members meet, discuss, arrive at a decision together and present their case with conviction and clarity to the proper authority. How do large corporations react to and cope with similar problems? Paramount is protecting their own self-interests regardless of the consequences for anyone else.
The large wine companies that now have an interest in Oregon are run by competent individuals, admired by their compatriots and lauded by their peers; but they don't live or work in the same world as small growers, producers and owners. In other words, they have different priorities and different views on what matters most.
How they will react to a given situation will only be known when that particular situation arises. We can only hope that how they align themselves takes into consideration not just their own good but also the good of the industry.