Celebrating Walla Walla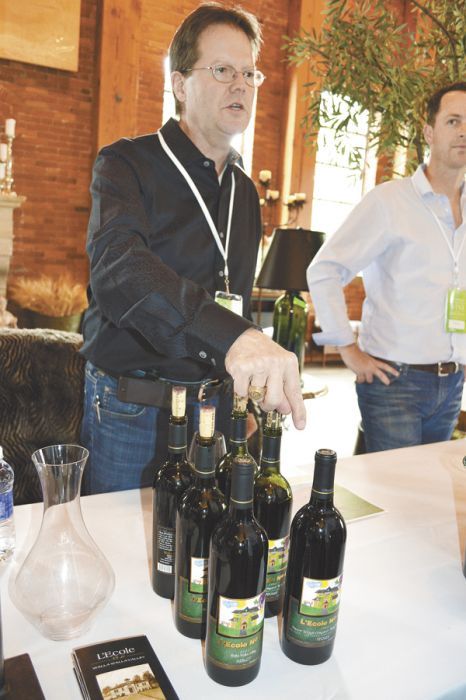 By Janet Eastman
The Walla Walla Valley is an old, volcanic world at the base of the Blue Mountains with present-day wheat fields, orchards and, of course, vineyards.
The wine region, which drapes over Southeast Washington and Northeast Oregon, has a history and culture similar to Oregon, with some exceptions. But its primary grape, Cabernet Sauvignon, draws comparisons to Napa Valley.
Second-generation family members here tend vines planted across wind-blown silt and sediment on basalt bedrock.
There are a few big Walla Walla players — Waterbrook/Precept Brands, Charles Smith Wines/K Vintners, L'Ecole N° 41, Dunham Cellars and Northstar Winery — fueling the county's $502 million wine industry. For the most part, when you walk into a tasting room, you're within earshot of the owners.
Casey McClellan's family has farmed in Eastern Washington since 1880. He planted vineyards a century later, founded McClellan Vineyards, launched Seven Hills Winery and has since made it possible for other wine producers to buy grapes and make award-winning wine.
Today, there are about 100 wineries in the valley. An efficient way to taste the many red and rare white wines made here is to attend the three-day Celebrate Walla Walla Valley Wine event in June.
The first festival took place June 20–22, and the spotlight was on America's most prized grape, the kingly Cabernet Sauvignon.
In a bold move, the Walla Walla Valley Wine Alliance invited winemakers from Napa Valley to compare their 2009 vintages.
"Without Napa, Walla Walla would not have had success," said Wine & Spirits Magazine wine critic Patrick Comiskey at the event.
Comiskey called Napa Cabs "luxurious" with aromas driven by fruit. "You have to work hard not to like them," he said.
He finds most Walla Walla Cabs share a savory quality and lightness, as if he were "tasting the wind. There's an edginess that courses through the wine," he said.
Geologist and terroir consultant Dr. Kevin Pogue pointed out how the northern region is warmer during the mid-summer, with less precipitation and fog, but a shorter growing season and fewer growing degree days than California's fabled wine region.
Coincidentally, Pogue spoke at the event on June 21 — the summer solstice — and the day Walla Walla's northern latitude afforded it 56 more minutes of sunshine than Napa Valley.
Later, during a tasting comparison in the ballroom of the Marcus Whitman Hotel, Napa winemaker Phillip Corallo-Titus recalled how he hitchhiked through Washington when he was 19, before joining Chappellet Winery in 1981. He said his 2009 Pritchard Hill Cab ($135) benefits from decades of studying each vineyard lots' characteristics.
Chris Figgins of Figgins Family Wine Estates next shared his 2009 Cab ($90) and spoke of his parents, Gary and Nancy Figgins, planting one acre of vines in 1977 and starting Leonetti Cellar. Still recognized for its inventiveness, sustainable practices and self-rooted plants, the family's wine business has grown alongside Woodward Canyon, which started in 1981, and L'Ecole N° 41 in 1983.
In 1984, the region became a sub-appellation of the Columbia Valley AVA (American Viticultural Area).
On the first day of the Celebrate Walla Walla Valley Wine event, dozens of wineries dusted off library bottles to let festival goers at the Corliss Estates Tasting Room examine how the valley's Bordeaux blends and Cabernet Sauvignons are holding up.
Ron Coleman of Tamarack Cellars broke into the last 10 cases of his 1999 Cabs. "That's what the wine is for," he said. "Everyone here is a wine appreciator."
The next day, a Cabernet-inspired barbecue was held on the patio overlooking the pond at Waterbrook Winery. The complex red wine was paired with Riesling chicken, flank steak with chimichurri and summer vegetables in a balsamic glaze.
The celebration concluded on June 22 with seven farm-to-table feasts paired with new releases and library wines. One group of festival goers enjoyed local red and white wines at Long Shadows Vintners' cellar followed by three courses in the Chihuly room overlooking the scenic valley.
A party of 20 dined inside a restored WWII airplane hangar with winemakers from Adamant Cellars, Dunham Cellars and Tamarack Cellars, while another group concluded their celebration inside the contemporary Amavi Cellars tasting room.
Reprinted with permission from Janet Eastman's Eno Outing wine column that appears in the Medford Mail Tribune.