IPNC Sets Stage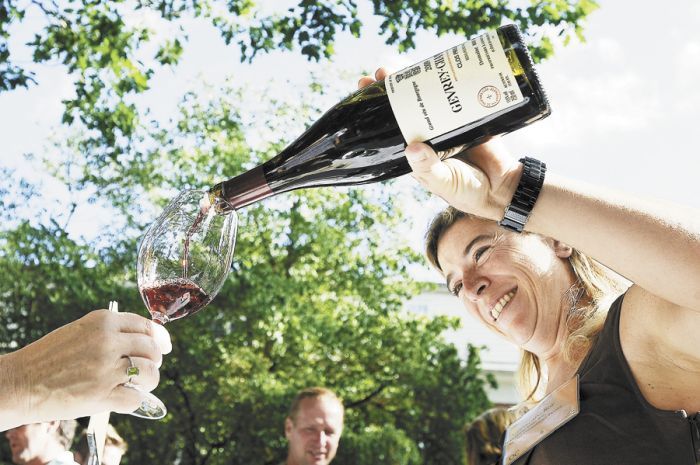 By Karl Klooster
For the 27th consecutive year, Pinot Noir producers and appreciators from throughout the state, across the country and around the world will be arriving in McMinnville for the annual International Pinot Noir Celebration held at Linfield College.
On campus, the Oak Grove, the Dorm Quad, Intramural Field and Riley Lawn will be lined with tents and tables, strings of light bulbs crisscrossing overhead. Hay bales and fencing will define the boundaries of activity areas. During the three days from July 26–28, people obviously enjoying themselves will fill each area.
And that's only the half of it. Inside campus buildings, special tastings and seminars will be underway. Groups may be seen shuttling back and forth between campus and the wine country.
It's a big time in the Yamhill Valley, and it all began in 1987 when local members of our own Oregon wine industry launched the first IPNC. Over the years, the event has grown to the point where, as far as wines made from the Pinot Noir grape are concerned, wide agreement has it that this is the best event on the planet.
From the outset, the basic premise has remained unchanged. Wine. Food. Socializing. Wine. Food. Seminars. Wine. Food. Wine tasting. Wine. Food. Socializing. Wine. Food. Winery touring. Well, you get the idea.
And it has been refined to perfection over time. Past attendees rave about how smoothly the weekend went and what a great time they had. In fact, many of them return again and again.
So what will you find at IPNC? Let's start with wineries. There are 74 this year. They hail from Oregon, of course, as well as California, Canada, France, Germany, Austria, Australia and New Zealand.
In the past, Argentina, Chile and Tasmania have also been represented. Attendees who paid $975 for the entire three-day event have the opportunity to taste all of them. More than once. They are also treated to several meals, all of which are nothing short of epicurean. They include two dinners, three luncheons, four breakfasts and four tastings accompanied by tasty tidbits.
And that's just the regular scheduling. There are also the Thursday evening pre-IPNC dinners at selected wineries, the Sunday WalkAbout and a couple of extra special — and extra cost — seminars.
Speaking of special, for many, the Thursday winery dinners top the list. This year, they include Alexana, Anne Amie, Bergström, Penner-Ash, Ponzi, Stoller and Tendril, all at the wineries.
Additionally, Willamette Valley Vineyards will be at the Joel Palmer House, Lumos at Nick's Italian Restaurant and Sineann at Bistro Maison.
The Sunday afternoon event, held in Linfield's Oak Grove, has also proved to be a favorite. Called Passport to Pinot, it affords participants the opportunity to taste wines from all 74 wineries, plus samplings from fancy food vendors, for $125 per person.
The three-day event is sold out, but as of this writing, spots are still open for Passport to Pinot as well as some of the Thursday evening dinners. Go to www.ipnc.org for details.