Getting to Know the Neighbors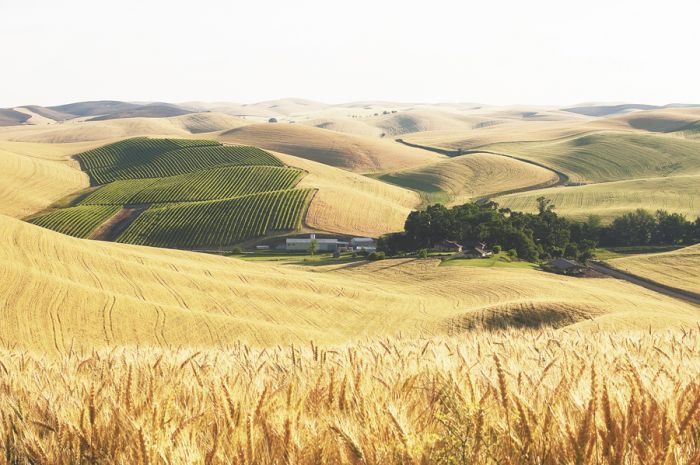 By Jennifer Cossey
Many of us in the wine industry eat, sleep, dream and drink wine, more specifically Oregon wine. But, there is a world of wine beyond our state. To appreciate where Oregon fits, we need to picture the global wine scene, which is where this column comes in. Each month, Wine by the Class will examine the people and places of the wide world of wine to help us better understand our local industry.
To start, let's travel to our neighbor in the north, Washington.
Washington's wine industry is young and growing — a new winery opening every 15 days, according to the Washington State Wine Commission. They now have 13 AVAs and grow more than 30 grape varieties. Its tremendous growth has led the state to become the second largest premium wine-producing region in the country, behind California.
Like Oregon, most Washington wineries take pride in the individuals working to build the industry in a grassroots sort of way. While the state's largest producer, Chateau Ste. Michelle, has the financial means to make a BIG splash in the market, most Washington wineries are boutique enterprises focusing on smaller production and handcrafted vintages.
With regard to weather challenges, growers face a different set of variables in Washington. Whereas in Oregon, we have plenty of rain, Eastern Washington, where the majority of the fruit is being grown — 12 of the 13 AVAs are here — can account for less than 10 inches of rainfall a year. For these farmers, irrigation is essential. Fortunately, Washington has access to water sources — such as Columbia River, aquifers — which can be harnessed in order to strategically irrigate vineyards.
Temperatures in Eastern Washington are both a curse and a blessing to growers and winemakers. Characterized as continental climate — cool to cold winters and warm to hot summers — the region's average daily air temperature in the vineyard during winter months is 32°F; the summer, 82°F. Longer summer sunlight hours help to offset a shorter growing season — a result of its northerly latitude. In fact, during the summer solstice, Washington receives around 16 hours of sunlight. Additionally, Eastern Washington has dramatic diurnal shifts, with differences of sometimes more than 40 degrees in a given day. Those shifts help to simultaneously ripen the fruit and retain its acidity for a balanced wine.
Winters can be extremely cold, and every seven years or so, vineyards can experience a deep freeze, during which temperatures fall below 28°F for several days, adversely affecting the vines. Growers are constantly working to find resolutions to this threat to the vineyards, including experimenting with the layering technique.
The soil is dominated by volcanic basalt, sand, loess and gravel, as well as alluvial deposits left by the massive Missoula floods, starting roughly 13,000 years ago and lasting 2,000 years. Those same floods also affected the Willamette Valley, where we find similar deposits in low-lying areas and the valley floor. The sandy nature of their soil and cold winters gives Eastern Washington a unique advantage over most other wines regions: the majority of their vines are self-rooted —they haven't been grafted onto another rootstock to prevent damage from the root destroying louse phylloxera.
Currently, there is a 50/50 split in white and red varieties planted. The dominant white varieties are Riesling and Chardonnay with grapes like Sauvignon Blanc, Semillon, Pinot Gris, Viognier and Chenin Blanc also making appearances. For reds, Cabernet is king, with Merlot a strong second. Syrah, Sangiovese and even Pinot Noir are also planted.
Like Oregon, Washington is proud to be making a strong effort at converting to sustainable vineyard practices as well as having many vineyards and wineries following organic and Biodynamic methods. And, like our state, Washington's unstoppable growth and surging talent pool in the industry appear to be preparing the region for a long future of growth and prosperity.