Somm Kind of Résumé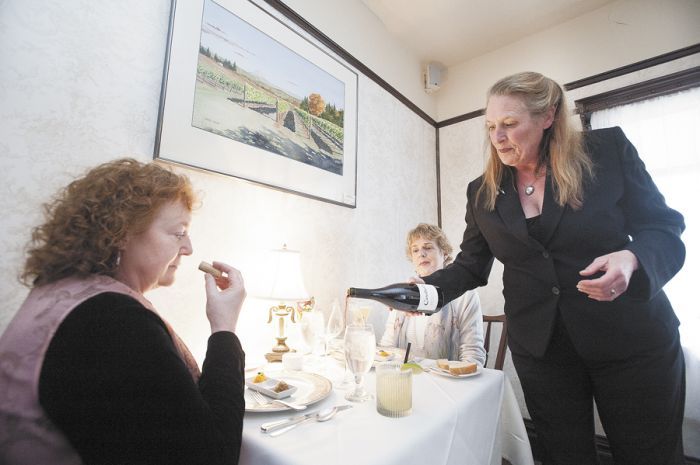 By Karl Klooster
Making it seem effortless, Andréa Fulton-Higgins, sommelier at the acclaimed Joel Palmer House in Dayton, deftly pours a glass of premium Oregon Pinot Noir for a delighted diner.
The patron's selection is but one of the more than 550 Oregon Pinots from 175 different wineries in the restaurant's cellar. It's a collection meticulously built over the years since the restaurant opened in 1997.
Almost from the moment he arrived in Oregon, owner Jack Czarnecki began reaching out to members of the Yamhill Valley wine community rapidly evolving all around him. He personally tasted and selected the wines for his restaurant's cellar, which was installed in the basement of the Victorian residence built in 1857 for Oregon pioneer Joel Palmer.
When Fulton-Higgins joined the staff in 2009, primary responsibility for maintaining and augmenting the cellar was in the hands of Czarnecki's son, Chris, who assumed the proprietor/executive chef role in 2008. The younger Czarnecki welcomed her input on future selections with the mandate to continue the lofty standard set by his father more than a decade earlier.
Only a handful of fine dining establishments in Oregon boast a full-time sommelier. Those striving to gain a reputation for special attention to and expertise in wine, feel compelled to fill this position.
The French term "sommelier" translates to "wine steward" in English. Coming up with such a sophisticated-sounding word to describe a person who serves that nation's favorite beverage is so like the French. Now, however, as the interest in wine has skyrocketed around the country, restaurant waiters who pull corks tableside have adopted the name with fervor. Wine steward is out; sommelier is in.
To make the commandeered term even more Americanized, those in the know have shortened the word to "somm," and they pronounce it like "psalm" instead of the French, "sohm." Be that blatant expropriation as it may, the good thing about it is that the new wave of former wine servers or stewards are taking their position and its implied responsibility with "somm" gravity.
They know that to really deserve to be deemed a sommelier, you have to do a whole lot more than memorize primary characteristics of popular wines and the entrées they go with on the menu.
The vast majority of professionally trained sommeliers in this country can be found in the major metropolitan areas where wine is most consumed and the best restaurants almost instinctively strive to pair wine and food. The rural exceptions — and there are some stellar ones — to this big city exclusivity include the Joel Palmer House, known nationally as a mushroom mecca as well as a special spot for Pinot Noir.
And that is precisely the kind of place Fulton-Higgins was looking for. A seriously committed restaurant where fine wines make perfect pairings for a masterful menu and the owners have built a serious wine list to support the proposition.
She came to the job with a love of fine food, a broad and deep knowledge of wine based on extensive, firsthand experience, a commitment to service with style and even a touch of elegance. To see Fulton-Higgins work the floor at the Joel Palmer House is to watch a maestro in motion. She can size up the diners at any given table primarily from observation confirmed by only brief interaction.
Her repertoire of two-minute wine lessons captures the essence of a topic by combining conciseness with colorful word imagery that explains and informs in an impressive, yet down-to-earth manner.
She launched her career on a Tucson, Ariz., guest ranch in 1977, where the former head bartender at Chicago's famed Pump Room showed her the ropes.
Trading the desert for the seashore, she then headed west and landed a plum job as beverage manager at the Larkspur Inn. The esteemed establishment was then one of the Bay Area's most noted restaurants. Owners Victor and Roland Gotti were already near legendary restaurateurs, having for many years owned Ernie's, arguably the most venerable restaurant ever in San Francisco.
Taking a liking to their obviously talented new manager, the Gottis put her in charge of staff training and sent her to represent them at prestigious wine tastings in wine-immersed San Francisco. She arranged a series of tours and tastings for the inn's waitstaff at wineries in Napa, Sonoma and even Mendocino, at the time when the California wine industry was burgeoning.
This was only the beginning of a career that has seen Higgins become one of an elite circle of certified sommeliers in America. And, the most amazing part is how she was essentially self-taught.
The sommelier aspect of her wine expertise happened in 1984 when, swept up in a romance with a chef, she moved with him to Austin, Texas. She needed a job and heard about two men from San Francisco who had recently opened a new restaurant featuring seafood and sourdough bread flown in twice weekly from the City by the Bay.
What the partners were looking for was not a beverage manager or bartender but a wine waiter — a sommelier. Fulton-Higgins had never done that job herself before but she knew the basics. She essentially taught herself to be a sommelier in a city where there were no sommeliers, male or female, and made a success of it. Now, she was definitively a woman in wine. One of the few.
Meeting two other noted women in a man's world, she made friendships destined to last a lifetime. They are Madeline Triffon, the first female Master Sommelier in America, and Jean Arnold, a top sales representative for Chateau Montelena in the Napa Valley. Triffon and Arnold have supported her throughout her career. Fulton-Higgins has reciprocated. And quite a career it has turned out to be.
She has served as a judge at the Dallas Morning News American Wine Competition, earned her certification from the British Court of Master Sommeliers and worked for 13 years at Monterey's world famous Sardine Factory.
She is the Wine Services Director for the Wine Spectator Wine Experience in New York, handles logistics for the Pebble Beach Food & Wine Festival, and has judged for 15 years at the L.A. County Fair.
In 2007, she and her husband, Randy, decided to move to his home state of Oregon. They live in the Eola Hills; he is in vineyard management at Bjornson Vineyards and she's found a new home at the Joel Palmer House.
"I love Pinot Noir more than any other wine, and the entire staff recognizes what I bring to the team," she said. "Plus, Chris allows me the time to go to the competitions I help organize and judge, which is more than a month each year.
"It's a perfect fit," she continued. "I feel like I've come full circle from wine service through management and back to wine service again in just the right way."
"Hiring Andréa has been one of the best decisions I've made since taking over management of the restaurant," Chris Czarnecki said. "She's a real pro and a great person.
"We have access to her depth of knowledge and service expertise whenever we need it, and she can do the other wine-related activities she enjoys so much. It's a win-win for both of us."
A final exclamation point on this outpouring of praise came from noted wine writer Jerry Mead, who called Fulton-Higgins "one of the most trusted sommeliers in America."
Joel Palmer House
ADDRESS: 600 Ferry St., Dayton
HOURS: Tuesday–Saturday, 5 to 9 p.m.
PHONE: 503-864-2995
WEBSITE: www.joelpalmerhouse.com