Soubise Begins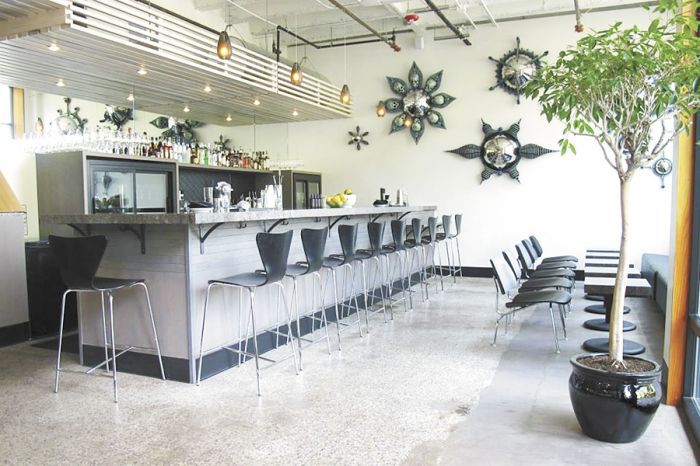 By Wine Press Staff
Eugene restaurateur Cory Stamp and Chef Gabriel Gil are back. With the closing of Rabbit Bistro last May, loyal patrons were left thirsty for the talented duo's return. Fast-forward a year, and the partners have unveiled their new venture, Soubise, which hosted its grand opening on May 12.
Soubise — named for a béchamel-based onion sauce — offers seasonal fare celebrating the Northwest with a French, modern approach.
Here's a small sampling to tantalize your taste buds. Brunch: red flannel hash with lamb shoulder, red beet, potato and sunny-side-up egg. Lunch: roasted pork belly with goat milk spaetzle and spinach. Dinner: sea scallop with stuffed pig feet, baby bok choi, blackened banana, sweetbread and hollandaise sauce.
Is your mouth watering yet? If not, then the wine list — and its incredible accessibility — will have you salivating. Glass pours — available in a 3-ounce taste, 6-ounce glass or 14-ounce carafe (half bottle) — allow diners to sample a variety of wines, from an inexpensive red blend from Washington state to a Châteauneuf-du-Pape. The list also features an extensive Pinot Noir selection in honor of the area's world-class wines, highlighting each of Oregon's Pinot-producing AVAs.
Located downtown, Soubise is a part of the revitalization of Eugene's city center in the redeveloped historic Broadway Commerce Center. It is twice the size of the previous restaurant with 60 tables in the dining area, 20 in the bar and a private room that seats 16.
Portland architect Mark Annen is the creative force behind the spectacular design and layout of the space. Just as the menu is inspired by local bounty, the interior also reflects a specific sense of place. Granite table tops and terrazzo floors were part of the original building from the turn of the century, and Oregon white oak tables and cabinets were chosen in a conscious effort to utilize local artisans and businesses to complete the vision. Sculptures by local artist Jud Turner add to the overall atmosphere, and a 16-foot black walnut table by Urban Lumber graces the private dining room.
The food, the wine, the atmosphere and the triumph of a glorious return are all great reasons to visit Soubise in Eugene.