Courting the White Queen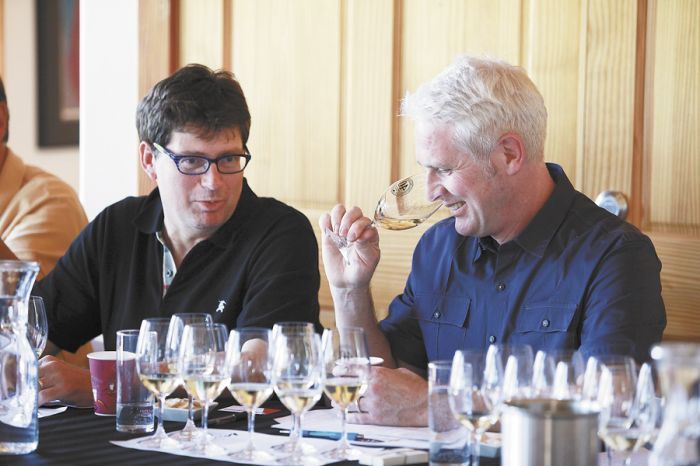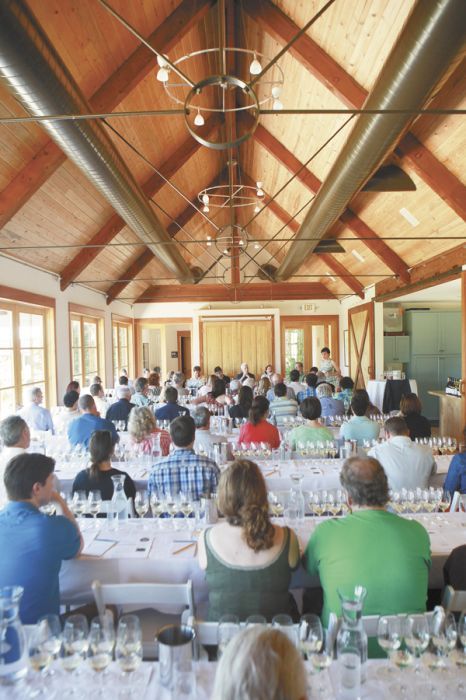 By Karl Klooster
History in the making — Oregon wine style — was afoot on May 4, as a group of winemakers, writers and appreciators gathered at the Oregon Olive Mill in the Dundee Hills. The occasion was the second annual Oregon Chardonnay Symposium, a tasting evaluation and discussion of Burgundian-origin white wines from eight artisan producers in Northwestern Oregon.
But before proceeding further with the tale of the tasting, it's appropriate to provide some history about something a writer could be so presumptuous as to call "history-making."
Once upon a time, before wine went mass public in the U.S., it was primarily the province of upper-class appreciators — then called connoisseurs or aficionados — and foodies — then called gourmets or epicures. Of course, back then, fine wine cost less in comparison to other luxury commodities; so more average-income wine professionals and wine buffs could indulge in the very best right along with the well-heeled.
Back then, meaning the entire post-Pasteur era, from the 1870s until the early 1970s, most of the wine crowd considered Cabernet Sauvignon king — blame that on the Brits. Those who protested that Pinot Noir deserved the crown were forced to admit it would have to be of a somewhat smaller kingdom. But no one argued that Chardonnay was queen. All other whites, no matter how noble, were just pretenders. Never mind that Sauternes was the Czar's favorite —what do Russians know about wine anyway?
Though some insist it's little more than a blank slate, the regal white can rise to great heights. The Côte de Beaune appellations of Montrachet and Meursault, from commune to grand cru levels, consistently produce world-class wines employing only the Chardonnay grape. Character, class, beautiful balance, layers of fruit, honey and vanillin, as well as the ability to age in the bottle for years, rewards patient appreciators with heavenly aromas and subtle flavor nuances.
Chablis, from the northwestern corner of the Burgundy region, about 70 miles from Beaune, is a breed of top-class Chardonnay all its own. Racy acidity and a distinctive, flinty minerality put it in a unique category. On the aristocracy scale, Chablis could be called a co-queen, reigning over a prized inner realm.
Even the lesser appellations of Pouilly-Fuisse, Pouilly-Vinzelles and Pouilly-Loché always brought enough credit to Chardonnay that no other varietal could usurp its title.
Then along came the rise of the California industry; and with it, a new age of wine in America. The hoopla over ripe, lush, soft-sipping Chardonnay surged over the consciousness of neophyte wine appreciators, both within the Golden State and well beyond.
Rushing headlong to be hip, they voraciously snapped up all the good stuff, causing prices to increase in response to demand. The rapidly growing group of wine industry entrepreneurs had no desire to see the rising tide ebb, so they responded with more wine bearing the name Chardonnay, and tried to come in at ever lower price points to undercut the competition.
More of the same for less. Miraculous? No. Just not nearly as good. Greater tonnage per acre from lesser quality regions was the source of the ho-hum wine that flooded onto the market. Instead of a car in every driveway, it was an oak chip in every barrel, a Chardonnay for every commoner.
The worst of it was that even the best California Chardonnays, and consequently the most costly, bore little resemblance to their Burgundian counterparts. So it didn't take long before an A.B.C. movement — Anything But Chardonnay — began to take hold.
Enter the Oregonians. A small, but determined bunch, they, like their Pinot Noir-obsessed patriarchs of four decades ago, are convinced Chardonnay could make it big here.
The Olive Mill seminar featured eight artisan winemakers — Jim Maresh of Arterberry Maresh, Brian Marcy of Big Table Farm, Tyson Crowley of Crowley Wines, Thomas Monroe of Division Winemaking, Isabelle Duarte of Durant Vineyards, Jay McDonald of EIEIO, Marcus Goodfellow of Matello Wines and Ken Pahlow of Walter Scott.
These are all small wineries. In fact, all of them combined don't come close to producing as much as any one of Oregon's largest Chardonnay producers. They're called "artisan" for a reason. None of them has ambitions to expand Chardonnay production into a massive enterprise. They do have a common goal, however: Elevate Oregon Chardonnay to a stature not unlike that of the great white Burgundies — in other words, to that of aristocrats, not the multitudes.
Invited to comment on the state of their efforts to this point were two media panelists: Californian W. Blake Gray, a former San Francisco Chronicle wine columnist, the author of the award-winning Gray Report blog and a columnist for www.winereviewonline.com; and Washingtonian Paul Gregutt, a Seattle Times wine columnist and the Northwest editor for Wine Enthusiast Magazine. Offsetting these two out-of-staters was symposium moderator Katherine Cole, The Oregonian's wine columnist, who recently authored "Voodoo Vintners: Astonishing Biodynamic Winegrowers."
Placed in front of each participant were eight glasses designated one to eight. Each was filled about one-third full with room-temperature whites. Room temperature is, by the way, the correct way to evaluate white wines. It may not be the best way to drink them for maximum enjoyment, but it does bring out the flaws, or the lack of same.
Happily, none of the eight wines displayed any noticeable flaws. Quite to the contrary, all were well made and varietally expressive — just some more than others.
Jim Maresh was supposed to present a 2011. Instead, he brought a 2005. Whether calculated or not, it served to show the admirable aging potential of his wine, and, by inference, the grape.
And talk about artisan. You could say "boutique" in the same breath. Following are the case quantities of the wines presented: Arterberry Maresh, 150; Big Table, 130; Crowley, 75; Division, 80; Durant, 125; EIEIO, 31; Matello, 56; and Walter Scott, 56.
All but the Arterberry Maresh (2005) and the Matello (2010) were from the 2011 vintage. All the fruit was sourced from Yamhill Valley AVAs except a small portion of Washington County grapes going into the Big Table.
I don't think it was merely out of consideration for the winemakers that symposium panelists and participants offered no negative comments. It was because the wines showed more than satisfactorily.
Personally — and remember all wine preferences are subjective — my favorites were the Walter Scott and EIEIO. That's not counting the Arterberry Maresh, whose additional bottle age gave it an unfair advantage.
The winemakers said they still are refining the "how" of making Chardonnay, but with collaborative effort, that was coming along very well.
As to the "where," they are working with vineyards in which Chardonnay has already been planted, thus with clones in place. But currently, there are only 950 acres of Chardonnay in Oregon, compared to 12,600 of Pinot Noir.
There are still differing opinions on both clones and sites. In other words, it's still a work in progress.
Look for more to come in the evolution of Oregon Chardonnay, but what's been done to date should receive high marks, perhaps heralding the birth of a New World wine aristocracy.