Tasting the Place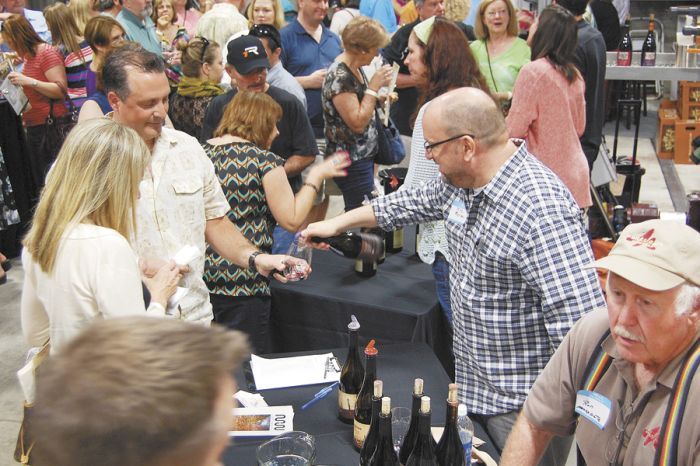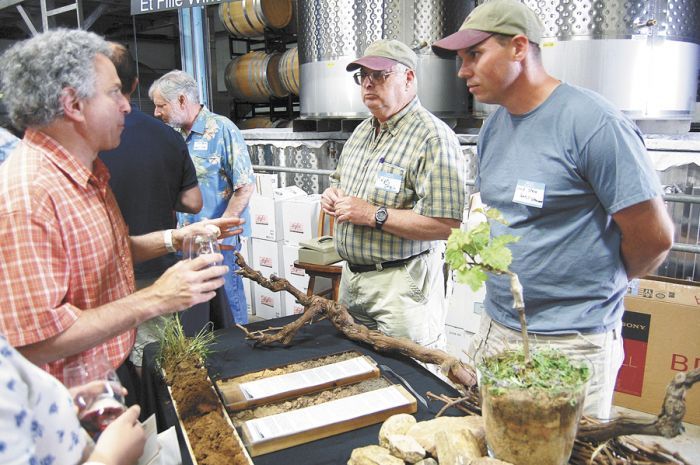 By Hilary Berg
The Yamhill-Carlton Winegrowers Association could have not asked for a more beautiful day for its spring tasting on May 4 at Anne Amie Vineyards. Blue skies, low 80s and a brawny breeze greeted guests, many arriving via the complimentary trolley from nearby Carlton.
Just as pretty as the weather outside was the wine being poured indoors. Participating producers offered only wine made from grapes grown in the Yamhill-Carlton AVA (American Viticultural Area), which encompasses 60,000 total acres in the northern part of the Willamette Valley.
In all, 29 wineries were present, pouring varying varieties and vintages — 2007 to 2012 — for approximately 700 attendees. Wineries included: Alexana, Angela Estate, Anne Amie, Atticus, Belle Pente, Big Table Farm, Biggio Hamina, Carlton Cellars, Carlton Hill, Denison, Elk Cove, Et Fille, Ghost Hill, Kayam, Ken Wright, Kramer, Lemelson, Lenné, Luminous Hills/Seven of Hearts, Merriman, Monks Gate, Oliver Cellars, Roots, Soter, Stag Hollow, Twelve Wines, WildAire and WillaKenzie.
While Pinot Noir predominated, other varietals were represented. Riesling, Melon de Bourgogne, Müller-Thurgau, Chardonnay, Sauvignon Blanc and Pinot Gris, as well as Viognier, Syrah and Dolcetto were offered, showcasing the wide spectrum of what the AVA currently grows.
Winery representatives — many of them the winemakers/winegrowers themselves — mingled with the crowd; independent growers were there, too. Ralph Stein of Yamhill Vineyards, and his son, Chris, helped educate tasters about different aspects of terroir through an impressive display showcasing several feet of soil with its many horizons, or layers. A professional video series highlighting the region played alongside.
In addition to wine, attendees pleased their palates with gourmet bites provided by local restaurants Cuvée, The Horse Radish, Joel Palmer House, La Rambla, Martha's Tacos and Nick's Café/Fino In Fondo. From house-cured salumi to an innovative, garden fresh BLT shooter (see the photo), the food inspired as much as the wine.
For guests like Roger and Judy Simmons of Beaverton, the spring tasting is an annual affair.
"The Yamhill-Carlton AVA tasting is one of our favorite events of the year," said Roger. "We haven't missed it since the inaugural event 4 or 5 years ago. Coming from an agricultural family, we like to support our local winemakers and vineyards, and enjoy the fruits of their labors. Getting 30 wineries under one roof, and then adding some of the best local restaurants makes for a very enjoyable and interesting day in the countryside."
One of many volunteers who made the event possible, Martha Wagner of Elk Cove was excited about the turnout.
"All in all, I think it was a great event," Wagner said. "We had several customers come up to Elk Cove [tasting room] later Saturday afternoon and on Sunday, and they all had positive comments. One couple came over from the coast, stayed at a B&B, ate at The Horse Radish afterward and plans on coming back next year."
Behind the bottles, wineries were pleased as well.
"Everyone I talked with seemed happy about the event," Wagner said. "It appeared quite a bit of wine went out the door, and those I spoke with were happy with their sales. I think the six-bottle totes help as it encouraged people to buy."
For more information, visit www.yamhillcarlton.org.