COVER STORY: Leading Ladies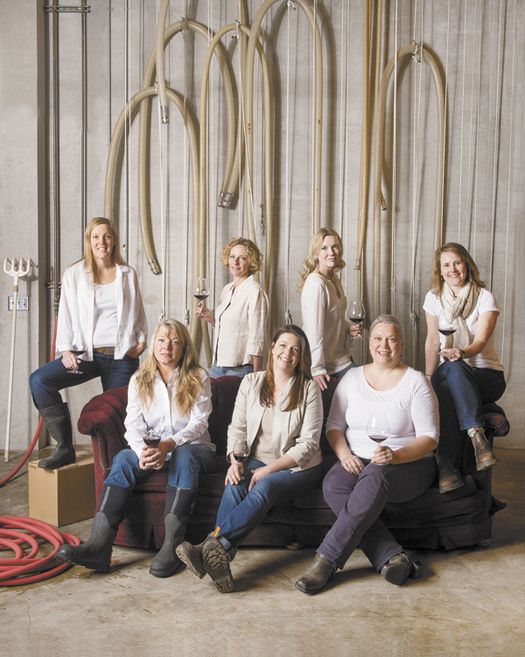 Story By Jennifer Cossey / Photography by Andrea Johnson and Robert Holmes
Women winemakers add an inspiring combination of grace, power and passion to the vineyard and cellar. Everyday, they cultivate the ever-so-female — and ever-so-important — trait of nurturing through caring for the grapes, crafting the wine, raising their children and inspiring the next generation of winemakers. The following seven dedicated and experienced winemakers excel in what they do and can teach us all a thing or two.
Luisa Ponzi | Ponzi Vineyards, Sherwood/Beaverton
Second-generation winemaker Luisa Ponzi grew up in the wine biz, watching as her parents, Dick and Nancy Ponzi, built Ponzi Vineyards in the '70s. Shortly after Luisa graduated from Portland State University in 1990 with a Bachelor of Science, she moved to Beaune, France, to study winemaking, in particular Pinot Noir. In 1993, she was honored with the coveted Certification Brevet Professionnel D'Oenologie et Viticulture — at the time, she was the only American woman to earn such a credential. Twenty years later, Luisa continues to make world-renowned wine.
Why did you choose to become a winemaker?
My parents started our winery in 1970; I was 3 years old. After surviving the childhood ridicule from classmates — Wine? Your family makes wine?!? — working in the vineyard and cellar most weekends, watching my parents work so hard to get recognition for the wines they put so much into, the last thing I wanted to do was be a part of the wine business. In the end, it got me. It was hard to resist my love for wine and science — I was pre-med through college — and the ability to create coupled with my innate draw to the rhythm of the vineyard and winery work. If you grow up with it, it becomes part of who you are, and nothing else feels right.
Who is (was) your mentor?
My parents. My father taught me the skills and instincts to make wine, and to make work fun! My mother showed me the importance of balancing family and business, an especially important skill for women winemakers. I only wish I could do it as gracefully as she does.
My current mentor is my husband, Eric Hamacher, whom I believe is one of the most skilled winemakers in the valley. So happy to have him as consultant! Of course, I have always looked up to Lynn Penner-Ash, whom I used to think was so forceful when I first started, but now I totally understand why.
What is your greatest piece of advice to young winemakers?
Work hard, pay attention, experiment, ask questions, gain experience; then, trust your instincts.
What inspires you each harvest?
There is always that opportunity to make the best wines you have ever made. Pursuing that is the fun.
If you weren't making wine, what would you be doing?
Wishing I was making wine.
Lynn Penner-Ash | Penner-Ash Wine Cellars, Newberg
With a lifelong curiosity about plants and some serious vineyard time in her youth, Lynn Penner-Ash decided she wanted to study botany at University of California, Davis. During her junior year, she changed to viticulture and eventually to enology — after an internship at Domaine Chandon. Following graduation, she went to work as an enologist at Stag's Leap Wine Cellars. In 1988, she became winemaker for REX HILL in Newberg. In 1993, she became the winery's president and chief operating officer. In 2002, Lynn broke away to dedicate herself to her own label, which she had begun with her husband, Ron, in 1998 with only 125 cases. Fast-forward to today and Penner-Ash produces approximately 9,000 cases on Ribbon Ridge.
Why did you choose to become a winemaker?
Even as I child, I was fascinated by how plants grow. I could be found in the garden pulling apart flowers to examine the stamen versus pistil. I grew up all over the U.S. and spent time in France and Germany, too. One constant was a week each summer at my grandparents' vineyard. I loved the smell of the farm, diesel and grape sugar — to this day, it is an olfactory memory. The smells bring back the experience of riding with my grandpa on the old John Deere. When it came time to focus on an area of study at U.C. Davis, I chose botany. I thought I could combine my love of science and art in the botanical world. I soon realized that the pull of the grape was very strong in my blood. I had the opportunity to work my first harvest at Domain Chandon; and I knew I'd found that combination of science and art in winemaking.
Who is (was) your mentor?
There were not very many women on the winemaking side when I first got started. I admired Cathy Corison and Zelma Long for the work they'd done and were doing. Marty Bannister of Vinquiry was probably the one who influenced me the most. She had started her own successful wine-related business and was very helpful in answering my questions about wine, wine jobs and the future.
What is your greatest piece of advice to young winemakers?
Internships working with various winemakers and varieties before committing to one place. Always be engaged and be willing to take on the hard jobs; it is noticed.
What inspires you each harvest?
The idea that this is my ONE opportunity to get a year's work done. As a winemaker, you don't get a "do over." We nurture the grapes all growing season and have a four- to six-week period that will either make or break us. I never want to fail.
If you weren't making wine, what would you be doing?
Landscape architecture. Ironically, I already get to do a lot with the garden design here at the winery. We've also got a large employee garden that I pick the plants out for each year, along with a huge garden at home. I am lucky in that I have that opportunity to do a job I love but also indulge in a second passion.
Anna Matzinger | Matzinger Davies Winery, Newberg
After Anna Matzinger earned a four-year degree in environmental science from Evergreen State College in Olympia, Wash., she took her love of nature and interest in wine and decided to become a winemaker. She began her career as a lab technician for Beringer Vineyards in Napa Valley, and went on to work at wineries in New Zealand and Australia, as well. In 1999, Matzinger joined the team at Archery Summit and became assistant winemaker in 2000. Two short years later, she was promoted to head winemaker, a post she held until earlier this year when she decided to focus her attention on Matzinger Davies, a label she started with her winemaking husband Michael Davies of REX HILL and A to Z Wineworks.
Why did you choose to become a winemaker?
It started by chance, which it probably does for most New Worlders not hailing from a family involved in a winemaking tradition. For me, there were a few judicious seeds planted that led me down the path, and I think it has stuck with me or I've stuck with it because of the inherent diversity of the work and how the various elements fit together and how an individual has the freedom to put these elements together in their own particular way.
I'm thinking here about connectivity to nature and perception of natural rhythms and cycles, physical work (actually doing something from which there is a direct, hand-held result), mental/intellectual work (problem solving, choreographing activity, experimentation, implementation), emotional work (you are allowed and encouraged to express how you feel), and then there are these pleasant balancing acts of the technical and intuitive, creative and rigorous, interpretive and specific … and I also appreciate not only the permission, but the need for perception, intuition and judgment and how they manifest themselves in the work.
Who is (was) your mentor?
I've had several great teachers over the years, sensei winemakers who have helped me along the way, either by showing or by doing (leading by example), posing a question it would take years to answer or offering encouragement or advice at some critical moment. I worked with Laurie Hook at Beringer in the mid-'90s during my first three years in the industry; she was incredibly hardworking, encouraging, thoughtful and a great teacher. Eveline Fraser, whom I worked with in New Zealand, was a great leader by example. John Durham, in West Australia (then at Cape Mentelle), first posed the question about Pinot Noir to me.
And then there is Grant Taylor, a New Zealander who was with Gibbston Valley and now has his own project called Valli. He was involved in the early days of Archery Summit, was a great friend of Gary Andrus and helped out my first vintage there in 1999. I think Grant also was a good example of seeing the joy in winemaking. Now I'll admit, when we worked for him in New Zealand, on his own turf, there was a lot of intensity and seriousness, but at Archery, he was able to just have fun. I suppose this is where I learned that great wines can actually be made with a sense of great joy.
What is your greatest piece of advice to young winemakers?
You don't need all the answers, but willingness and curiosity are helpful.
What inspires you each harvest?
Harvest! The event/time of year itself…another chance, a new beginning, another set of variables, every year understanding a little bit more but having a new set of questions (or another chance to answer the same questions). There is great energy around harvest time; it demands great energy but can also give it back — depleting and replenishing simultaneously. I love the focus and single-mindedness of the endeavor, the purpose greater than oneself, like diving into an ocean, the sum being greater than the parts, the coming together of many hands to get the work done, the giant choreograph, the importance of music…
If you weren't making wine, what would you be doing?
In college, I studied environmental science and wanted to work toward making the world, especially its watery parts, better. I dabbled in documentary photography and filmmaking and fantasized about being a writer…but if I'm honest, if I weren't making wine, I would probably be teaching. Perhaps, because I come from a long line of teachers or appreciate the importance of them in my life, or simply love the teachable moment and bearing witness to learning, connection and expression.
Linda Donovan | Pallet Wine Company and L. Donovan Wines, Medford
Another U.C. Davis grad, Linda Donovan has a résumé that includes wineries such as Robert Mondavi, Beaulieu, Schramsberg and Flowers. Upon moving to Oregon, Donovan took the reins as a Southern Oregon wine pioneer managing the construction of Agate Ridge Winery and being instrumental in bringing acclaim to Cowhorn Winery. Eventually, she converted the historic 21,000-square-foot Cooley-Neff warehouse in Medford into a fully functioning winery and wine cellar she named Pallet Wine Company. Now the impressive space holds a winery — including custom-crush — storage, laboratory, retail and wine education services to growers and wineries. It has grown to one of the largest production wineries in the state.
Why did you choose to become a winemaker?
I became a winemaker because I wanted an active career that blended chemistry, microbiology and horticulture. I grew up in Saratoga, Calif., near Paul Masson Winery. We had a family friend who was a sensory analyst there — I thought that was a very exciting job. Winemaking was a decision that I have never regretted. I love what I do.
Who is (was) your mentor?
I have had many mentors over my career in winemaking, but the one who stands out the most is Greg LaFollette. I worked with Greg at Beaulieu Vineyard for a couple years as a research winemaker, and later at Flowers Vineyard on the Sonoma Coast. Greg has mastered the art of Pinot Noir making and has mentored many successful winemakers. The greatest thing he taught me was to use all my senses in winemaking — especially listening — and to let the chemistry confirm intuition.
What is your greatest piece of advice to young winemakers?
Understand the chemistry and microbiology of winemaking and work many harvests. Also, travel to the southern hemisphere, if possible.
What inspires you each harvest?
I am inspired by overcoming the challenges each harvest brings and helping new winemakers with their first vintages. I am inspired by the success of my clients.
If you weren't making wine, what would you be doing?
I would be making cheese. I considered a degree in dairy science, but chose winemaking after talking with several winemakers about their typical workday. Today, I make cheese at home and hope to have a small herd of goats someday.
Amy Wesselman | Westrey Wine Company, McMinnville
After learning to make wine as an apprentice to some of the most skilled winemakers in Oregon and Burgundy, Amy Wesselman co-founded Westrey Wine Company in 1993 with her partner, David Autrey. An Oregon native, Wesselman takes pride in her wine and state through her many years of directing the International Pinot Noir Celebration in McMinnville.
Why did you choose to become a winemaker?
Of course, I love wine, but that's not enough. The balanced lifestyle really appealed to me. Working outdoors in the vineyard, working with my hands, the scientific aspect, the artistic aspect, working alone, meeting new people … all of these diverse activities keep me interested in what I do year after year.
Who is (was) your mentor?
Jacques Seysses, Terry Casteel, Lynn Penner-Ash and David Lett.
What is your greatest piece of advice to young winemakers?
Make sure you like to wash a lot of buckets! More seriously, remember nature imprints on your wines, not the other way around.
What inspires you each harvest?
The fact that each harvest is a new and totally different challenge is one of the best parts of winemaking!
If you weren't making wine, what would you be doing?
Probably running a nonprofit environmental organization. My brother is living that dream, and I've always been a bit jealous.
Isabelle Dutartre | De Ponte Cellars and 1789 Wines, Dayton
Parisian-born Isabelle Dutartre was one who went to school knowing her path lay in winemaking. She studied at the University of Bourgogne and has been making wine professionally for over 30 years. Her impressive career included stints at wineries like Burgundy's Maison Joseph Drouhin before she moved to Oregon in 1993 to assist the Drouhin family with their Willamette Valley venture, Domaine Drouhin Oregon. In 2001, she became head winemaker for De Ponte and shortly after founded her own label, 1789 Wines. She currently manages both projects.
Why did you choose to become a winemaker?
When I was a kid, I remember my father and grandfather going down to the cellar to pick up a dirty and dusty bottle and handle it with so much respect and care that it attracted me. I wanted to discover the mystery hidden in the bottle.
Who is (was) your mentor?
My mentor was Laurence Jobard, head winemaker at Maison Joseph Drouhin in Beaune. I worked with her for 10 years, and she taught me everything I know, plus the respect of the grapes and the wine. She is a wonderful woman, passionate about wines and she has an amazing palate.
What is your greatest piece of advice to young winemakers?
The three Ts: Taste the most you can; travel and open your mind to other wine regions; and trust yourself and your taste.
What inspires you each harvest?
Harvest after harvest, I am more and more spiritually involved with my wines, maybe more confident in the basic winemaking, but I try to "listen" to the wines.
If you weren't making wine, what would you be doing?
Making wine.
Kelley Fox | Scott Paul Wines and Kelley Fox Wines, Carlton
Like many in the wine industry, Kelley Fox did not start out her professional life with the intention of becoming a winemaker. She studied psychology and biology at Texas A&M and graduated from Oregon State University with dual degrees in biochemistry and biophysics. She was admitted to a Ph.D. program in biochemistry, but before completing her doctorate, she decided to pursue winemaking. She learned the trade in the winery from Oregon winemakers, including pioneer David Lett of The Eyrie Vineyards. Fox worked at Torii Mor, Hamacher and Eyrie, as well as in New Zealand before she became winemaker at Scott Paul Wines in 2005. There she also produces her own label, Kelley Fox Wines.
Why did you choose to become a winemaker?
My deepest reason is wordless. But a rather loose way to put it is that I love working with nature and with real, living things that are in a constant yet always-changing state of equilibrium. I love working with form (matter) that has undefined edges, allowing for possibilities and a certain proximity to juicy un-knowableness. It is very human to reach for these things. And wine because it is the delicious and charming companion to wild fun, to good times, to those long, winding conversations and sometimes to silence. It is alive to me.
Who is (was) your mentor?
David Lett.
What is your greatest piece of advice to young winemakers?
I must break the rule and go beyond "the greatest piece of advice."
Dear Young and Not-So-Young-But-Just-Starting Winemakers,
Know who you are as much as possible and be relentlessly true to that. Don't try to imitate others in any way. No one can be a better you than you, and your vines and wines can have a much clearer voice that way. Your wines have a far better shot at being alive, and therefore original and free.
Work hard and smart. There are no short-cuts to being a truly capable winemaker. There is no substitute for real experience. Know and really respect your equipment; know the floor work like you were born for it. Know how to create and keep flow in the winery; understand the lab work and the vineyard work. Spend as much time working with and being near the vines as possible. Become fluent in the above with lots and lots of time and practice and experience so you are then free to be present with the wine, which is always what counts.
Big decisions need to be made frequently during harvest and before bottling, maybe during elevage. In real time. Fast. The outcome of which can last five, ten years and can involve huge financial liability and, most importantly, your honor and reliability as a winery. The pressure is tremendous. Indirectly, all of this is really about respecting the wine first and foremost. Always, always.
If you want to be the best you can be, work for the best. You may take some hits to the pocketbook and/or lifestyle — maybe to the ego … maybe for years … maybe for what seems like an eternity while watching life pass you by — but this is critical.
Take care of your health — mental, physical, emotional, spiritual. You'll need it all. This work can feel cumulative over the years, and severe burnout seems to always be lurking. Have as much fun as possible, even when it sucks — especially, actually. Don't be precious about it — almost impossible if you are truly working — and don't take yourself too seriously — if at all.
Cultivate yourself outside the world of wine.
Learn to be a clear communicator and brave leader if working with others. The wine is responding to the other people, the group dynamic and their own stuff, too. It all has to work, and you are responsible for that.
If in doubt about your wines, do nothing. Trust your wines — harder to do than you think (ha ha ha).
If all else fails, start at the beginning again. Or just read Ernest Shackleton's "Endurance."
Sincerely, Kelley
(P.S. I don't necessarily consider myself a mentor, so you might want to take the above with a large grain of salt.)
What inspires you each harvest?
Please see my answer to the first question.
If you weren't making wine, what would you be doing?
That is a good question. I wonder whether I am employable at all. One answer might be "making money instead," but I don't appear to have the money drive. Another one could be that I always kind of dreamed of being a Bond girl, but I am too old for that now. I moved to Oregon to study biochemistry; I was very determined to use it for identifying botanical medicines used by indigenous peoples in equatorial regions and other remote places. So, perhaps, I would be somewhere in the Amazon or in the Himalayas right now.
------------
There are no small number of people who cite these generous and talented wine wonder women with influencing, inspiring and encouraging them to follow their dreams. Certainly winemakers like Patricia Green, Evening Land's Isabelle Meunier and Stoller's Melissa Burr are three more examples, but the list goes on, growing longer every year.