Wines with a View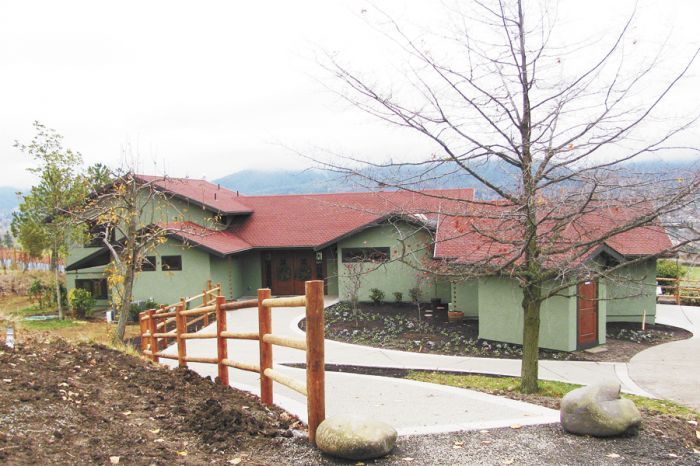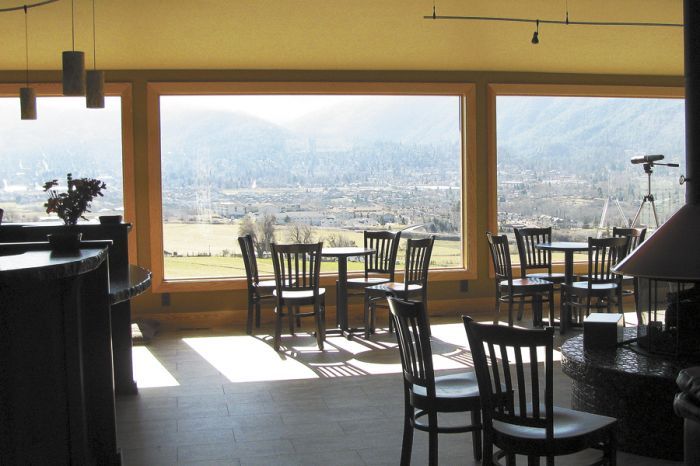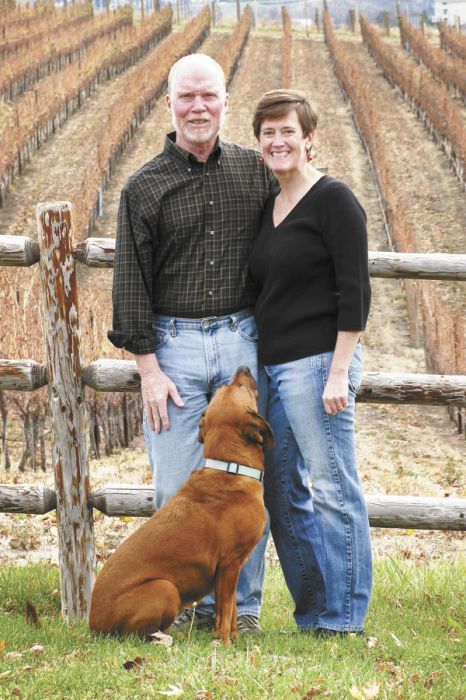 By Janet Eastman
Wine grapegrowers Patrick Dana Flannery and Paula Campbell Brown are feeling on top of the world right now. In February, they opened a tasting room perched on their Ashland property, where they are debuting two wines under their label, Dana Campbell Vineyards, a combination of their middle names.
They are also celebrating that a wine made by a friend with their fruit was recently named best Tempranillo compared to others from across the United States.
What a pretty heady place to be for two people who have no background in farming or the wine industry.
Flannery is a retired YMCA director and Ashland Community Hospital development director. Brown is a rear admiral in the U.S. Navy's Civil Engineer Corps, currently one of two women who have earned that rank, and Ashland's former public works director.
"Welcome to our newest adventure," says Brown, opening the front door to a former 1970s ranch house the couple converted into a tasting room. It sits away from their residence, which shares the 33-acre property on the north side of Interstate 5, where Mountain Avenue ends at Eagle Mill Road.
Inside the tasting room, a wall of windows frame rows of tidy vineyard trellises, Mount Ashland and endless sky. Like at a glass-enclosed viewing deck at a national park, visitors can peer through a telescope and see downtown Ashland, only two miles away.
"We're telling people to come see the other side of Ashland," says Brown, wearing a denim shirt with a Dana Campbell Vineyards logo.
Here, visitors stand under a soaring ceiling at the tasting bar to sample Malbec, Viognier and other wine made from grapes grown on the couple's land.
Or guests gather around the freestanding fireplace in the center of the room, sipping a $7 glass of 2010 Vionillo, an unusual wine made by fermenting white Viognier with red Tempranillo grapes.
Or they venture outside, where cows graze in a nearby field, and ducks and geese circle a pond-like bioswale installed to divert an overflow of water from the vines.
By spring, Brown and Flannery plan to add a concrete patio with tables and chairs, a secluded area with benches — what Brown calls "the third-date section" — and a bocce court, since, "You can't just drink wine all day," she says.
Next to Brown in a matching denim shirt is Flannery, who jokes that between the two of them, he has the most experience in retail — he temporarily worked at Sears right out of high school.
Despite being farm novices when they installed the first section of the vineyard in 2006, they have done a lot of the physical work themselves. Flannery drives the tractor to mow and spray weeds and prepare the soil to plant more vines.
During the harvest and when Brown is not commanding Seabees from her office in Norfolk, Va., she builds deer fences and labors in their thriving 15-acre vineyard or the 12 acres with stakes and trellises waiting for new vines.
The do-it-yourself duo has relied on experts, too.
Brown selected the color scheme for the tasting room's moss-green exterior and golden sand-colored interior walls as well as the dark brown furnishings. But she hired local designers, craftsmen and material manufacturers to re-envision an existing living room, replace windows, doors and light fixtures, and remove the wood siding.
For the couple's wine label, they hired two winemakers, Linda Donovan, who owns the custom crush facility Pallet Wine Co. in Medford, and Cal Schmidt of Schmidt Family Vineyards in Grants Pass.
Schmidt Vineyards' 2009 Tempranillo, made from Brown and Flannery's grapes, was named best Tempranillo in the 2013 San Francisco Chronicle Wine Competition and Best of Show of all reds at the 2012 Southern Oregon World of Wine Festival.
In 2005, when the couple had the idea to plant grapes, a sustainable crop without high water requirements, they consulted Greg Jones, a Southern Oregon University professor who researches wine grape climates around the world.
They also hired Randy Gold of Pacific Crest Vineyard Services in Talent to do the work the couple can't.
"They are definitely hands-on," says Gold. "And, oh man, they have a million-dollar view, a unique spot out in the country that looks toward the city. People will want to visit for the sheer beauty of the place."
Al Silbowitz, who owns nearby Grizzly Peak Winery, shakes off the notion of competition.
"We not only like Paula and Pat and their dedication to the craft of fine winemaking, we know that their success will contribute to ours by making Ashland and the Rogue Valley an even more vibrant and attractive cultural scene," he says.
Like Grizzly Peak Winery and Weisinger's of Ashland, Dana Campbell Vineyards is part of the Bear Creek Boutique Wineries, a group of family wine producers hosting events throughout the year at tasting rooms near their homes in Ashland, Talent and Medford.
The hope is that Brown and Flannery will be able to make wines from 10 different grapes they will grow on their property and eventually produce 2,500 cases of wine a year.
"We are self-limiting ourselves," says Brown. "We want to make less, but keep the quality up."
Flannery adds that they methodically planned it so they would have an adequate wine inventory before opening the tasting room.
"But if we sold out," he says with a smile, "that would be awesome."
Janet Eastman is a reporter for the Ashland Daily Tidings. Reprinted with permission.
DANA CAMPBELL VINEYARDS
Address: 1320 N. Mountain Ave., Ashland
Hours: Thurs.–Sun., noon to 5 p.m.
Phone: 541-482-3798
Website: www.danacampbellvineyards.com