Remarkably Remy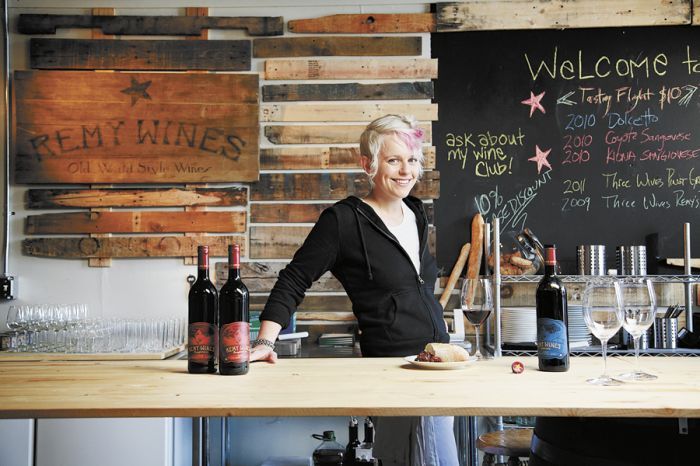 By Karl Klooster
At the age of 8, most of us were still trying to figure out what life was all about. If asked what we hoped to be when we grew up, most of us would probably have responded with a fantasy or shrug. Movie star or professional athlete, maybe. Or pilot, doctor, firefighter. Something techie might even be among the glamorous jobs crossing our minds. But certainly not winemaker.
That's what makes the starting point so remarkable for Remy Drabkin. Definitely her own woman — decisive, determined, even a bit daring — she decided in the third grade that she wanted to be a winemaker.
The catalyst for this precocious career choice sprang from the lifestyle her parents, Jules and Joan Drabkin, so pleasantly pursued after moving from Southern California to McMinnville in 1970.
"My dad became a well-known attorney in town," Drabkin says. "He and my mom both loved wine, and they quickly got to know the local winemakers."
Back then, she noted, the wine community was smaller and even more closely knit than today. "Everyone went to Nick's," she says, referring to Nick's Italian Café, which opened on Third Street in 1977. It was the wine industry hangout for years.
"My mom even went to work for Nick," Drabkin continues. "Then, when IPNC got started, she served as culinary director from its first year in 1987 through 2002. So, yeah, we became quite close to local wine people.
"We celebrated birthdays and anniversaries together. Name any of the top winemakers in those days, my folks became friends with them, and I became friends with their kids."
The list of wine people Drabkin has known since childhood is so long, she says, "I wouldn't want to forget someone. So I'll just say that Rob Stuart and Luisa Ponzi probably influenced me the most.
"The Ponzis gave me my first winery job during the 1994 harvest. I was 13 years old, and I did anything they asked me to. Then I worked as a cellar rat at Erath through high school under Rob."
After graduating from McMinnville High in 1998, she decided to travel before going on to college. Her initial destination was Israel, where she lived and worked for a few months on a kibbutz in the Golan Heights. The Israelis were growing grapes and making wine.
From there, she chose to go to Burgundy to study winemaking, as Luisa Ponzi had done several years earlier.
"I was invited to be a guest student at the Lycée Viticole de Beaune for a semester," Drabkin says. "Although my high school French had not prepared me for college-level chemistry classes."
Her next adventure came the following year, in 1999. She returned home, only to be enticed to Pittsburgh by a relationship that ultimately didn't work out. To support herself in Pennsylvania's Steel City, Drabkin went to work at an Italian restaurant, where she became caught up in the character and cachet of il vino Italiano.
Returning to McMinnville, she landed a job at Argyle Winery in Dundee and began making small batches of wine in her laundry room. The varietals she chose were Italian — Barbera, Sangiovese and Nebbiolo.
The turning point for her Remy Wines venture was in 2006. That year, she planted a 10-acre vineyard on Breyman Orchard Road, in the Dundee Hills, and made the leap from home hobby to bonded winery.
Drabkin fell in love with an Italian grape variety almost unknown in Oregon. Its name is Lagrein, and its origins are in the Italian Tyrol, or Alto Adige, along the southern slopes of the Alps. Aggressively productive and assertively acidic when young, it can become quite mellow and appealing with barrel aging. Italian winemakers recommend 18 months, but Drabkin prefers 28.
A grand total of one acre of Lagrein was growing in the entire state at the time. To help rectify that situation, she devoted two acres of her Lone Madrone Vineyard to the variety. Lagrein has a mind of its own, but the challenge of taming it appealed to her.
Drabkin originally occupied shared winery space near Gaston. But in 2009, she opened her own quarters on the northern edge of the Granary District's Pinot Quarter in McMinnville. From this winery have emerged wines carrying both the Remy and Three Wives labels.
Remy Wines is a premium brand featuring Dolcetto ($20), Sangiovese ($25), Barbera ($35), Lagrein ($48) and a 3-year barrel-aged Port-style blend called Beneficio ($25). She had produced Syrah from 2006 to 2009 but now keeps her eponymous brand focused only on Italian varietals.
Three Wives Wines offer customers the opportunity to experience character based on craftsmanship at a more modest price. The Remy Red is a winner in anybody's book. A blend of Sangiovese and Barbera, its $19 price tag makes it worth every lira, euro or dollar. Under the same brand, Drabkin offers a Three Wives Jules ($15), a Pinot Noir Nouveau, and Three Wives Germaine Gabrielle ($14), a Pinot Noir rosé with all proceeds benefitting the Knight Cancer Research Institute.
Between the first releases in 2006 and the most recent 2012 vintage, annual production of all Remy Wines has increased from 600 to 2,000 cases. A smattering of whites ($14) is offered along with the reds.
Perhaps the only regret in regard to this talented young winemaker's wines is that she makes them in small batches, so they sell out quickly. If you like something, you need to make your move before it's all gone.
The winery and its baR tasting room, incongruously pronounced R-bar, are located at 905 N.E. 10th St. Summer hours are Thursday–Sunday, noon to 7 p.m. and by appointment at 503-560-2003.
bar ("R Bar")
Address: 905 N.E. 10th St., McMinnville
Hours: Fri.–Sun., noon to 6 p.m.
Phone: 503-560-2003
Website: www.remywines.com