Newberg's "Newest"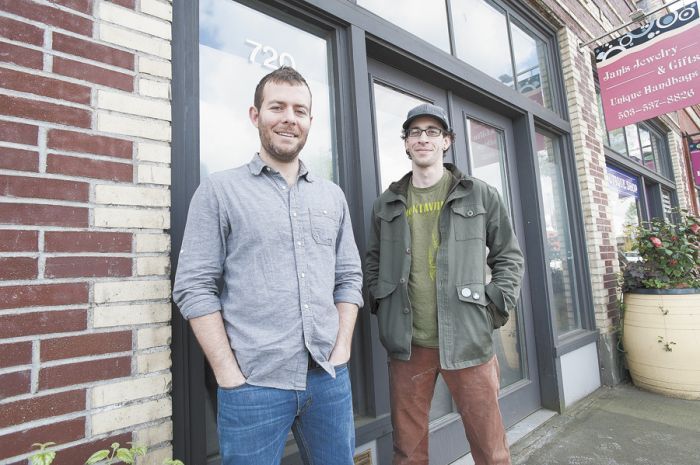 By Mark Stock
The Quaker duo that helped establish Newberg, William Ruddick and David Wood, probably had something else in mind when they filed the city's first plat in 1881. What is known is that the two settlers hoped the area in what is now downtown Newberg would one day flourish with business and prosperity, and that it would unify nearby Dundee with the relative metropolis that is Portland.
Some 132 years later, another pair of forward-looking folks is furthering this dusty old vision. Sure, Quakers scoffed at alcohol, but this is nowadays Newberg, "A great place to grow," as the winegrape-adorned city sign states. Times have changed and foodies Kyle Lattimer and Paul Losch are echoing this sentiment with a new project. The two are set to open "modern roadhouse" bar and restaurant Ruddick/Wood this summer.
Losch, formerly of Vino Paradiso, DOC and Nuvrei, has bounced around his share of respected Portland restaurants. While a wine enthusiast with cooking stints at various wine country events, Ruddick/Wood will be Losch's first full-time wine country venture. His business partner, Kyle Lattimer, is no stranger to the Newberg area, having run the Uprooted food cart over the last few years. The highly reflective Airstream trailer-turned mobile eatery has been a recent mainstay in Chehalem Winery's tasting room parking lot.
With Ruddick/Wood, Losch and Lattimer are expecting to attract a broad band of diners. Aware of the area's higher-browed restaurants, the two are honing in on a mid-range, populist crowd. The establishment will be equal parts tavern and restaurant, with brunch on the weekends, and a full cocktail agenda. There will also be a "scaled down" tavern menu. Given the staggering number of vehicles bottlenecked on Highway 99W during rush hour most days, the place ought to see some real traffic.
"The idea sparked after several meetings over a few pints," said Lattimer "Paul and I met only a few months ago and came together fairly quickly on a concept that is not only affordable but also focused on high quality local ingredients." Lattimer cites a balanced partnership as well, having spent many years doing front-of-house work and Losch being experienced in the kitchen.
The roadhouse approach befits the original settler theme, intentionally or otherwise. "A roadhouse is a waypoint or a stopping point on a journey," explained Lattimer. "It's a little bit country and a little bit of rock 'n' roll." Of course, many of those journeying through later this year will be on their way to or from wine country. However, Lattimer stresses the accessibility of Ruddick/Wood, and expects no lulls during the quieter months.
"We do not plan to market ourselves to tourists necessarily. We want to be a restaurant that everyone can enjoy," added Lattimer.
The menu will reflect the restaurant's close proximity to some of the best wineries, breweries and spirit houses in the country. This will include a 50-bottle wine list, six local draft beers and a cocktail program Lattimer says will be "lead by oak-aged spirits."
The valley is also generous as far as edibles go and Ruddick/Wood plans to benefit from and showcase them. "Our menu will rotate based on seasonal availability of produce and goods," said Lattimer. "We will be doing a lot of whole animal butchery, and our menu will also be dictated by the animal brought in that week." Such an approach ought to keep first-time and return diners alike quite interested.
Ruddick/Wood will be located on the corner of First and Edwards streets in downtown Newberg. Together, the restaurant and tavern will offer seats for roughly a hundred. An official opening date has not been set, but Lattimer is optimistic for an early summer ribbon. And while this joint is not the only new business in town — Bonaventura Deli and Chehalem Valley Brewing Company are both relative newcomers — its mix of elevated but affordable cuisine under a roadhouse guise is an area original.
Late 19th century settlers may tip their hats to this, an extra injection of culinary culture on the edge of wine country. They imagined bustling businesses long ago and Ruddick/Wood — although only in its construction stage — seems to carry the character necessary to make it a lasting fixture for locals and tourists alike.
Mark Stock, a Gonzaga grad, is a Portland-based freelance writer and photographer with a knack for all things Oregon. He currently works at Vista Hills Winery.