Draft Wine, To Go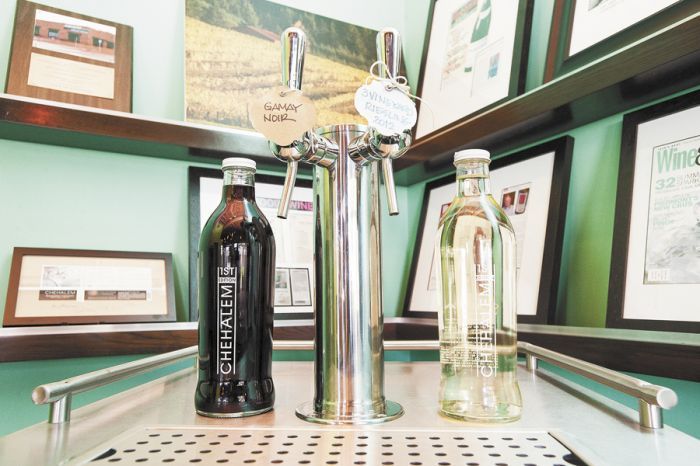 By Mark Stock
House Bill 2443 breezed through Salem without so much as a single hang-up. The Oregon Legislature unanimously backed the so-called "Growler Bill," which allows businesses with OLCC licenses — namely wineries and tasting rooms — to fill vessels up to two gallons in volume with the state's fastest growing fermented beverages.
Environmentalists and many in the viticultural and enological realm, however, say this is long overdue. The energy suck that is glass manufacturing is a large part of the wine business. The carbon footprint left by the process is sizable, and it is estimated — especially so, outside the relatively green Beaver State — that the majority of wine bottles end up in landfills. Those recycled are done so with considerable resources needed to break down the used glass and turn it into something reusable.
Tradition and progress have both been pivotal characters in American wine. With the growler movement, the idea is to send someone away with a freshly filled container of wine for consumption later that day. Carey Kienitz, winemaker at Springhouse Cellar in Hood River, knows the scenario well. His label sells roughly half its annual production as one-liter refillable containers; that amounts to roughly 1,500 cases worth of wine a year.
"Our business model is focused on serving our local population," said Kienitz. He's quick to admit the winery can't afford much talked-about and still expensive technology such as solar panels or gray-water recycling. Instead, Springhouse makes green maneuvers where it can, such as gravity-flow winemaking, fining with egg whites, even cold stabilizing in the snow (as opposed to a refrigerated unit).
Kienitz is quick to admit the new legislation doesn't affect Springhouse too directly. "It might improve public opinion of wine in refillable bottles," he said. "For us, it has been a matter of overcoming some people's inherent wine snobbery and prejudice against the concept." Springhouse has been filling and sealing TTB-approved bottles from their tasting room since 2007. Much like boxed and draft wine, Kienitz and others in the industry hope that the recent legislation will usher in a new era of acceptance and popularity.
Other wineries like Chehalem in Newberg have been operating similarly, filling custom one-liter bottles with draft wine from the tasting room. Under the new legislation, patrons may provide their own vessels to fill. But, as Kineitz points out, citing Springhouse's specially made containers, not any old jug will do. His swing-top containers — a style made famous by Grolsch beer — are secure and can handle carbonation. While most people will be drinking these wines on the day of the fill, these containers, if stored properly, will keep the wine for a few weeks' time.
The growler idea is quite European. For centuries, the French, for example, have been visiting their local wine purveyors for fresh wine, vessels in hand. Italians are known to frequent local cantinas or supermarkets to fill jugs with cheap and plentiful table wine. And in the States (especially the Northwest), we're all aware of what the breweries have been able to offer for years.
Oregon is the first state to pass such wine-specific legislation. Others, like Maryland and Virginia, are exploring similar laws, and surely more will follow. Which begs the question: What's next?
Draft wine has been on the rise for some time in Oregon, with every full-size keg estimated to be saving close to 80 glass bottles. Boxed wine works much the same way, albeit on a smaller scale and often in the company of plastic. Corks are sustainable in theory, but prone to shortages and cost spikes depending on conditions in Portugal, Spain and elsewhere.
Accessibility is key under the new legislation. People can fill growlers with their favorite Pinot Noir in restaurants and grocery stores equipped to do so. Expect more tasting room scenarios at your local supermarket and wine-centric eateries to offer to-go vessels of their own. Outfits like New Seasons have been ahead of the curve from the outset, offering draft wine and beer at some of their stores. What is likely just a few years away now — assuming similar legislation passes in other states — is for big retailers like Total Wine to offer some type of wine growler program.
Locally grown and processed wood for barrels, new site-specific clones and fully recyclable kegs are already being discussed in the industry. Whatever's next, sustainability will no doubt play a big role. But if it's growler wine you're drinking while you're waiting, make sure you do so sooner rather than later, for the wine's sake.
Mark Stock, a Gonzaga grad, is a Portland-based freelance writer and photographer with a knack for all things Oregon. He currently works at Vista Hills Winery.