Ponzi's New Pad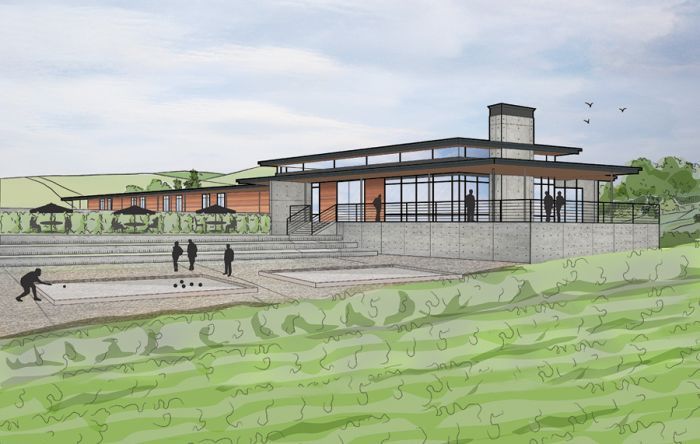 By Oregon Wine Press Staff
While Sokol Blosser puts the finishing touches on its brand new ultra-modern tasting room — set to open mid-summer (look for a story in OWP's July edition) — another Oregon wine pioneer, Ponzi Vineyards, prepares to open the doors to its new tasting room near the winery's production facility on Chehalem Mountain.
Ponzi Vineyards — founded nearly 40 years ago by Dick and Nancy Ponzi — is all about family. The second generation, Luisa, Maria and Michel, continues this tradition with a new tasting room designed and overseen by Brett Fogelstrom, Maria Ponzi's husband and owner of Fogelstrom Design/Build.
"He and I have worked very closely to create a modern facility that will set the bar for Oregon wine country destinations," Maria said.
The Ponzi family has been setting that bar since arriving in 1970 and planting vines in the northern Willamette Valley. In 1984, Dick and Nancy launched BridgePort Brewing, Oregon's first craft brewery and brewpub — they sold it in 1995. In addition, Nancy Ponzi helped start the International Pinot Noir Celebration in 1987, ¡Salud! Pinot Noir Barrel Auction in 1992 and Oregon Pinot Camp in 2000. Add to that the opening of the Ponzi Wine Bar in 1998 and the adjacent Dundee Bistro in 2000, and you have an ambitious family that has strived over the years for top quality; this includes the new tasting room.
The new space is expected to open during the first half of June. Laurel Dent, marketing manager for the winery, says she hopes for a soft opening Memorial Day, one of the biggest weekends for Oregon wineries.
The tasting room's sophisticated lounge will feature tableside wine service, an antipasti menu, stunning views and a fireplace, creating the "ultimate wine tasting experience."
"As we look back over the past four decades of accomplishments, we reflect on where it all began," Maria said. "From producing and selling our wines out of the garage to an incredible hilltop tasting room and winery, I am proud of how the brand has grown."
For more details, including information about the grand opening, please visit www.ponziwines.com.
PONZI VINEYARDS
Historic Estate Tasting Room
14665 S.W. Winery Lane, Beaverton
Hours: Daily, 10 a.m. to 5 p.m.*
NEW TASTING ROOM
19500 S.W. Mtn. Home Rd., Sherwood
Hours: Daily, 11:30 a.m. to 5 p.m.**
CONTACT INFORMATION
Phone: 503-628-1227
Website: www.ponziwines.com
*Wed.–Sun. after new tasting room opens.
**Check web or call for opening dates.