You've Got a Way, Shea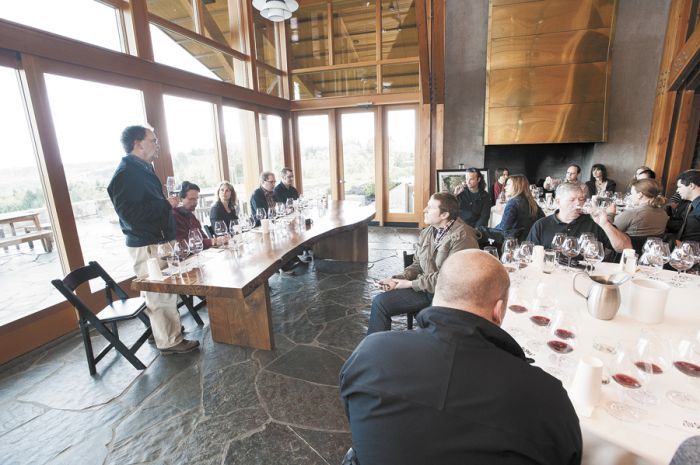 By Peter Szymczak
It's hard to imagine a time when fruit from the legendary Shea Vineyard was not only unwanted, but rejected — even for the lowly purpose of blending into an entry-level $8 Pinot Noir.
Yet refuse Shea fruit is exactly what Lynn Penner-Ash did in the '90s when she was making wine at Rex Hill. She remembered a delivery order for four tons of fruit, but eight were delivered, so she declined to accept the surplus. It's a memory she has (albeit jokingly) never completely lived down: "I like to say it took me 11 years to convince him to sell me fruit again," she said with all due humility.
How times have changed. Fast-forward almost 25 years, and Penner-Ash is paying homage to Dick Shea and his eponymous vineyard at the "Tu Shea" event, recently held at her own winery on April 6. She and a few of her winemaking peers poured their wines — and souls — at the first retrospective tasting to showcase the now-hallowed ground of Shea Vineyard.
Today, there's a waiting list to source grapes from Shea Vineyard. The fortunate 21 winemakers — Lynn Penner-Ash, Josh Bergström, Stewart Boedecker, Scott Shull and Adam Campbell, to name just a few of those who Shea personally selects to buy his grapes — now accept the responsibility to uphold the Shea name.
But in the late 1980s, Dick Shea was just a guy from New York who had fallen in love with Oregon and Pinot Noir. "I discovered people don't like to buy fruit from an untried area. People couldn't believe I'd planted 100 acres," he recalled.
He and his wife, Deirdre, had riskily purchased a large parcel of land in what would years later be established as the Yamhill-Carlton AVA. "Everybody was avoiding it because of the marine sediment — a totally different soil type," Shea said, comparing his land to the rich red clay of the Dundee and Eola Hills, which were the established vineyard sites at that time. "I was told the soil was too austere, that I'd have to irrigate."
In fact, Shea has never lifted a watering can. The vineyard, which is situated on a set of ridges holding in heat, has proven consistently reliable at producing early-to-ripen fruit — almost to a fault.
During its first five years of production, Shea Vineyard had a yield that was high by today's standards. But in 1994, Shea and vineyard manager Javier Marin made a commitment to quality over quantity. Crop levels were reduced, and a philosophy of managing the vineyard to the exact specifications of each winemaker, in order to obtain the best fruit, was begun.
In 1994, Shea fruit received its initial validation: Panther Creek and Ken Wright Cellars released the first single-vineyard wines bearing the Shea name. These wines were awarded first and third place, respectively, from Robert M. Parker Jr. — his highest scores ever for Oregon Pinots.
But Shea's triumph was short-lived. "Two weeks later, I found out there was phylloxera in the vineyard, and the whole thing was going to have to be replanted," he said. Fortunately, the grapevine-ravaging pest was much slower to spread in Oregon than was the case in California or France, and Shea prevailed in resurrecting the vineyard.
Replanting also had a major effect on the flavor characteristics of the vineyard. "The original plantings leaned towards red fruit; they were lighter and more lithe," said Scott Shull, winemaker at Raptor Ridge. Shull's was the only wine made from Shea's original vines to be poured at the event. "The Dijon clones (planted post-phylloxera) and grafted vines are putting more muscle and meat behind the wines."
The Shea 21
In 1996, Shea decided to start his own winery, where native New Zealander Blair Trathen is currently the winemaker. Roughly 25 percent of the Pinot Noir fruit grown each year is now used by Shea Wine Cellars for its releases. The other 75 percent of the fruit is sold to 21 lucky wineries.
"I cold-called Dick out of the blue and somehow convinced him to sell me an acre and a half in 2004. It was one of the best phone calls I ever made. I couldn't believe he didn't hang up on me," said Stewart Boedecker, winemaker at Boedecker Cellars.
Why does Boedecker, and other winemakers like him, seek out Shea fruit? "The biggest reason is to have a community of people to talk to about what they're doing with their Shea vineyard fruit," said Adam Campbell, winemaker at Elk Cove. "I can guarantee that it's going to be a nice wine."
Josh Bergström is the largest buyer of Shea fruit — just slightly more than Lynn Penner-Ash — with about 10 percent of the haul. "When I first started buying from Shea [in 2003], it almost seemed like a pissing contest — who could make the biggest, best Shea? Nobody wants anyone to fall on their face and make a bad Shea," said Bergström.
Providing winemakers an opportunity to one-up each other has never been Shea's motive, however.
"Only good things could come out of working with such quality winemakers," said Shea. "It's one thing to build a brand and obsess about quality, and another to build a brand when you have to depend on others to do their job."
Shea is an exemplar of Oregon's cooperative, collaborative winemaking community. Every year, he hosts a gathering of the winemakers who buy fruit from him, so they can taste barrel samples — blind — of each other's wines. "After we critique, the wine is revealed. The winemaker stands up and tells what his yields were, when he harvested, how he or she treated the wine, fermentation style... It's a great educational experience to taste that many wines from the same vineyard," said Bergstrom.
The proof is in the farming
The key to Shea's success? Several winemakers cited the vineyard management by the Marin brothers, Jesus and Javier, who have overseen the vineyard for the past 20 years.
"We are always so impressed with the way the Shea fruit comes in. It looks so beautiful no matter what the vintage is," said Penner-Ash.
"We get grapes that work every year, which isn't true of every vineyard," said Campbell. "It's a great opportunity to really see what the winemaker brings to the table. I can guarantee that every wine in this room is super high quality, but there will be differences, and that's what I think is so cool, to hone in on what, as a consumer, you like in terms of winemaking style. That's the fun homework assignment for any of us that love wine, right? The hand or the land, that's the question."
Shea takes pride in the custom farming he established in his vineyard. "There are 50 different vineyards within the vineyard. Jesus is a saint. He has to keep track of all that, the winemaker instructions they want to achieve the types of flavors they're after."
Penner-Ash summed it up: "There are a lot of different variables we ask of Dick and his crew. I'm constantly amazed. Shea pulls it off. There's never been a bad year out of Shea Vineyards."
Well, not any longer, it seems.
The Shea 21 (for 2013)
Ancien (Napa), Antica Terra, Auteur (Sonoma), Bergström, Boedecker, Broadley, Chapter 24, Elk Cove, J.K. Carriere, Ken Wright, Pali (Lompoc), Penner-Ash, Raptor Ridge, REX HILL, Sonria (Napa), Steve Goff, Stevenson-Barrie Cellars, St. Innocent, WALT (Sonoma), WildAire, Winderlea
Peter Szymczak reports on food, drink and travel experiences around the Pacific Northwest and beyond. He's the regional editor for Sip Northwest Magazine and a contributor to The Oregonian.