Vis-à-Vis with Veronique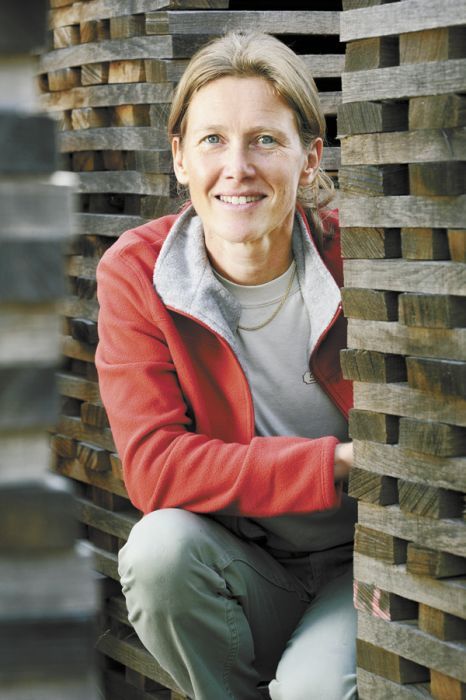 Véronique Drouhin
Winemaker Véronique Drouhin-Boss' roots go deep — deep into her family's 13th century cellars under the streets of Beaune, the heart of Burgundy.
She represents the fourth generation of winemakers from this venerable wine family of France, but it is here in Oregon that Véronique's skills and passion are bringing forth some of the most sublime Pinot Noir and Chardonnay produced anywhere.
With centuries of Burgundian winemaking experience flowing through her blood, not to mention her advanced enology degree from the University of Dijon, Véronique has lovingly crafted every drop of wine produced at Domaine Drouhin Oregon since the first vintage in 1988.
What are the major differences (i.e. people, wine styles, attitudes, etc.) between making wine in Burgundy vs. the Willamette Valley?
In Burgundy and Oregon, I see the same universal desire to make great wine based on terroir, climate, and a lot of hard work. In France, we have many regulations, regarding vineyards and production. And, most of Burgundy has been planted for decades, or even centuries. But in Oregon, things are still wide open, and there are very few restrictions, so there is a spirit of adventure and openness. And that finds its way into the winemaking.
In your experience, what do Burgundians think of Oregon Pinot Noir and Chardonnay?
There is great recognition of the quality of Oregon Pinot Noir. Chardonnay will get there but doesn't yet have the equivalent reputation of the Pinot.
What is your best piece of advice for any new winemaker making wine in the Willamette Valley?
Try bottles from as many different growing areas and vintages as you can, and meet as many people as possible, so you can ask all the questions that you will certainly have. The Oregon wine community is an amazing source of inspiration and information.
When you are in Oregon, what are some of your favorite places to eat?
How do you choose? There are so many good restaurants in wine country and in Portland, but you could also just go to the McMinnville farmer's market and make something wonderful at home. Very special.
If you could add one more wine region to your winemaking portfolio, what would it be and why?
New Zealand. I have never been there, but I have tasted many excellent New Zealand Pinots, and the Islands seem amazingly beautiful.