A Toast to May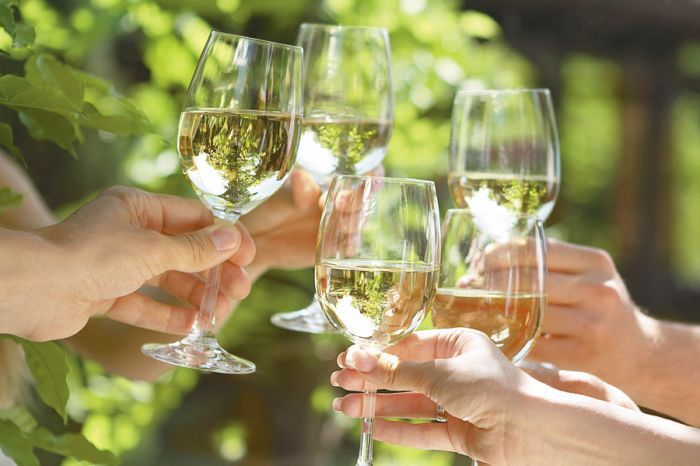 by Hilary Berg, OWP Editor
May is Oregon Wine Month. How should you honor the 31 days? Let me suggest just a few effective ways.
First, if you have never been to Oregon wine country, now is the time. Spring is such a beautiful season in Oregon, especially in and around the vineyard. The fruit trees are budding little blossoms of beauty, and the vines have awakened from their winter sleep with bud break. Above the vines, the sky has gone from drab gray to brilliant blue with big ominous clouds that demand you look up and take notice. Then there are the birds, the breeze, the buzz of renewed energy.
The scenery alone is reason enough to venture out, but, of course, it's the wine that inspires thousands to make the tasty tour.
Memorial Day Weekend is the perfect time to visit tasting rooms and wineries, especially those that open only during this holiday weekend and the one involving a turkey. Starting HERE, you'll find more than 300 open house listings. A number of wineries make it special with live music, gourmet spreads, barrel tastings and more.
Let's talk about barrels for a moment, or should I say what they contain right now. Yes, I am referring to the 2012s. Have you heard about this stellar vintage? It is truly special. These wines are expected to score high and sell fast. During Memorial Weekend winemakers can give you a sneak peek or maybe even sell you some futures. Cool, huh?
I realize some of you won't be able to make it. That's okay, there is the rest of May — or June, July, etc. For those who must miss the holiday festivities, you can honor Oregon Wine Month by tasting and buying local labels at your favorite wine shop. Instead of exploring the countryside, I encourage you to explore the shelves, discovering different brands, varieties and regions from around the state — 17 AVAs to be exact.
Forget about California Cab, Australian Shiraz and all the other wines of the world, and focus your palate on Oregon. That goes for dining out, too. Better yet, eat only at restaurants with stellar Oregon wine lists. OWP's Superior Wine Cellar Awards (www.oregonwinepress.com/cellars) can help you find the perfect place.
Other ways to celebrate Oregon Wine Month? Send a copy of OWP to a friend who is not familiar with our industry. Create a wine pairing dinner featuring, you guessed it, Oregon wine. Or simply uncork a bottle and toast Oregon Wine Month.
Cheers!