Table Grape Goodies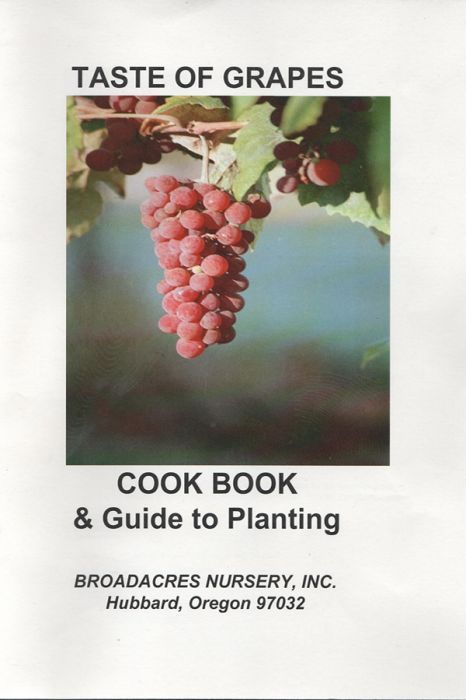 Sandra and Ray Ethell, of Broadacres Nursery in Hubbard, are gaga over grapes. Since 1988, the couple has been propagating grafted, self-rooted and certified grape rootstocks for sale to winegrowers.
In 2004, the Ethells expanded their agricultural horizon by planting more than an acre of seedless table grapes. The last three Sundays in September, the public is invited to taste some 30 varieties — Albazor, Black Emerald, Challenger, Fiesta and Summer Royal, to name a few — and purchase plants.
To market the nursery's new selections, Sandra created a book filled with recipes as well as a growing guide and descriptions of the ready-to-eat varieties. "Taste of Grapes Cookbook and Guide to Planting," was made possible through the help of the Ethells' daughter, Debbie, and contributing recipes from Sharon Ahrenstorff. The following are a few of Sandra's favorites.
CURRIED CASHEW, PEAR AND GRAPE SALAD
INGREDIENTS
¾ cup cashew halves
4 slices bacon
1 tablespoon melted butter
1 teaspoon chopped fresh rosemary
1 teaspoon curry powder
1 tablespoon brown sugar
½ teaspoon kosher salt
½ teaspoon cayenne pepper
DRESSING
3 tablespoons white wine vinegar
3 tablespoons Dijon mustard
2 tablespoons honey
½ cup olive oil
* salt and pepper, to taste
SALAD
1 10-ounce package of mixed greens
½ medium Bosc pear, thinly sliced
½ cup halved seedless red grapes
DIRECTIONS
1. In a large, dry skillet over medium-high heat, toast cashews until golden brown. Remove nuts and set aside.
2. Return skillet to medium-high heat; cook bacon strips until crisp on both sides, about 7 minutes. Remove bacon with slotted spoon, and place on a paper towel to cool; then break into pieces.
3. In a medium bowl, stir together butter, rosemary, curry powder, brown sugar, salt, cayenne pepper and toasted cashews. Set aside.
4. In a small bowl, stir together white wine vinegar, mustard and honey. Whisk in olive oil; add salt and pepper to taste.
5. In a large salad bowl, toss dressing with greens, pear slices, grapes and bacon; sprinkle with nut mixture.
CHEESE AND GRAPE TARTS
INGREDIENTS
¼ cup finely chopped onion
2 teaspoons butter
1 cup halved blue seedless grapes
1 cup shredded Swiss or Jarlsberg cheese
* cornmeal tart shells, 12–18 (see recipe)
2 eggs
1 cup milk or half-and-half
½ teaspoon salt
¼ teaspoon dried thyme leaves, optional
1/8 teaspoon ground pepper
1/8 teaspoon cayenne pepper
DIRECTIONS
1. Sauté onion in butter until softened; remove from heat and toss with grapes and shredded cheese.
2. Divide mixture equally among 12 to 18 pastry-lined miniature tart pans (about 1½-inch diameter). See recipe below.
3. Beat eggs; combine with milk and seasonings, and pour over grape mixture in each pan.
4. Bake uncovered at 425°F for 5 minutes. Reduce oven temperature to 300°F and bake 18 to 20 minutes longer, or until knife blade inserted near center comes out clean. Let stand 10 minutes before removing from pan.
CORNMEAL TART SHELLS
INGREDIENTS
1½ cups flour
½ cup cornmeal
½ teaspoon salt
½ teaspoon dried thyme leaves
½ cup butter
1/3 cup milk
DIRECTIONS
1. Thoroughly mix flour, cornmeal, salt and thyme. Cut in butter. Slowly add milk, tossing with fork to keep mixture evenly moistened, until mixture holds together.
2. Lightly oil tart pans or spray with non-stick cooking spray. Gently press 1 tablespoon pastry into 12 to 18 small tart pans. If darker crust is desired, bake at 425°F for minutes before adding filling.
YUMMY GRAPE CAKE
INGREDIENTS
4 cups red or blue seedless grapes
1 cup butter
1 yellow cake mix
½ cup chopped nuts
DIRECTIONS
1. Place fresh or frozen grapes in bottom of 9-by-13-inch pan.
2. Sprinkle cake mix over grapes, and pour on melted butter; then sprinkle the nuts.
3. Bake at 350°F for 1 hour, until bubbly and brown. Serve with ice cream.