My Sherry Amour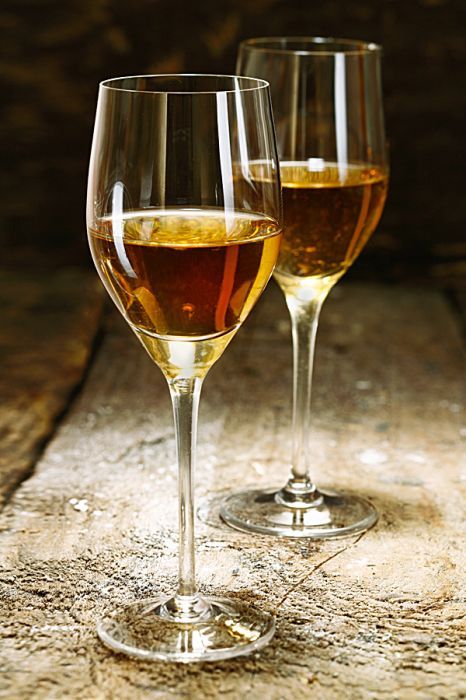 By Mark Stock
Funny how certain things swing in and out of fashion in some places while remaining permanently intact in others. Take sherry, the fortified wine made famous by the Spanish way, way back. Generalized as briny with a rusty color and fairly high alcohol content, sherry has long been overshadowed by its sweeter or more straightforward cousins. The Spanish have long understood this dynamic Andalusian export, and it appears the New World is following suit, at least for now.
Essentially an affront to Port, sherry is, for the most part, a drier, more rustic offering made from one of three grapes grown in the south of Spain. Traditional sherries are made from the Palomino grape while the dessert versions incorporate both Moscatel and Pedro Ximénez varietals. Unlike Port, sherry is most often fortified when fully dry, meaning less residual sugar. The way it is aged, either under flor or through oxidization, can change a sherry's flavor dramatically.
Flor is the yeasty solid layer that naturally occurs in the barrel within a narrow alcohol range. Also termed biological aging, this blanket-like layer converts sugar into ethanol and guards the wine from over-oxidization. For flor to occur, the barrel cannot be filled completely; instead, the fill line is dropped several inches and the bung is not fully sealed. The resulting flavor of this style of sherry can be something most people associate with a bakery, offering yeasty or biscuit-like notes. This style of sherry is called Fino.
An oxidative approach yields an Oloroso-style sherry. The alcohol content of these wines — at least 17 percent — is too high for flor to exist. Oxidization introduces a rustier color and, in many cases, nuttier, raisin-like flavors. Some producers incorporate a combination of biological and oxidative aging. When it comes time to bottle, sherry producers use what's called a "Solera" system, in which wines from different years are blended into a single bottling. In other words, you'll be hard-pressed to find a vintage on most labels.
Culinary Warrior
It is rumored that Magellan spent more on sherry than arms while preparing to sail around the world in 1519. As I sip some Hidalgo Manzanilla En Rama during Sherryfest in Portland, I begin to understand why. The understated color, the coastal flavors of salt and wood smoke, the subtly stem-y finish. If nothing else, I want more just to figure the damn thing out.
Smallwares is the setting, easily one of Portland's most daring restaurants. It's no real surprise that chef Johanna Ware is behind this, pairing sherries with dishes like shrimp chawan-mushi or Chinese mustard spaetzle. Last year's "second-best Portland restaurant," according to Willamette Week, prides itself on being bold to the point of inauthenticity.
During this particular dinner, the pairings are going swimmingly, and it's becoming obvious why chefs around the country — daring and otherwise — are eager to play with this oddball elder statesman of a wine.
Sherryfest began in New York last fall as the largest sherry-themed event outside its native Spain. Sherryfest West took place in Portland the week of March 10, inundating restaurants, wine shops and bars with the age-old drink. Creator and author Peter Liem, responsible for the guidebook "Sherry, Manzanilla & Montilla," curated the smallwares dinner, walking diners though a broad scpectrum of sherry.
Sherry itself is strictly regional. Much like Italy's DOC — denominazione di origine controllata or controlled designation of origin — Spain has its own governing body, which slaps the Denaminación de Origen tag on products crafted from grapes grown in and around Jerez de la Frontera, in southwestern Spain. Others make the stuff, sure, but like Champagne or Burgundy, the name sherry belongs to a specific geographic grapegrowing region.
Two sherries in particular stood out at smallwares, thanks to tremendous stand-alone flavor and sharp pairings. Valdespino Palo Cortado CP was poured alongside a hedgehog and oyster mushroom dish, served with walnut purée, pickled hijiki, cardamom and clove.
Valdespino is one of the oldest and most famous bodegas in Jerez, going back to the 13th century. This particular sherry offered big aromatics in the form of cookie dough and pistachio. The flavor was a blend of citrus, nut and spice. The dish and drink were built for each another.
The other standout, if only because of its weight and decadence, was the Toro Albala PX Gran Reserva from 1985. Naturally, part of the fun was tasting something 28 years old. Moreover, to sample something with enough residual sugar to floor Willy Wonka was an experience in and of itself. Chef Ware opted for a horchata panna cotta with dates, black cardamom and almond to match the syrupy wine. Diners joked about purple teeth after a single sip. The inky wine offered brazen blueberry and black olive flavors that not only stood up to but also enhanced the cinnamon in the horchata as well as the fruit and nuts in the dish.
Sherry Renaissance?
To label sherry as a current American fad would be a disservice to the centuries' old fortified wine. The tradition embedded in Jerez's favorite bottling is too enormous. Granted, the wine is enjoying a healthy buzz in the States at the moment. Sherryfest and similar events testify to this. But that can only spell opportunity for tasters, as accessibility of and attention to sherry seems to be at a new high.
What continues to plague sherry is the notion that it is either a lot like Port or Madeira, or that it's a cooking tool and nothing more.
Both notions are false; and while it is fortified, the layered flavor profiles are deserving of the same treatment you'd give a Bordeaux or vintage Oregon Pinot Noir. Sherry shares in emphasizing the importance of terroir and cellar practice. And for those who enjoy imaginary tourism, there's no quicker way to travel to the breezy Andalusian coastline than by way of a bright and briny Valdespino Fino Innocente.
Oregon-Style Sherry
At Anne Amie in Carlton, winemaker Thomas Houseman has his own sherry-minded labor of love. His Anne and Amie dessert wines come from estate Müller-Thurgau, divided after pressing and made in two distinct styles. The sherry-style version, Amie, is fortified with Clear Creek Pinot Noir brandy, stalling fermentation and adding richness and depth in flavor.
Cider-colored and sweet, the Amie is a "vin du naturel" wine, meaning yeast activity is stalled with the addition of more alcohol. While not experiencing any oak, Amie oxidizes via a heated stainless tank in the cellar. Houseman and his crew have been trying more aromatic yeast strains and will try estate Müller-Thurgau brandy as fortifier for the first time this fall. All together, this New World process is swifter, lasting about a year from harvest to finished product.
The 2009 Amie has a fragrance of caramel apple and vanilla. Candied lemon and ripe tropical fruit flavors lead to a thawing finish. Candied is the key word, as it contains 25.9 percent residual sugar.
More Wines
Hood River Vineyards NV Oregon Pear
Style: Amontillado (aged 15–20 years)
Rosella's Vineyard NV Wai Kula
Style: Cream (aged 5 years)
Mark Stock, a Gonzaga grad, is a Portland-based freelance writer and photographer with a knack for all things Oregon. He currently works at Vista Hills Winery.