A Special Day for Chardonnay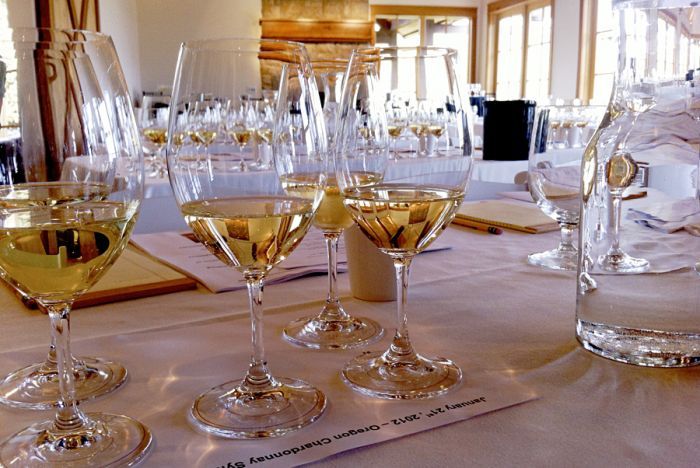 Oregon Chardonnay keeps getting noticed, nationally. Only last year, The New York Times article "Oregon Chardonnay Speaks Up" touted its potential, and in February, Sunset Magazine printed "The Great White," a feature about Oregon's successful take on the Burgundian varietal.
The limelight on the state's Chardonnay doesn't show signs of dimming anytime soon, say the producers who make it. In fact, they want to spread the word on the wine's growing acclaim at the second Oregon Chardonnay Symposium on May 4 at Red Ridge Farms in Dayton.
The event will showcase a new wave of smaller producers, setting out to define the North Willamette Valley's signature style of Chardonnay. The event will begin with an educational and interactive panel discussion featuring eight artisan producers and renowned wine writers. The discussion will include a technical tasting of limited production Chardonnays from the panelists.
Katherine Cole, wine columnist for The Oregonian and author of "Voodoo Vintners: Oregon's Astonishing Biodynamic Winegrowers," will be the moderator; while Paul Gregutt, "Wine Adviser" columnist for The Seattle Times and Northwest editor of Wine Enthusiast Magazine; and W. Blake Gray, author of the Gray Report wine blog, will make up the media panel.
Participating wineries include: Arterberry Maresh, Big Table Farm, Crowley, Division, Durant, EIEIO, Matello and Walter Scott.
A walk-around tasting at the adjacent Durant Vineyards tasting room following the panel discussion will feature wines from participating wineries along with charcuterie plates accompanied by Oregon Olive Mill olive oils.
Participants will be provided with seminar and tasting notes, as well as a logo wineglass. Only 60 tickets are available for the event at $60 each. Reservations are required and can be made by calling Red Ridge Farms at 503-864-8502.
Event Information:
CHARDONNAY SYMPOSIUM
Location: The Oregon Olive Mill at Red Ridge Farms
Address: 5510 N.E. Breyman Orchard Road, Dayton
Date/Time: Sat., May 4, 1 to 3 p.m. (panel discussion/technical tasting); 3:30 p.m. (expanded tasting)
Registration: 503-864-8502