Year of the Zodiac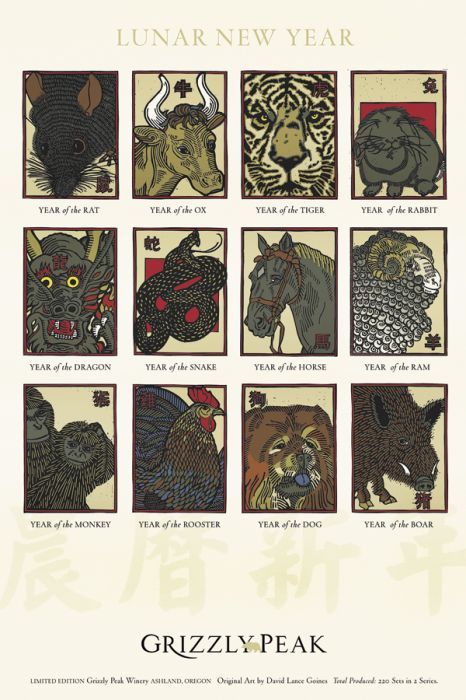 By Janet Eastman
Now that you have settled into the new lunar year, Grizzly Peak Winery in Ashland is releasing a limited-edition set of 12 different wines, each with a unique label to represent all 12 lunar-zodiac animal spirits.
Al and Virginia Silbowitz, who own Grizzly Peak Winery, commissioned internationally known artist David L. Goines to create illustrations of a snake, dragon and other dramatic creatures.
A third of the money raised from sales of the special wine set ($500 or $440 to wine club members) will be donated to the Oregon Shakespeare Festival and the Berkeley Repertory Theatre, where OSF's "The White Snake" was staged.
Grizzly Peak released the wine at its Ashland tasting room, 1600 E. Nevada St., Feb. 23 — the conclusion of Chinese New Year, as well as a release reception in Berkeley, Calif., in March.
The wine bottles are packed in two wooden presentation crates. Only 221 sets will be sold. A poster rendering of the 12 animals is included with each set of 12 wines and sold separately for $10. Call 541-482-5700 for availability.
Next to the animal illustration labels is a short character synopsis of its personality type. People born in the year of the snake — 1917, 1929, 1941, 1953, 1965, 1977, 1989, 2001, 2013, 2025 — "are tenacious, wise and cunning. Snakes symbolize wisdom and tend to be contemplative and work hard to ensure that things turn out just as they plan. They are cool in a crisis and are successful in business."
Goines' artwork has been reproduced in professional publications and acquired by private collectors and museums. The Schneider Museum of Art in Ashland owns his "Mr. Espresso," a poster he created in 2000 depicting a woman making her morning coffee. See the artist's website at www.goines.net.
Goines started St. Hieronymus Press in Berkeley in 1968 after his expulsion from U.C. Berkeley because of his involvement in the Free Speech Movement.
His mother, Wanda, is an artist living in Cave Junction. His late father, Warren, was an engineer and professor.
"We've known David for nearly 40 years and admired his work," says Al Silbowitz. "We were art gallery owners for a time in Berkeley. We were subscribers to the (Berkeley) Rep and now for years to OSF."
Virginia Silbowitz, who is Chinese-American, is a founding member of the Southern Oregon Chinese Cultural Association, which puts on the Chinese New Year Parade in Jacksonville.
"David's family roots are here, though his adult life has been in Berkeley and the Bay Area," continues Al Silbowitz about the intertwining of his wine, Goines' art and the lunar New Year. "This brought together so many elements, and we loved his zodiac animals."
The clincher to producing the special labels, he says, "was the beautiful production of 'White Snake,' which traveled from here to Berkeley Rep in the year of the snake. Too orchestrated to resist."
Janet Eastman/Courtesy of Ashland Daily Tidings.