Roy, the Real McCoy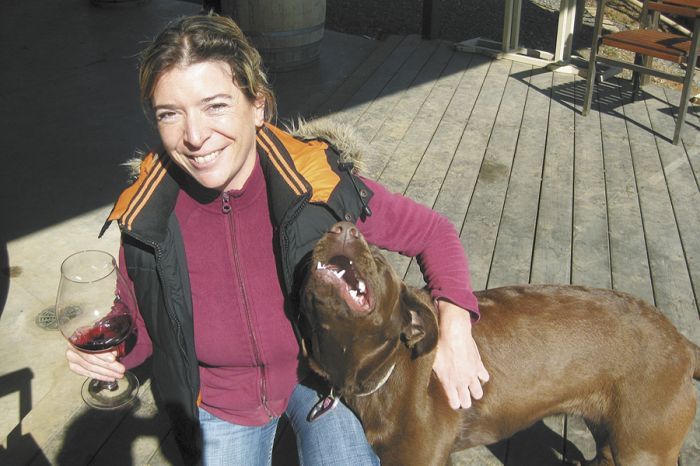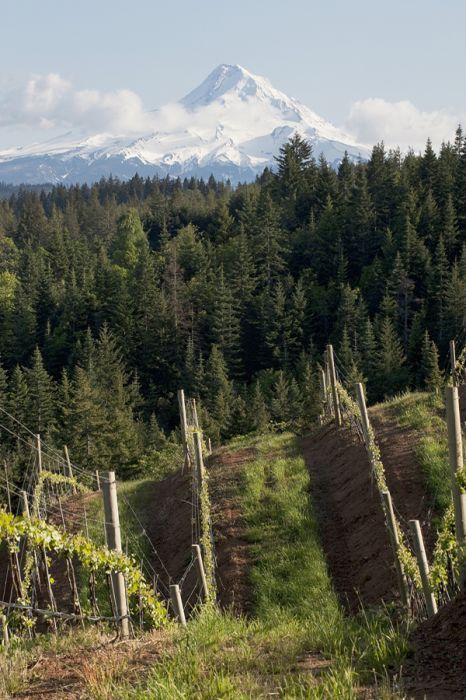 By Stuart Watson
One thing leads to another, and another, which is the easiest way to explain how Alexandrine Roy, fourth-generation winemaker at Domaine Marc Roy in the Burgundian village of Gevrey-Chambertin, came also to wear the winemaker title for Phelps Creek Vineyards on the western flank of the Hood River Valley.
Phelps Creek owner Bob Morus didn't know Roy from … well, Rogers, when Alan Busacca — now of Alma Terra Wines — introduced the two during a Hood River Valley detour from the 2007 International Pinot Noir Celebration in McMinnville.
"Alan came to Burgundy, and I was in charge of touring him around," Roy recalled during an early March visit to the Hood River Valley. "By the end, he says, 'you've been so kind. The next time you come, please visit me.'"
She had been attending IPNC since 2004, so when she returned in 2007, she called Busacca, and he says, "I want to introduce you to a friend."
Roy joined Busacca and eight others for lunch with Morus on the deck of his house overlooking the 30-acre vineyard.
"I was very enthusiastic," she recalls. "We had a good time."
The next day at INPC, Morus asked her if she would make a cuvée for him. By the time she returned to France, her inbox had an e-mail full of details about what would be their first joint Pinot venture.
Morus says he wanted to tap the talents of someone clearly rooted in Old World winemaking, someone skilled at coaxing complex flavors from grapes grown in a wetter summer environment.
"With Alex, we like the concept of more acid-driven wines," Morus says, noting an appreciation for how such wines pair best with food.
For Phelps Creek, Roy will be stretching a bit more than she can within the strictures of Burgundy. In Burgundy, she says, "you can't blend wines; you have to deal with what you have."
Her first wine for Morus was the Cuvée Alexandrine Pinot Noir, rolling into a lineup formerly crafted by longtime Oregon winemaker and consultant Rich Cushman — he has the Viento Wines label and also helps Mt. Hood Winery. Roy will be responsible for all the Phelps Creek wines beginning with those from the 2012 vintage.
She next produced a rosé of Pinot Noir, Fleur de Roy, followed by Coeur de Roy, a Pinot Noir Blanc from the vineyard's oldest vines at 20 years — mere children compared to the centurions of Bourgogne.
"We do a direct press and use only the first juice," Roy says. "The aim is super-premium juice."
Despite her increased responsibility, Roy will maintain the same on-site visitation schedule she has followed for the last six years. She flies in for a few days, four times a year. "She has her own room," Morus says, with a smile.
Technology closes the distance with e-mail and detailed instruction to staff, including Irineo Magana; her eyes and ears in the cellar, he "is a great cellarmaster," Roys says.
Phelps Creek currently produces about 3,500 cases a year with potential for 5,000. Wines include a Pinot Gris, three Chardonnays and three to five Pinot Noirs.
The wineries newest wine is a single-block Pinot Noir. "We take a section of the vineyard, bottle two barrels and give it to our wine club," Morus says. "They love getting to taste what a different section of the vineyard tastes like."
In keeping with that regard for the market, Morus says Phelps Creek will probably produce a few barrels of Syrah next year, using grapes from The Dalles.
"We like to do dessert wines, too," Morus adds. "We have a true ice wine and a faux ice wine."
He says Roy has greater freedom to experiment in Oregon than she could at home. "Alex couldn't make a white Pinot Noir over there; it's not accepted."
But aren't both countries democracies, proud of their freedoms? Roy smiles knowingly. "Yes, France is a democracy," she says. "But with wines, we are very serious. There is nothing more serious than food and wine."
The next day, she put proof to the pudding — not to mention applause and appreciation — pairing five Phelps Creek bottles and one from Gevrey-Chambertin with six courses prepared by the kitchen crew at Nora's Table in Hood River.
Graciously thanking the crew for its hospitality and creativity at the end of the evening, she smiled, bowed and backed toward the door and an early morning flight back to France.
A veteran Northwest newspaper and magazine reporter and editor, Stu Watson owns Watsonx2 Communications in Hood River.