Dining on Tap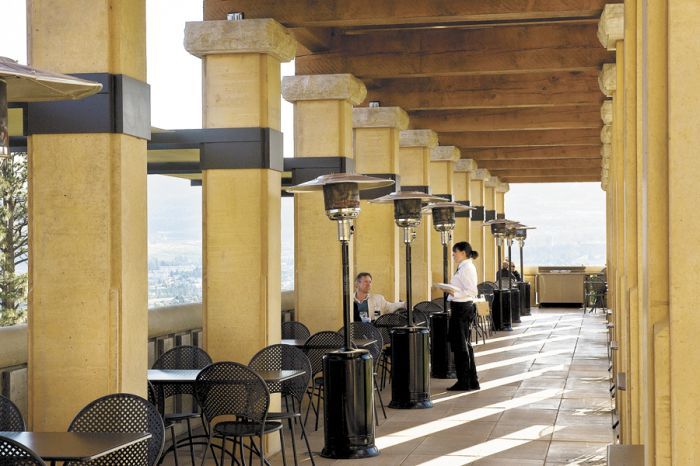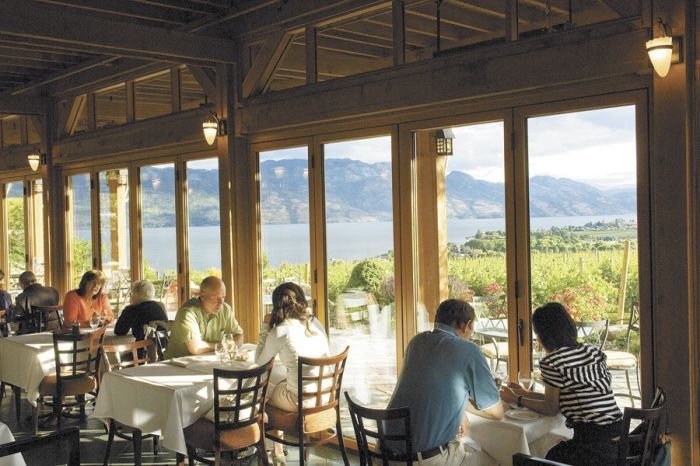 By Peter Szymczak
There's something Canadians have that we Oregonians don't — and no, I'm not talking about universal health care coverage. Rather, it's the experience of enjoying delicious food paired with great wine at an on-site winery restaurant.
During a recent visit to British Columbia's Okanagan wine region, I dined on squash soup garnished with bits of chewy, smoky bacon and crunchy roasted hazelnuts, accompanied by a glass of Quails' Gate 2010 Reserve Pinot Noir at the winery's Old Vines Restaurant. Visible directly outside the restaurant's windows were the very vines that grew the grapes fermented into the wine I was sipping.
I drank in a spectacular panoramic view of the valley at Miradoro at Tinhorn Creek. Sitting high on a bluff, the winery and adjacent restaurant give wine tourists an epicurean vantage point to gaze at the landscape while savoring seasonal menu selections. An appetizer of grilled squid matched perfectly with a glass of 2011 Cabernet Franc Rosé.
These two examples, plus 10 other destination-worthy winery restaurants dot British Columbia's Okanagan wine region from Kelowna in the north to the Oliver/Osoyoos region in the south.
North of the border, they've realized how a vineyard restaurant is the perfect setting where a wine lover can break bread with winemaker and chef, tapping into their combined palate-savvy expertise. Wine tasting works up an appetite, with all that trekking from winery to winery, hefting heavy cases of wine. The chance to dine on site is a delightful, belly-filling, alcohol-offsetting opportunity to experience an unparalleled personal sense of place.
Oregon, by comparison, is home to only one winery — King Estate, just outside Eugene — with an on-site restaurant. Which raises the question: Why don't more Oregon wineries offer a food counterpart to their wines?
The nitty-gritty answer is because Oregon law prohibits wineries from doing so.
In 2011, the Oregon State Legislature passed House Bill 3280, effectively granting wineries the ability to operate on-site restaurants — albeit with a couple major catches.
For one, wineries can serve food only 25 days a year; more than that and the winery must obtain an additional permit from the county.
The other hindrance is size. The winery must be "large" — 130 acres, legalistically speaking, producing 150,000 gallons, or about 63,000 cases of wine per year. Only 10 or so of Oregon's more than 500 licensed producers meet that size requirement.
As of this writing, just one winery, Willamette Valley Vineyards, is planning to take advantage of HB 3280, complementing their wines with a sit-down food experience — scheduled to commence service this fall 2013.
At a time when beer is gaining acceptance as a friendlier food-pairing beverage, I'd love to see more wineries lobbying lawmakers to ease the regulations and permits necessary to operate a vineyard restaurant.
A trip north might convince you, too. I'm still savoring my food and wine memories from British Columbia. Each time I open a bottle of wine brought back from the trip, I'm transported to the region. Creating a wining and dining environment seems like a healthy way to boost wine tourism and elevate the overall experience.
Okanagan Eno-Eateries
The Terrace @ Mission Hill Family Estate Winery
Cellar Door Bistro @ Sumac Ridge
Vineyard Terrace @ CedarCreek
Old Vines Restaurant @ Quails' Gate Estate Winery
Miradoro @ Tinhorn Creek
Mica @ Spirit Ridge Vineyard (Nk'Mip)
Sonora Room @ Burrowing Owl Estate Winery
Sunset Organic Bistro @ Summerhill Pyramid Winery
Grapevine Restaurant @ Gray Monk Estate Winery
Vanilla Pod @ Poplar Grove Winery
The Patio @ Lake Breeze Estate Winery
Terrafina @ Hester Creek Estate Winery
Peter Szymczak reports on food, drink and travel experiences around the Pacific Northwest and beyond. He's the regional editor for Sip Northwest Magazine and a contributor to The Oregonian.